Exfoliation is good for the skin because it speeds up cell turnover and promotes radiance. With all the products in the skincare market, you might feel overwhelmed by choice and price, but don't worry, you can also have soft, glowing skin without breaking the bank and spending hours picking between brands and products. 
There are certain foods you can use to exfoliate your skin and get that perfect glow.  From strawberries to bicarbonate of soda, you can easily get these foods from online flyers for delivery, if they are not in your pantry or fridge already. Read on.
1. Honey
Honey is a good exfoliant because it sloughs off dead skin while providing moisture. We recommend you use raw honey to benefit from the natural properties of the honey. You can exfoliate using honey by spreading a tablespoon of honey on your face, massaging gently, then rinsing off after 10-15 minutes.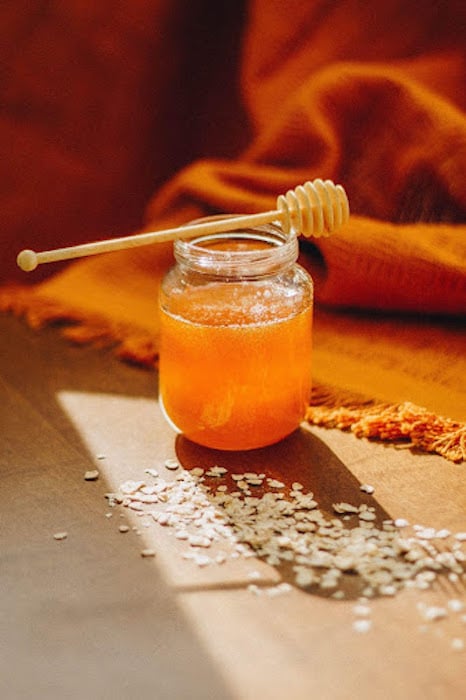 2. Lemon juice
You can use lemon juice on its own or add it to other ingredients like honey. Lemon juice tightens pores, brightens skin and reduces oiliness. Apply it onto your face and leave it on for five minutes or until it's dry, then rinse off with cool water. 
3. Strawberries 
There are two ways you can use strawberries to exfoliate. You can either slice them and rub them directly onto your skin or mash them and apply the mixture as a mask. Strawberries have a lot of benefits for your skin, including puffy eye treatment, fading dark spots and hyperpigmentation, and acne treatment.
4. Sugar
Sugar works wonders as an exfoliator by sloughing off old skin cells to reveal new, healthier skin cells. Because it is a type of alpha hydroxy acid, it attracts moisture to the skin which helps with cell turnover. 
5. Oats
Oats gently exfoliate and moisturise the skin. An oat and milk mixture, especially, will help with sunburnt skin or to soothe dryness. 
Mix oats and sugar in this soothing chamomile scrub for a softening and soothing mask:
Mix ½ cup of brown sugar with ¼ cup of olive oil, 3 tablespoons of ground rolled oats and 2 tablespoons of freshly brewed

chamomile tea

. 

Apply it to your face, leave for 10 minutes and then rinse off.
6. Eggs
There are two ways you can use an egg as an exfoliator. The protein in eggs promotes healthy, wrinkle free and blemish-free skin while repairing skin tissue. If you're looking for something that is moisturising, use the whole egg. If you want to tighten your pores and make your skin feel and look firmer, then just apply egg whites on your face as a mask. You can also mix egg white with a teaspoon of lemon juice and a teaspoon of honey for a smoother, more-toned look.
7. Yogurt
Lactic acid, an alpha hydroxy acid found in yoghurt, dissolves dead skin cells. This mild exfoliation helps to decrease the visibility of lines and wrinkles in addition to promoting a healthy glow and preventing breakouts.
A yoghurt face mask may be applied directly to the skin to hydrate, combat acne, delay the signs of aging, soothe sunburn, and lessen discolouration.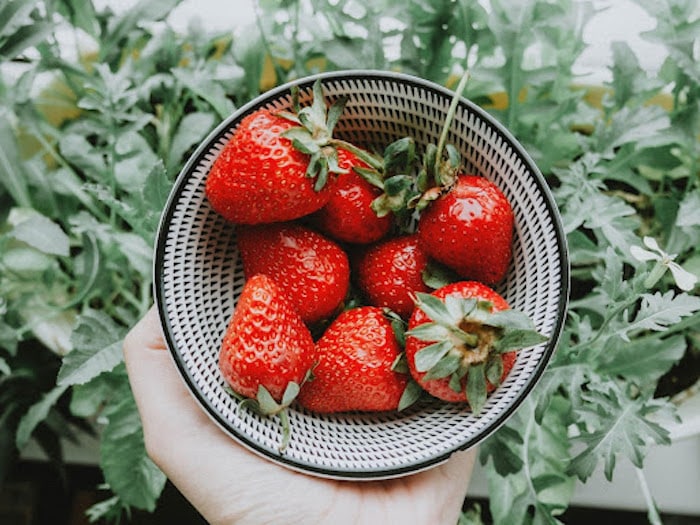 8. Banana 
The ideal bananas to use are those that have a little bit of brown in them. If you want to  improve the complexion of dull skin, this is the right ingredient for you. To make a banana mask, mash a banana with a drizzle of honey. Apply it to your face, leave it on for 10 minutes, then rinse. 
9. Baking soda
Baking soda can reduce inflammation and some pain associated with acne outbreaks. It can be combined with current acne treatments to increase effectiveness or be used as an exfoliator. Use it as a face scrub after cleansing. Mix a tablespoon with a little bit of water and gently rub your face for 10 minutes, then rinse. 
10. Avocado
The nutrients in avocado may reduce inflammation, increase collagen formation, and remove dead skin cells. Add the fleshy green part of the avocado into a food processor. Mix aloe juice, olive oil and any essential oils should all be combined to create a rich, smooth green liquid. Apply this to your face and rinse off after 10mins.
Photo by  Kimia Zarifi on Unsplash
Safety tips to remember:
While it's generally safe to use these foods to exfoliate your skin, if you have a skin condition, you should first talk to your dermatologist.
Do a patch test on the inside of your wrist or the back of your hand before you use the ingredients on your face. These places are both delicate enough to show you how the rest of your skin will respond.