2021 is approaching quickly, and it might be the perfect moment to install the modern roof design you have always dreamt about. Even if so far you haven't paid much attention to the roofs, the internet is an amazing source of ideas that you might enjoy. Whether you're building your own home or are merely looking to modernize your house a bit by installing a new roof, we've got all the best modern roof ideas that may inspire you to make that move! 
The process will take some time and effort, but you'll see that after the hard work, the result will be absolutely stunning!
Flat Roof
Not only is a flat roof very cost-efficient, but it also can be responsible for adding some extra features to your home if that's what you're looking for. Flat roofs are optimal for people living in the cities as they might lack the necessary space for gardens on their properties. Flat roofs may allow you to install a garden on your roof, not only making it a perfect outdoor space to hang out, but a green area which we all so greatly appreciate in times of being confined to our homes. 
Those types of roofs are not only cost-efficient, but they can also add extra space to your outdoor space when appropriately designed with the perfect steel guttering, adding additional value to your home. If you feel extravagant, it can also be an excellent investment to create a spa-like area on a flat roof in your home. You could start with some small additions such as sofas or beach beds, or even go out all the way, installing a hot tub – the choice is yours! 
You can use a variety of materials on top of the installations, such as EPDM roofing which is a synthetic rubber, popular because of its extreme durability, which is also a great option as it's very budget-friendly. You can always layer materials accordingly – you might add a bit of a unique feel by the addition of some wooden planks, or even lightweight stones. 
Minimalistic Roof
If you're looking for the modern trends in the housing world to follow, you've probably already stumbled upon the minimalist look of roofs nowadays. McMansions are no longer considered fancy, and the new trend is moving towards simplicity and utilisation of space. 
Modern roofing systems will not only give your home a well-deserved upgrade but will also allow you to experience some interesting features of those types of roofs. They will offer you a direct entry to the top, you'll be able to utilise the well-spaced area by creating there a roof garden, and what's more, you might install window panels, allowing sunlight to enter even the darkest places of your home. If those are the criteria you're looking for, we highly suggest going with a minimalistic roof for your home. 
Skillion Roof
A skillion roof is not only cost-efficient, but it's also straightforward to build. The top provides a similar look to a flat roof; however, it's distinctive because of its gradient along the sides. It can make your home look modern, and not visually cluttered, as is often the case with high roofs, which could make your home seem much more outdated.
Butterfly Roofs
Butterfly roofs are a new trend among modern homes, providing a combination of a unique design with great practicality. The Butterfly roof could be compared to many things, mainly to a butterfly; thus, its name. It resembles some feng shui inspired design, with a retro 70's vibe. 
Those lightweight roofs provide not only the practical features of draining rainwater, as it will fall along the sides thanks to the drains for easy collection, but they also create an ample indoor space beneath them. You can install windows below the roof, and utilize the extra space as rooms if you want to opt for a steeper roof gradient.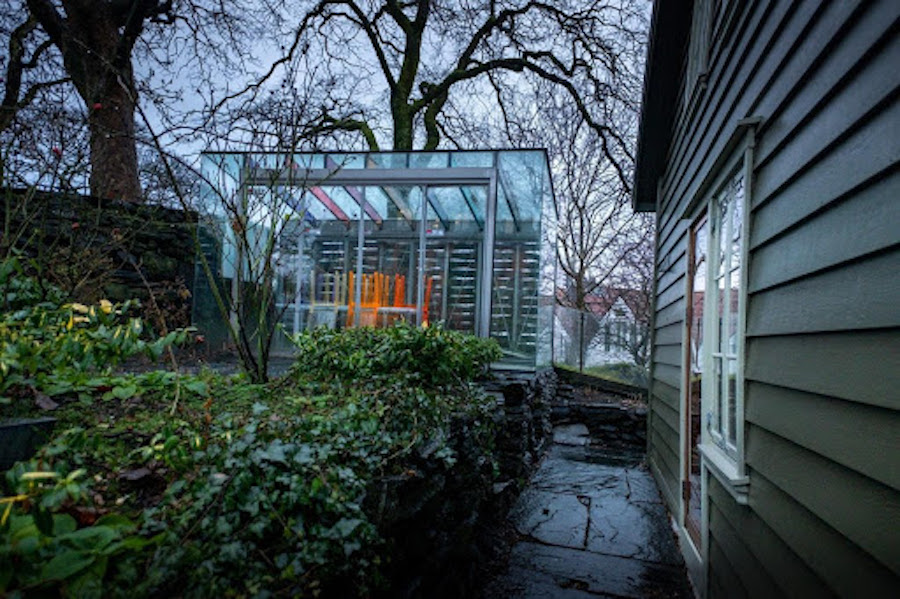 Glass Roof
Suppose you're looking to implement a unique feature to your home, with a designer spin. In that case, a glass roofing in parts of your home may just be the answer. Glass roofs not only look great, and add a distinctive look to your home, but they also allow for easy access to sunlight, allowing you to install an indoor garden with your favourite flowers. 
And let's face it, who doesn't like to wake up with the fresh flow of sunlight into their room, even without having to let go of the comfort of their bed? If you are looking for something that will amaze you, we certainly recommend investing in a sturdy glass roof that will be a part of your house in which you'll want to drink a coffee every morning. 
Curved Roofs
Curved roofs are the new craze in the world of architecture. Their unique design, combined with their original shapes, provides a look any modern home needs to make it stand out. Curved roofs might set your budget back by a bit, but they're a great feature that will not only look great in person, but will surely impress anyone passing by. 
Concluding
Roofs can be expensive, but they're a necessary part of your home that will last you for years to come. Quality roofs not only look great, but also don't require much maintenance, so that you won't have to repair them frequently throughout the years. If you're looking to opt for a unique design, with a modern feel, we suggest going for a curved, or glass roof, that will undoubtedly make your home stand out from the crowd. 
However, if you're more inclined to the practicality aspect of roofing, a butterfly roof or a flat roof will be a perfect choice for your home, letting you incorporate the extra space to your needs.
Featured Image Credit: Pexels