Students have found themselves studying from home this year regardless of their preferences for distance learning or in-person sessions. COVID-19 has prevented them from attending classes and utilizing libraries. And it seems that the virus will remain with us for some time to come, meaning that studying from home will become our new normal.
This takes a lot of adjustment and discipline and is not as easy as it sounds. Here are some advantages and disadvantages of studying from home:
Advantages
Comfort
Undoubtedly, being able to attend lessons without leaving your home is an attractive proposition. There is no need to change out of your pajamas, and you can attend an online lecture from under the covers. No uncomfortable classroom desks and chairs to sit on in classrooms that are too hot or too cold. 
Even if you make it out of bed, the couch will beckon until you sink into its comfortable depths. Cuddle up with a blanket and warm beverage while you study. And if you are not in a mood to get out of the comfort code, hire top essay writing services. Writix is a reputed name in this regard when you need online help while studying. College students across the world entrust it with their work and you must also try it for your writing work.
Convenience
Not every student is attentive during lessons because their concentration functions better in the late afternoon and early evening. When teachers send video presentations for you to work through, it is unnecessary to do so at 9 AM when you are still groggy and not fully awake.
It is also easy to reach for a snack or prepare meals between study sessions when you study from home. The kitchen is only a stone's throw away. Bathroom breaks are also more convenient.
Pacing
Online lessons allow you to go back to a teacher's explanation as many times as necessary. This ensures you have a sound grasp of a concept before moving to the next. Naturally, you will still have to submit essays and assignments on time or take tests and exams on prescribed days. However, you have more time to spend on getting to grips with content.
Many students take advantage of more direct contact with their teachers for in-depth explanations that help them understand. Many schools and colleges have set up an online maths tutor where students can get support and assistance.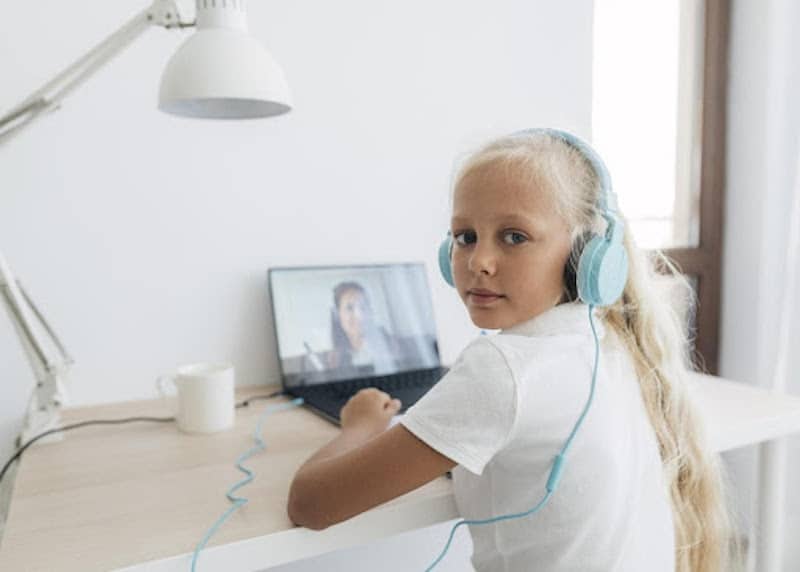 Disadvantages
Comfort
Comfort is also a disadvantage of studying from home. Do you really absorb as much information sitting in bed as you would in class? Staying in your pajamas all day, every day, will also start becoming less than ideal. To avoid these pitfalls, get dressed for class and sit at a table during lessons and when completing homework.
Being that close to the kitchen is also not necessarily to your advantage. More than half of those surveyed in a recent study reported gaining weight during stay-at-home periods. To avoid overeating, set a daily schedule with specific breaks and lunchtimes. There is also time for Netflix for students when they put the books aside for the day.
Time management
Setting up a schedule is one thing. Sticking to it is another. Many students have fallen into the trap of putting lessons, homework, and essays off until the last minute. Procrastination is the thief of time, and it is hard to unlearn this behavior.
Get someone to help you adhere to your schedule. A peer who acts as an accountability buddy is effective if you are struggling with time management.
Lack of interaction
Most students learn upward of 50% of what they need to know by listening in class. These aural learners have found studying from home difficult, especially when teachers send them presentations and assigned work in writing. This puts them at a disadvantage when it comes to preparing for tests and exams.
COVID-19 has caused students to experience a lack of interaction with educators and peers. It has left many exhibiting signs of depression. If you are feeling this way, chances are your friends are too. Remain in contact through video calls or messages so that no one feels isolated.
Conclusion
While you might be battling to adjust to studying from home, it is the best way to remain safe at this challenging time. Make the most of the advantages and seek interventions to prevent the disadvantages from becoming obstacles to your learning. Reach out to others who understand this challenging predicament, and do not hesitate to ask for support if you feel that things are getting on top of you.
Featured Image Credit: wayhomestudio at www.freepik.com
Author's Bio:
Emma Rundle topped the university during her master's degree and then completed research studies with an equal level of success. Her deep interest in the education field and a flair for writing made her choose a career in academic writing and now she is a known name for her thesis and dissertation and college essay work.