Located on Lake Michigan, Chicago is the third-largest city in the US and home to some of the major universities. Some of the campuses located in the city are DePaul, University of Chicago, University of Illinois and Loyola University. The city has several other colleges. The universities admit tens of thousands of students each year and most of them come from other states in the US and some from abroad. As a result, there are a ton of wonderful places for students in Chicago to choose from. 
Pilsen
Pilsen is a great place for students and was founded by immigrants from the Czech Republic. It is located in Southwest, near UIC (University of Illinois), which makes Pilsen attract many students. The center is well connected to other parts of the city by public transport.  
This beautiful and vibrant neighborhood is loved by the Mexican-American student society. It has beautiful clothing stores, cost-friendly coffee shops, museums and low-cost food. The famous Thalia Hall is a great place for music lovers. 
Try to read more about sociology
Human beings are social by nature and thrive better in a society with common ideologies. College students can feel more comfortable living in a neighborhood of students. Although they are all students, they come from different cultures, backgrounds and beliefs. 
To be able to handle each student better, you need to try to read more about sociology. If you need essays for reference, you can get more ideas from the free essay examples online from https://eduzaurus.com/free-essay-samples/sociology/ and gain a better understanding of writing essays. Eduzaurus stands out as a free essay sample provider and is the go-to resource for students worldwide.
The Buckingham
The Buckingham is located on Van Buren Street, a convenient location with more than 20 colleges. From the student apartment, you can comfortably walk to most colleges nearby or take public transport that is just a few minutes away. 
The rooms are spacious with high-class amenities. They are fully furnished and each unit has a laundry. Students have access to the community movie theatre, fitness center and the lounge. Students enjoy the spectacular view of the lake while in the apartments. 
When students live in a society, they can share lots of benefits including assisting each other with assignment ideas and comforting one another when in need. It also creates a sense of security amongst the students.
Living in a large community of students can have its challenges, too. If you study Sociology, you will gain a better understanding of how to handle different people with diverse personalities from various cultures.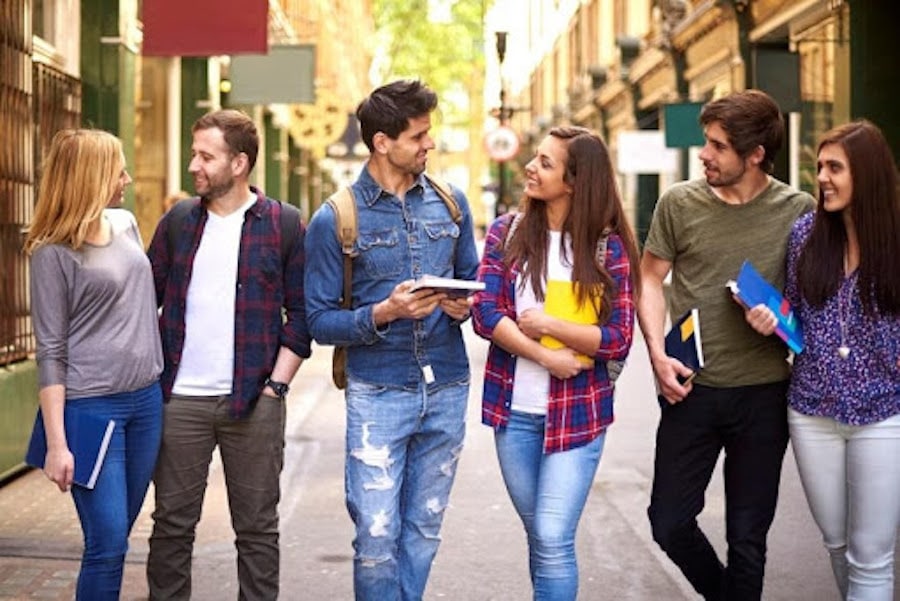 Lincoln Park
Lincoln Park is located on the lakeside in a park that bears the same name. The park is well known and loved by students because of the beautiful vegetation and roads lined with trees. 
One of DePaul's campuses is located near this neighborhood. Students have access to the Lincoln Park free zoo, the History Museum and the Nature Museum. There is also an elite shopping center and live music heritage. 
Wicker Park
Wicker Park is known as the student haven. Located west of Kennedy Expressway, Wicker Park is home to approximately 26,000 students. It is well known for its large bookshops, boutiques and art galleries. 
The night at Wicker Park becomes alive with music, food, drinks and dance. The center is famous for the artistic community and although it's not located near any college, students can conveniently use public transport.  
1407 on Michigan
1407 on Michigan is located on southern Michigan Ave, Illinois. The apartment is known for parks, museums, restaurants and education. Some of the famous places like Adler, Shedd Aquarium and the Field Museum are within walking distance. Some of the nearby colleges are Roosevelt University, Columbia College and East-West University. 
The neighborhood is accessible to public transport, walk and bike trails. Different communities live in this neighborhood and the apartment studios are famous for students. 
Bridgeport
Bridgeport was named by CNN as one of the coolest places in Chicago. It is located close to the Universities of Illinois and Chicago, plus several other colleges like Roosevelt. Students have access to the nearby bars, restaurants and cafés. 
Bridgeport amenities include kitchen with fridge, dishwasher and electric appliances. Students can easily connect to any part of the city through public transport. 
Conclusion
Chicago city is a major center of education because it has more than ten major universities, each with more than 20,000 students. Within a radius of 30 miles, the city also has more than 50 smaller private colleges with a large student population. The large population of students has attracted investors who have built beautiful and comfortable residences fit for students.  
Author's Bio:
Emma Rundle topped her university and, owing to her deep interest in authoring books, has been working with a large publishing firm as the senior writer and editor. She is tech-savvy and owns a study app and takes up freelance assignments from a technology and computer science academic writing agency. 
Featured Image Credit: FreePik