Cannabis king Snoop Dogg has made a shocking announcement and fans are divided! Recently, the 52-year-old rapper shared a cryptic note on X (formerly Twitter) and Instagram that left his fans puzzled. So, what did the AMA winner share with fans? Why was it shocking? Keep reading to find out the details!
Snoop Dogg Started Smoking Marijuana At 8
Snoop Dogg is popular for his dedicated relationship with cannabis/marijuana. It isn't a surprise that the rapper has been smoking pot for decades and started at a very young age. Back in 2008, during an interview, he revealed that the very first time he tried this drug was at the age of 8, and ever since he has been very fond of it. His love for marijuana is so much so that he also has an assistant or Personal Blunt Roller to make smoking easy for him.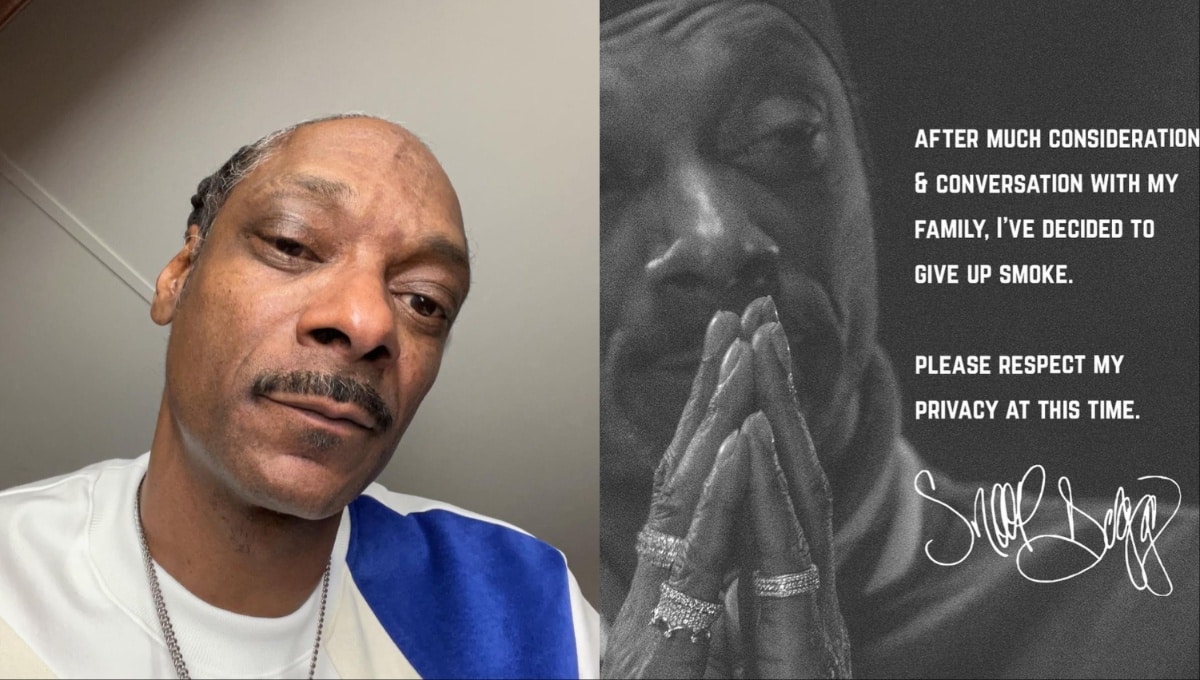 However, it seems like the hip-hop artist is bidding adieu to marijuana or at least his latest post on social media suggests so. On Thursday, Snoop Dogg shared a back and white picture of himself with his hands folded in prayer on Instagram & X. The note on the picture read, "After much consideration & conversation with my family, I've decided to give up smoke. Please respect my privacy at this time." This was followed by a signature by the artist confirming his statement.
While some fans lauded his decision to live a healthier life, others were confused whether his statement had any relation to marijuana.
One fan questioned whether the artist's account was hacked while another wrote, "Doesn't he have a dog named Smoke?"
A third contemplated, "WHAT IS LIFE NOW?"
"Historical moment in time," said a fourth fan.
Hip Hop Rapper Decides To Live Healthy For Grandkids
Yet, this wasn't the only post he shared with fans on social media. Later the same day, he shared another picture looking gloomy wearing a blue and white t-shirt. The caption on his post read, "Respect my privacy."
The note was very confusing and didn't really clarify whether he was really quitting marijuana. No further information has been provided by the artist regarding the post at the moment.
However, the artist did hint that he might make a healthy decision in an interview earlier this year. He explained that he aims to reduce his smoking habit citing health concerns. Snoop Dogg further added that this decision stems from his desire to watch his "grandkids grow old."
He also added that he has changed his lifestyle for the better and revealed that, "being a grandfather has changed me in multiple ways."
This comes as a big change in Snoop's life who once smoked marijuana while walking the MTV Movie Awards red carpet in 2021. Moreover, he is associated with various businesses that deal in various marijuana strains and edibles. The artist has also raised money for charity by auctioning Snoop exclusive joints.
While it is unclear whether the artist has really given up smoking, it surely is a welcome surprise for his fans and well-wishers.
So, what do you think of Snoop Dogg's decision? Do you think he has really quit smoking? Share your thoughts in the comments and check back with Urban Matter for the latest news!