Without a doubt, the biggest and most successful film franchise right now is the Marvel Cinematic Universe. The films have grossed billions of dollars and have made stars out of Chris Hemsworth, Chris Pratt, Dave Bautista, Zoe Saldana, Brie Larson and the dearly departed Chadwick Boseman and their recent announcement of the upcoming films slated to premiere in their Phase 4 of films did not disappoint. With updated release dates and titles, Marvel is hoping to prove that their series didn't peak with Avengers: Endgame.
For starters, their slate of films hasn't changed; Black Widow, Shang-Chi and the Legend of the Ten Rings, The Eternals and Spider-Man: No Way Home are all still scheduled to be released in 2021 with Black Widow set to simultaneously release on Disney+ Premier and in theaters on July 9th. Marvel has been steadily rolling on the marketing for Shang-Chi with the first trailer of the film knocking it out of the park and like a film Bruce Lee would've fought to be in and while a full trailer for The Eternals hasn't premiered yet ahead of its November 5th release date, it will likely drop sometime over the summer and look to fill the blockbuster gap that inevitably occurs during the fall. The last release scheduled for 2021, Spider-Man: No Way Home, is slated to be the last film in the MCU's Spider-Man trilogy but with Marvel coming around to the idea of adding a fourth film for their solo heroes, it's a safe bet that Tom Holland and director Jon Watts will return for a new entry in the series. Barring any unforeseen events or pandemics, these films will all release in 2021 and give us a reason that's not a new Fast & Furious film to return to the theaters. 
While no new shows were announced, there isn't much of a need to do so given how What If…?, Ms. Marvel, Hawkeye, Moon Knight, She-Hulk, Secret Invasion, Ironheart, Armor Wars and a series produced by Ryan Coogler that would focus on Wakanda, the television side of the MCU is secure. The first seasons of WandaVision and Falcon and the Winter Soldier premiered to resounding critical acclaim and established Elizabeth Olsen, Anthony Mackie and Sebastian Stan as future stars of the MCU and with the other recent announcement that a fourth Captain America film starring Mackie was in development, we're going to see a black Captain America on the big screen.
Looking ahead to 2022 and 2023, Marvel will be looking to revisit popular heroes and introduce audiences to the new version of old heroes. Doctor Strange in the Multiverse of Madness will be released in March 2022 and is set to star Benedict Cumberbatch along with Elizabeth Olsen and explore some of the extra dimensional aspects that were introduced in Endgame. Taika Waiti returns with his creative vision to direct Thor: Love and Thunder and will bring back Natalie Portman as Jane Foster and will finally bring the female Thor to the big screen. While Black Panther: Wakanda Forever will not feel the same without star Chadwick Boseman who tragically passed away in 2020, writer/director Ryan Coogler has stated that the film would respect his passing and give a more prominent role to the character's younger sister, Shuri played by Letitia Wright. Brie Larson will also return to the role of Carol Danvers/Captain Marvel in the retitled sequel The Marvels that will also feature Tyeonah Parris and Iman Vellani coming off their appearances in WandaVision and Ms. Marvel respectively. Currently, only two films are slated to release in 2023, Ant-Man and the Wasp: Quantumania and Guardians of the Galaxy Vol. 3 and production is proceeding as scheduled for those films.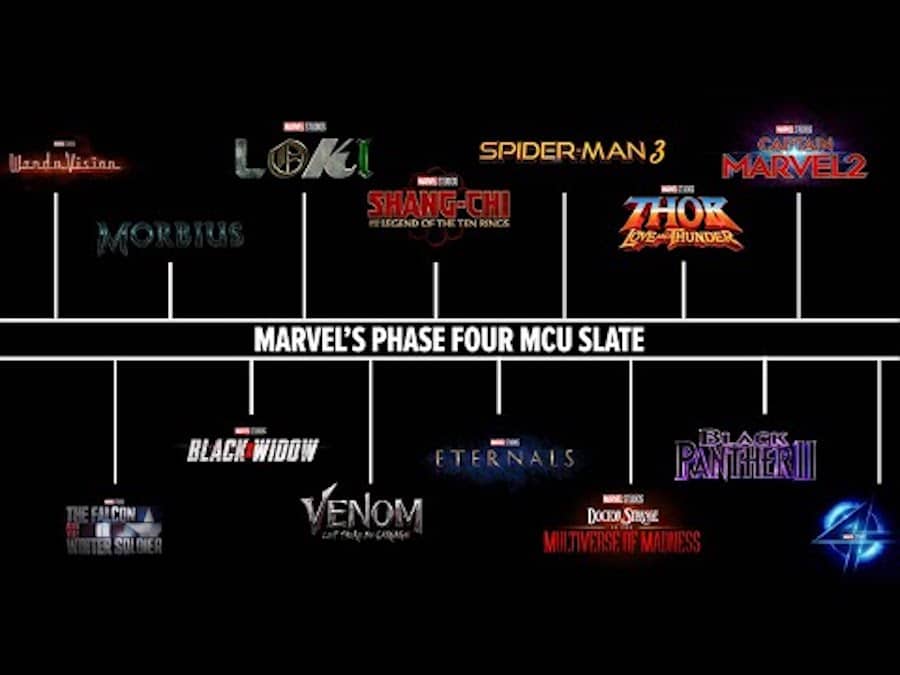 Looking beyond Phase 4, there are no other confirmed films other than Blade that would be starring Oscar winner Mahershala Ali in the titular role as the day walking vampire hunter but with Disney's acquisition of 20th Century Fox, speculation has persisted as to when Marvel would introduce the Fantastic Four and the X-Men and while the MCU's Fantastic Four is scheduled to end the fourth phase of films, only Jon Watts is confirmed to direct the film. Fans have been casting this film since it was announced with John Krasinski emerging as the clear favorite to play Reed Richards/Mr. Fantastic and Emily Blunt to play Sue Storm/The Invisible Woman. While Blunt has recently said she has no interest in superhero films, this could be subterfuge similar to what Tatiana Maslany said in the press leading up to her casting in the She-Hulk series. These are just rumors but given how long they have persisted, there has to be a grain of truth to them and hopefully Marvel will provide more details as to casting details and a release for Fantastic Four. Speculation has also persisted as to what will happen with the characters that were introduced on Netflix like Daredevil, The Punisher, Jessica Jones, Luke Cage and Iron Fist and while rumors have circulated that Charlie Cox will reprise his role in Spider-Man: No Way Home and that Jon Bernthal would return for a Punisher solo film, none of these rumors are confirmed and unfortunately, it seems that those beloved characters will be relegated to the Marvel scrap heap unless a major announcement occurs that would save them. 
If it were up to me to cast the roles of Ben Grimm/The Thing and Johnny Storm/The Human Torch, a solid choice would be Yahya Abdul-Mateen II to play Reed Richard's best friend and he wouldn't be the first actor to double dip in DC and Marvel films given how Christian Bale, Ryan Reynolds, Ben Affleck and Halle Berry have all played for both sides of the comic book film adaptation teams. For casting Johnny Storm, look for the baby faced Billy Magnussen to get some consideration and after appearances in the upcoming films No Time to Die and The Many Saints of Newark, his star will be on the rise and Marvel could want to capitalize on that rising familiarity. There's also the interesting role to cast in the upcoming Blade film; that of the vampire's elderly mentor, Whistler, played previously by singer Kris Kristofferson. There are two actors who could be good choices for this role, Jodie Foster and Stephen Lang and I'll start with Foster. Marvel is no stranger to switching up genders for their characters given how The Ancient One was changed from male to female for Doctor Strange, the same treatment was given to Ghost in Ant-Man and the Wasp and two characters will be gender swapped in The Eternals. The two time Oscar winner could offer up a great contrast to Ali and be able to provide a maternal love that a male in the role simply couldn't and Stephen Lang makes sense given his penchant for playing badass characters in Avatar and Don't Breathe. 
Despite what filmmakers like Martin Scorsese say, the films in the MCU are fantastic. There has been no other film in the last 20 years that made people cheer in theaters the way Avengers: Endgame did and have managed to create entertaining moments for almost 15 years and it shows no signs of slowing down. Kevin Feige has created an empire that will hopefully last for decades and Phase 4 looks like it could be his greatest achievement. 
Featured Image Credit: Marvel Cinematic Universe Phase 4 on Facebook