The magic of Michael Gambon's Albus Dumbledore is no longer with us. The legendary actor, popular for his portrayal of this wise character in the Harry Potter franchise left for the heavenly abode on Wednesday. The actor was 82 years old and died of pneumonia.
A statement issued by the family read:
"We are devastated to announce the loss of Sir Michael Gambon. Beloved husband and father, Michael died peacefully in hospital with his wife Anne and son Fergus at his bedside."
Harry Potter's Michael Gambon Was Knighted By The Queen
While his portrayal of Albus Dumbledore got him international fame, the actor had a long and successful career before that. Born in Ireland, Gambon was one of the original Royal National Theatre members. In his career spanning more than 6 decades, the artist received several awards. This includes 3 Olivier Awards, 4 BAFTA Awards, and 2 Screen Actors Guild Awards.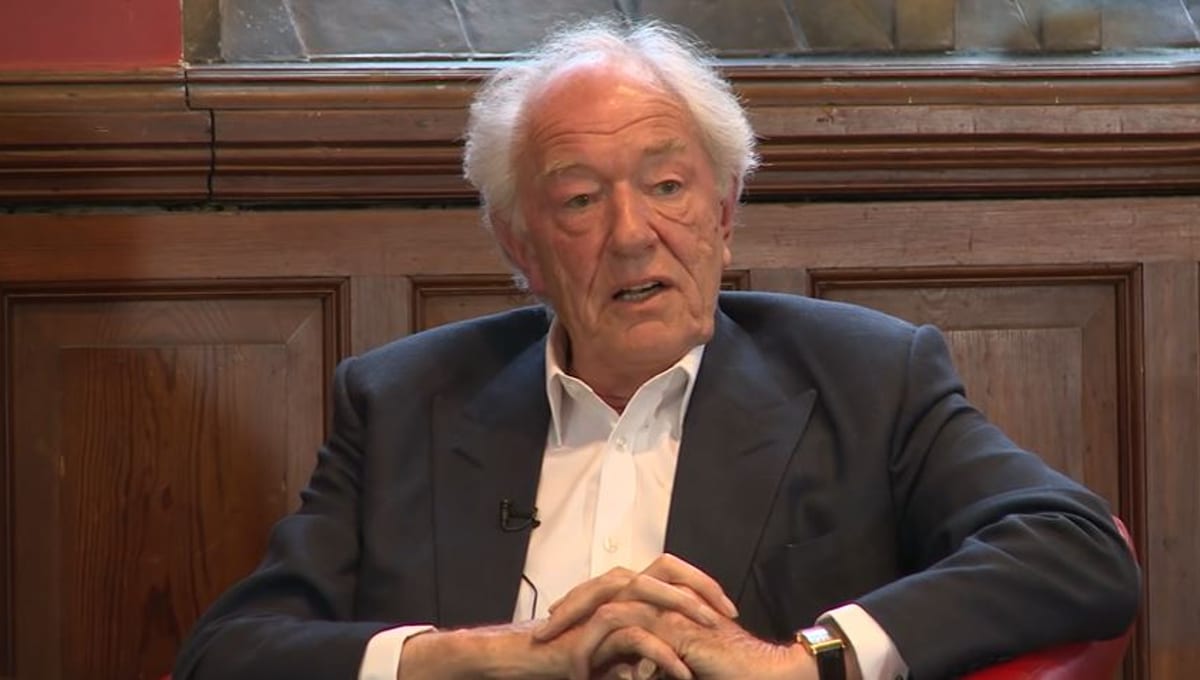 Not just that, the 82-year-old was knighted by the deceased Queen Elizabeth II in 1998 for his outstanding contributions to the world of drama. Gambon started his career in movies with the 1965 film Othello. Some of his notable works include:
The Wings Of The Dove (1997)
Gosford Park (2001)
The Cook, The Thief, His Wife & Her Lover (1989)
The Insider (1999)
The King's Speech (2010)
Quartet (2012)
Amazing Grace (2006)
Victoria & Abdul (2017)
However, it was his portrayal of the wise wizard Dumbeldore that made him a household name internationally. After the death of Richard Harris who played Dumbledore in the first and second Harry Potter movies, Gambon took over and the rest is history.
Michael Gambon Is Survived By His Wife And Three Children
Talking about his role in an interview, Gambon said, "I don't have to play anyone really. I just stick on a beard and play me, so it's no great feat. I never ease into a role. Every part I play is just a variant of my own personality. I'm not really a character actor at all."
While Gambon was a celebrated actor, he revealed that he never liked looking in a mirror. He disliked his appearance so much that he once said it resembled a wrinkled plastic bag. Moreover, according to him, his heavy build and his jowls meant he could never play a heroic or traditionally attractive character. However, regardless of whether or not Gambon loved the way he looked, his fans adored him.
Although Gambon kept his personal life away from the media, it is known that he got married in 1962 to Anne Miller, a mathematician. The couple has a son named Fergus who is a ceramics expert and recurring part of BBC's Antiques Roadshow.
Later, in 2001, he started dating Philippa Hart who was 25 years younger than him. In 2002, he moved out of the house he shared with Anne and started living with Hart. Soon, she gave birth to a son in 2007 and a third child in the year 2009. However, Gambon was married to his wife Anne till his death on Wednesday.
Will you miss Dumbledore, the wise? Share your thoughts in the comments and check back with Urban Matter for the latest news!