Not many gambling fans know that fruit slots appeared at the end of the 19th century. Of course, these were the most primitive prototypes of modern online casino games, which now have numerous exciting features. They were initially metal structures with reels, allowing players to make a winning combination. During that time, there was no possibility to turn on a device and enjoy a huge games selection, so people should visit special gambling establishments.
First Slot Machine and the Industry Development
The first game of this type, established in 1899, was called Liberty Bell. It was a classic 3 reel slot machine with lemon, orange, grapes, plum, and bell images. The winnings were formed on one line, and a lever located on the side of the machine was used to start the reels.
Players could notice a great evolution of online slots during the last century. After gaining insane popularity in offline casinos, slots have come online. And fruit machines online remain on the top of all trends, even though the selection in the industry is now enormous.
Although the technology has significantly developed, this prototype resembles modern gambling games. Numerous software developing companies have this pokies' theme in their arsenal. And each player feels that their eyes go wide due to this amazing diversity. So, what are the secrets of such a demand?
Such Slots Are Really Simple
Many people still think that playing in a casino requires some special skills to become a winner. However, this is far from the case. Most online gambling games work on a random number generator, so the possibility of winning mostly depends on a player's luck. Players often choose fruit slot machines due to the following reasons:
· they don't require any special strategies;
· the possibility of winning fully depends on luck;
· they are usually colourful and exciting.
Possibility of Free Gambling in Fruit Slots
Even though gambling is considered expensive, experienced players know that it's possible to enjoy casino games for free. Nowadays, most online gaming clubs provide the chance of enjoying top slots in a demo mode, allowing users to try more pokies and choose their favourites. The free mode is usually unlimited, so a player won't have to replenish their account until they decide to do it.
Bonus Features & Additional Games Inside the Slots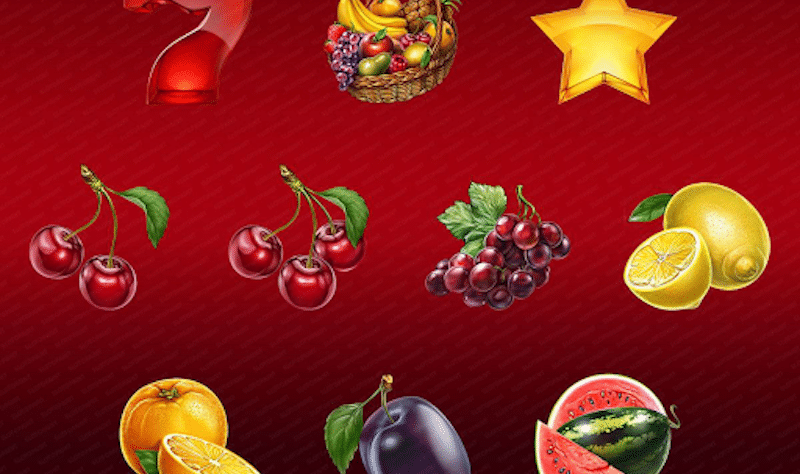 One of the reasons why gamblers choose online fruit slots is that they provide numerous exciting bonus features. They are usually activated automatically during the game when a necessary combination is achieved. The most common bonus symbols include:
· free spins;
· Wild symbols;
· Scatters;
· bonus games;
· extra rounds.
Of course, the selection depends on pokies, so each player should check themselves and pick the most exciting options. All these benefits provide more pleasant emotions from the gambling experience, and, of course, give the possibility of higher winnings. So, what are the best fruit slots available for modern casino fans?
Top Fruit Slot Machines According to the Players' Ratings
The leading software providers work hard to provide casino members with the most impressive, highly technological gambling games. And considering the demand for fruit pokies, they couldn't avoid this theme. Nowadays, it's possible to find such pokies in each developer's portfolio, but which ones are the best? Take a look at the following:
· Berry Burst Max by NetEnt;
· Hot Chilli by Pragmatic Play;
· Fruit Zen by BetSoft;
· Mega Flip by Relax Gaming;
· Fruit Shop by NetEnt.
It seems that the selection of such gambling games is unlimited in modern online gaming halls. Players should consider the slot's RTP before depositing and starting playing. The return to player percentage shows the chances of winning, and the higher it is, the more possible the winning is.
Trying Slots for Free or For Real Cash Is Fun
Fruit slots impress with their attractive designs and players often return to them even after testing a wide variety of gambling games. The mechanics are usually effortless, so even newcomers can easily start playing top pokies in a few clicks. However, those with no experience should better start with a demo mode, as not to risk their own funds.
One of the most significant advantages of online fruit slots is that there is no need to leave home and go to special gaming establishments to have fun. It's enough to enter the online casino site and start playing. Moreover, most pokies are now fully adapted for mobile devices, allowing gambling fans to play wherever they are. Having a cute casino with fruit slot machines in a pocket is convenient, and a player can spin the reel during a break at work or supper. Who knows when a jackpot could come?