My motorhome conversion project starts without the basic vehicle being in the yard – or even suspecting that it could be a Fiat Ducato that I would convert into a small motorhome myself. The first phase in self-modeling is planning – if you want to convert a van into a camper van, good preparation will be everything. More than one-floor plan will be drawn up and discarded, the costs for the conversion will be recalculated again and again, the Internet will be searched for good ideas for an attractive and practical motorhome conversion, and technical problems will be solved. Months of planning and learning went by before my van was finally in the yard, ready to be converted.
For many, their motorhome conversion seems to remain only a dream. Some lack financial means and others get lost in time. Weeks (months) are spent on the Internet, often on blogs or in forums. A year has already passed – without any progress to report, without the self-build taking concrete shape. I receive many emails from people who want to extend their motorhome. But by far, not all of them actively realize their wish.
While I was updating this page – it is almost five years since I decided to extend my small motorhome myself. In the meantime, I have been traveling with my "Friedl" for almost four years as a full-time traveler. The planning/preparation phase took three quarters of a year. Mainly because some money still had to be saved for the vehicle, self-equipment, and a small reserve. My costs for the conversion were easy to calculate, and the months of savings could be used to plan my self-build project thoroughly. The motorhome conversion took four months and took place on the side, especially at weekends – without a decent workshop, with a little family help with the conversion, with ongoing self-employment. What I want to say is: you have to do it. Just thinking about it doesn't lead to any results.
BUILDING A MOTORHOME YOURSELF: GOOD PLANNING IS CRUCIAL
My first motorhome conversion, where to start? A pencil, ruler, and paper can be helpful for initial rough sketches. However, they are not my first choice. An easy-to-use graphics program has its advantages when planning the extension. A floor plan can always be overturned, and new extension ideas can be added. The planning process for a motorhome conversion can take some time. After all, it's all about what you want/need to fit in. What comfort do you want, and how much storage space is necessary?
The advantage of a self-built motorhome is that you can tailor your future motorhome to suit you. It was only during my planning that it became clear that I wanted an L2H2 panel van (medium length, medium height).
My tool of choice in this planning phase is Corel Draw. Unlike other graphics programs (such as Adobe Illustrator), Corel is intuitive and easy to learn. It's easy to get started: download a floor plan of the model you're considering and save it to scale in a new document. You can get floor plans from PDF brochures every manufacturer makes available on the Internet – even for older models, Google (image search) will find them all.
You can now place the interior furnishings, layout, etc., on them. Your planning phase has already begun! But be careful: once you have immersed yourself in it, the first all-nighter is quickly over. You can get CorelDraw X7 from Amazon, which runs under Windows 10. If you prefer planning in 3D, SketchUp from Google is certainly a good and free choice, but it needs a bit more training. I didn't get on with it. But I found another tool for my second motorhome extension (see here): Thinkercad is a 3D program intended for 3D printers. It is not a simple CAD program, but relatively easy to use.
It is easiest to work with simple geometric shapes when building a mobile home, primarily rectangles – because these result in right angles later. And these are easier to handle in woodwork than 33.8-degree angles. At least, that's my approach because: I would hardly be able to make pentagons, artfully curved shapes, etc., anyway. But of course, you can also include such shapes in your planning. These programs also make rounding corners and coloring surfaces easy (Corel or Thinkercad). The first step in planning your extension project is done. Do a feasibility check of your conversion ideas – some of my fixed ideas were quickly discarded, but others have found their way into my self-conversion!
The motorhome conversion & the question of costs
What is my self-built motorhome worth to me? We have the basic vehicle, which of course, should not be a rusty pile of scrap – after all, you want to enjoy your motorhome conversion for several years. Too much work goes into it. Then we have the conversion costs so that a panel van/transporter/mail van mutates into a genuine, homely motorhome.
What are the material costs? Do you need professional help, for example, with the electrics or window installation? The more detailed the planning, the easier it is to estimate costs. Other people's experience with motorhome conversions also helps. But will it be cheaper to convert your motorhome yourself instead of buying a (second-hand) motorhome? Probably not. Does the time invested in planning and conversion pay off? Probably not. Viewing motorhome conversion as a hobby, DIY project, or passion is probably the better way to look at it.
My main concern was that I couldn't find a convincing finished motorhome in my price range. Size, appearance, function, and equipment didn't fit together for me. My budget was around 17,000 dollars, including a decent off-grid 12 volt batteries system and a self-sufficient power supply. There isn't much on the market, especially not with a room layout to my taste. So I quickly decided to build my motorhome.
Do-it-yourself motorhome conversion: everything depends on the basic vehicle
Three decisive factors determine which base vehicle comes into question for a motorhome conversion:
Purchase price: used or new, Fiat Ducato, Ford Transit, or Mercedes Sprinter? Everyone has their idea of the van's budget, condition, and age. It is possible to convert an old post van into a camper. However, time and money must be invested first: in aging technology and rust problems. I am less experienced in-car technology, but based on my criteria, I decided on a reasonably young used vehicle: 3-5 years old, under 50,000 km, up to 12,000 €. So it became a Fiat Ducato, 5 years old, checkbook-maintained, for 10,000 dollars. Including new TÜV, 8 tires, etc.

Required interior dimensions: Is the bed to fold out, used as a bench during the day, or installed permanently? Do we need a bathroom with a shower, toilet, and hot water? Should my motorhome have standing height, and if so, always or with a pop-up roof? The planning mentioned above should be as detailed as possible to assess the real space requirements for the motorhome conversion. It would be unfavorable if the space ran out during the motorhome conversion. During this planning process, you will notice things that take up extra space, cost money, and add weight: large

RV battery

, fresh water, wastewater, and gas box.

Exterior dimensions/driving characteristics: The bigger the base vehicle, the more you can fit. Your freedom of design is better when building your motorhome. However, bigger is not always better, especially on toll motorways, when maneuvering, in small villages in southern Europe, or simply when parking in reverse. Many parking spaces at beaches or supermarkets have height restrictions, not to mention little tunnels in the middle of nowhere. It's stupid since a motorhome is supposed to offer maximum flexibility when traveling. However, this is likely to be limited with overly large vehicles, and some access is denied – at least on my itinerary, this would have been the case. A typical camping bus in the form of the VW Bulli can get through everywhere, but with the height of the Ducato L2H2, there are already a few more restrictions. Of course, it depends on what you want to travel with your self-built motorhome. From the motorway directly to the campsite, shopping with a scooter?
There is a reason large motorhomes, in particular, accommodate small second vehicles; only they enable the necessary mobility at the holiday destination. I chose an "L2H2" box van or an "L3H2". These specifications for length/height exist for different models. The actual dimensions can vary depending on the manufacturer. There are vehicles from L1 to L4 and from H1 to H3 (Fiat Ducato / Citroen Jumper). So L4H3 would be wonderfully large. But I could only drive straight ahead with something like this. But I might also want to park it sometimes, so I don't need four parking spaces.
BUILD YOUR MOTORHOME, EVEN WITH TWO LEFT HANDS?
The non-handyman may wonder whether he can build a motorhome himself without any (or too frequent) outside help. Certainly, it is an advantage to already have experience, especially in building furniture. Do-it-yourselfers and experienced artisans have advantages, starting with tools and a structured way of working. I see this as a positive thing: a DIY motorhome can be a wonderful opportunity to learn new skills. Of course, the first self-build won't be perfect, but it's self-made – and that's what matters to us.
Asking for help is also not a disgrace: when it comes to electrical installation, asking someone who knows about electricity is highly recommended. Especially in safety-relevant areas, support from a professional can be accepted – even if only in an advisory capacity. It is also important to keep legal and safety aspects in mind. Maximum load, an electrical installation that does not melt together, or furniture that does not fly through the windscreen during emergency braking would be quite good.
You can also find a lot of support on the Internet: forums on motorhome conversions and reports on the experiences of successful motorhome conversions. Some have even written a book about their experience.
Highly recommended is "Dismantling and optimizing motorhomes yourself" by Ulrich Dode. Very detailed and a wonderful inspiration, available at Amazon and directly on his website. A very comprehensive work, with lots of valuable info and planning tools. Admittedly, he did his motorhome conversion on a larger scale, so not everything applies to a panel van. Nevertheless, this guide to fitting out a motorhome yourself is wonderfully suitable. It also proved to be an important helper and inspiration in my planning phase – especially with the many little things I probably wouldn't have considered.
In forums, on the other hand, caution is advised. Some people cavort here, basically self-proclaimed experts, because they have had some experience ONCE. I would never presume that, by the way. I can only tell you about my experience with my camper conversion and how I would convert my next van. Maybe I can also give you some tips – because not every mistake I made during the conversion has to be repeated.
Motorhome conversion documented: Initial planning, elementary questions, crucial details.
Several sites deal with motorhome conversions. Some successful motorhome conversions look great. With many others, I miss the attention to detail and the coziness. Perhaps it also depends on how much a self-built motorhome is used. For a few weeks holiday a year, it might be too much of a good thing to get too involved with details when building out the motorhome. However, I wanted to spend a whole year (or so) in the fully converted Ducato. Accordingly, I had different requirements in various respects.
Even better sites could not answer all my questions adequately. More specific topics such as complete energy supply via photovoltaics, Internet in the motorhome (via satellite), or "suitable AND pretty materials for motorhome conversion" are either not dealt with at all, or there are 1000 different opinions.
Reason enough for me to want to document my research results in a blog myself. Certainly, the topic of portable solar panels for RV has already been dealt with several times on other sites. But not in the same form as my energy supply was realized in the motorhome conversion. In addition, my ideas should inspire others interested in building their next motorhome.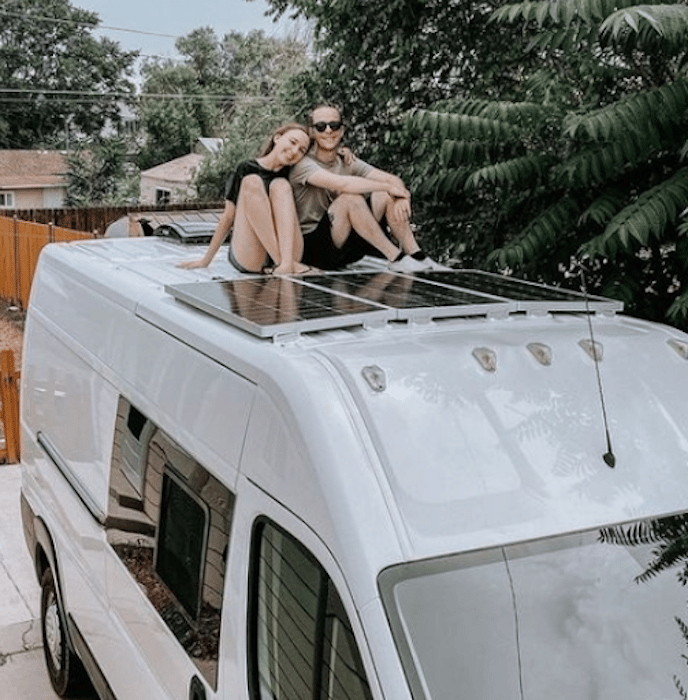 Can / should you do without gas for the energy supply? How do I get high-speed Internet to work effectively in my motorhome? And what do I do with this wet, smelly, big black dog during three days of rainy weather? Certainly, slightly different questions come up for me than for the average motorhome builder.
Building a motorhome & the question of money: calculate, save, extend
At the end of a conversion plan, there is a figure: the total amount needed for your motorhome conversion. To be on the safe side, add another 10%, and it becomes clear whether you can start building your future motorhome right away or whether you should save a little more. Do I put all my savings into my camper conversion, do I want to borrow the money I lack, or do I prefer to save a little more? I was faced with this question but decided on the latter. As important as my small camper van and the associated sabbatical year may be to me, my retirement provision should not have to suffer. So the period between my first decision to extend the motorhome myself and the current extension was over eight months. Two months of that were due to a failed car purchase from a dubious dealer. No matter, all that is forgotten when we can finally get started – thanks to the appropriate preparation, at full throttle.