In the spotlight for much of her life, Britney Spears is once again in the news due to a concerning incident that happened on Wednesday. The Ventura County Sheriff's Department reportedly conducted a welfare check on the singer after she posted a concerning video on Instagram. But, what was so concerning about the video? Keep reading to find out the details!
On September 27, 2023, Spears posted a bizarre clip on Instagram that caught law enforcement's attention. The Princess Of Pop was seen playfully dancing while holding two oversized knives in her kitchen.
In the caption, she wrote, "I started playing in the kitchen with knives today!!! Don't worry they are NOT real knives!!! Halloween is soon!!!"
Law Enforcement Visits Britney Spears' $7.4 Million Mansion
However, it seems she clarified the knives not being real only after the police visited her. Not just the police, but her video also raised concerns among her fans and followers. Soon, deputies visited her $7.4 Million mansion that she shared previously with Sam Asghari, her estranged husband. After checking her house thoroughly and having a conversation with her, they clarified that the purpose of their visit was to ensure she was safe.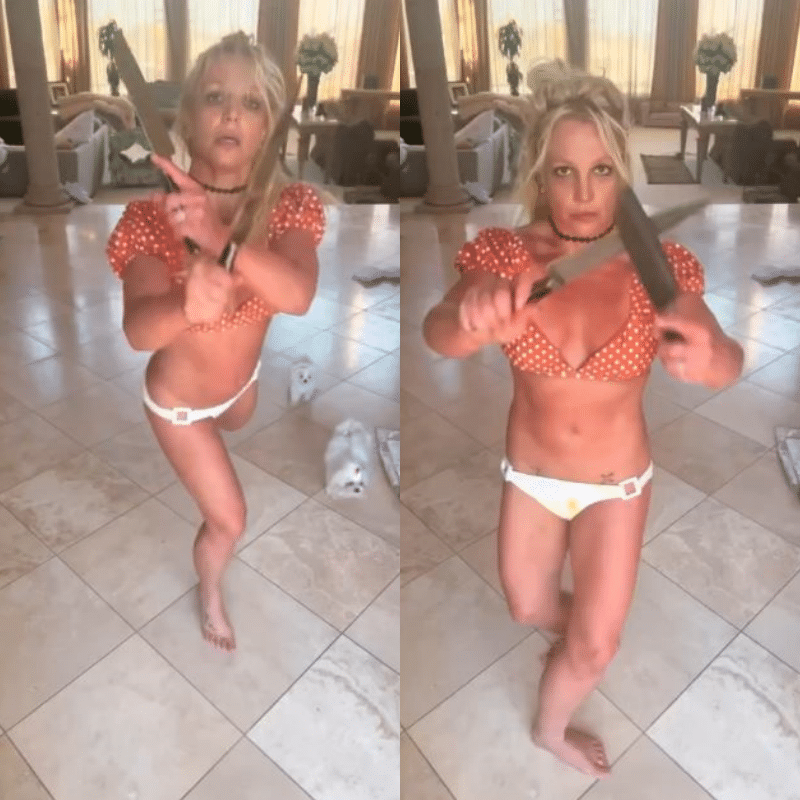 As per reports, the law enforcement carried out the required safety and wellness check, "out of an abundance of caution."
Fortunately, after having a brief chat with the 41-year-old, the authorities determined that she was perfectly alright. They reported that there was no need to be alarmed regarding her well-being. This security and welfare check was prompted by several calls made to law enforcement regarding the video.
However, given how her fans and followers were worried for her, she quickly clarified that she was okay. The singer again took to her Instagram account sharing another choreographed dance explaining that the knives weren't real. Moreover, she also added that she was simply copying Shakira's MTV VMA performance.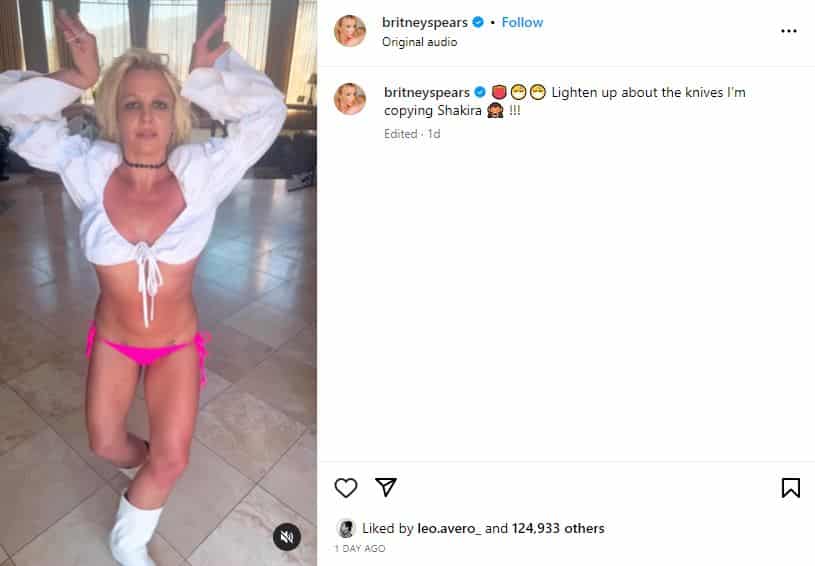 Yet, some fans claimed that she was lying about the knives not being real as they could allegedly hear the sound of clanging knives as she danced.
Britney Spears Deletes Instagram For The 7th Time In A Row
This isn't the first time Britney Spears has come under scrutiny due to concerns regarding her well-being. Back in January, the police conducted a welfare check after she deleted her Instagram account for the 7th time within a year. After a thorough check, the deputies determined that there was no cause for concern.
There were also reports that the Grammy Award winner has an unusual fascination with knives. Reportedly, she also sleeps with one under her bed. These concerns likely stem from her past experiences. This includes her 13-year- conservatorship that she described as abusive. A source also claimed that the artist still fears that someone might try to institutionalize her against her will.
While Britney Spears' life has been marked by both immense fame and significant personal challenges, she is now on a path of self-healing. After she regained control of her financial and personal affairs in 2021, Spears is now doing much better.
So, did you watch Britney Spears' bizarre dance on Instagram? Share your thoughts in the comments and check back with Urban Matter for the latest news!