There are not many things in our lives that will be always on-demand. Food is just one of them. That is the reason why the food industry is considered to be one of the most profitable sectors in the world.
The business opportunity that brings great income causes competition not only in the food industry itself but in related sectors, such as commercial kitchen supplies, for example. This might cause additional challenges for beginning entrepreneurs who enter the industry just because they like doing something they love and bringing smiles to customers' faces. However, in such tough competition as the food industry, doing what you love doing might be not enough to build a successful business, even if it's small. You need to do something more than just find high-quality commercial kitchen equipment. You have to find the best business opportunity and refine your idea.
The first question you need to answer is the niche that your food business will focus on. We will try to represent the most promising niches in the food industry. We believe that these ideas aren't too complicated to be fulfilled and might be not as competitive for beginning entrepreneurs as other food business ideas. We think that such conditions will give you room for growth and improvement. So let's get down to business!
1. Bubble tea & Bubble waffles 
Sweet snacks have always been popular among customers because they are not quite expensive and they are tasty. Creators of sweet snacks also see some benefits. The fact that it's easy to make them is one of the most significant advantages.
Despite that, it seems quite complicated to choose a niche where your beginning business will be able to cope with the competition. Well, you should pay attention to the venture of making and selling bubble waffles. In Hong Kong, you can buy find bubble waffle makers in almost every street-food store. However, in the US and other western countries, this niche is still growing, and so you can enter it when the competition is relatively low. 
Plus, waffles are products that might be used in different ways. You can make simple waffles or sell them on sticks, which will make it more convenient to it them on the go.
If this idea seems good for you in terms of future prospects, you should have something more than just a good egg waffle maker. Our recommendation is to look for both a waffle puff pan and for electric balloon whisk to ensure your waffles will be light and fluffy.
One more good business idea is to accompany your bubble waffles with bubble tea. This drink will perfectly suit such a light sweet snack. Plus, your customers will like the possibility to enjoy tea of different tastes and quite an unusual consistency. This is what provides them with a unique experience and makes them more loyal to your business.
2. Mini Pancake 
If you think that making a good fluffy egg waffle might be too complicated, you can come up with a simpler and more traditional idea. What about making mini pancakes in large quantities with the help of the best commercial mini pancake maker?
Making mini pancakes is actually the same easy as making regular ones. However, they will provide one huge benefit for your business – mini pancakes aren't as common as their bigger variations. When you sell something sweet, crispy, small, and unique – it's almost always a win-win combination!
Besides, by making mini pancakes, you will be able to benefit from the recent TikTok trend. People started using mini pancakes to make fast cereal. Such a business idea is a good chance to reach an audience that follows the social media trend.
Or you can try moving in all possible directions – make mini, regular, and Dutch pancakes! Dutch pancakes are whole-pan-size sweets that are beloved by those who like thin, crispy, and sweet snacks. Just find a good Dutch pancake machine and let your customers enjoy unique sweets!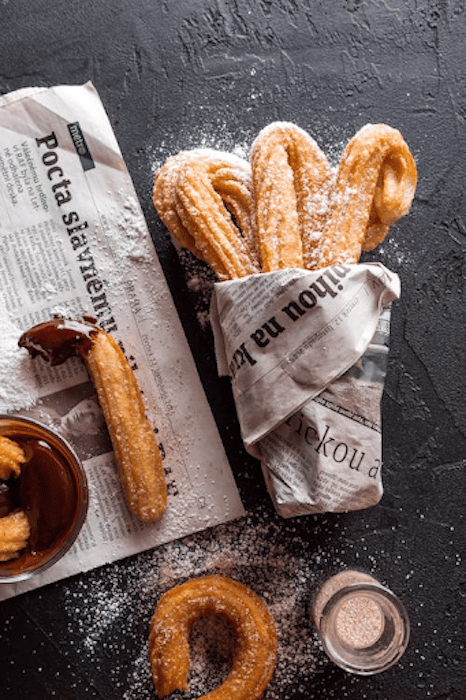 3. Churro
While being one of the most profitable, the food industry is also one of the fastest-growing. This is because entrepreneurs are always looking for opportunities to outperform their competitors and come up with new ideas for products and services. That's the reason why many businesses find their rescue in churros.
Why are churros so popular? They are becoming mainstream because food makers can always experiment with them and encourage their clients to come back. If you have a good churros filler and can find the best churro machine, you will have the possibility to come up with various creative options that will help your services remain demanded even in tough competition. Besides, American customers might be not as familiar with these snacks as people from Spain or Latin America, for example. This is the best chance for your starting business to introduce something new and quickly attract a loyal base of first customers.
Actually, churros are just fried dough sticks rolled in a cinnamon-sugar blend. However, this simplicity is also a good thing to describe the ultimate nature of churros. They might be sold as independent products or used as a flavoring for more common desserts. 
4. Souffle 
When trying to come up with the best ideas for businesses in the food industry, many try to think of very common snacks. This might be a winning strategy, in case you are offering some unique products like the ones listed above. However, sometimes, it's necessary to consider something more sophisticated. What about souffle?
Souffle is a traditional French dessert that is widely popular all around the globe. For many chefs, it might be a very challenging task to make a good shuffle. However, if you have a really good souffle machine, the result will be definitely worth the effort. A chef cannot make any errors when cooking souffle, which greatly increases the value of this product.
But what's so special about souffle that you should pay so much attention to the process of its preparation? It doesn't take too long to cook a souffle but it has a very light, sweet, eggy, and ethereal texture. 
5. Donuts
It wouldn't have been a good review of the food industry business opportunities if we wouldn't mention the most popular American dessert here. Donuts making is definitely the niche of the food industry that is worth exploring if you want to access a wider audience of sweet snacks enthusiasts. 
Donuts are popular among businesses because you can come up with various creative options as well. You can use your donut maker to make both glazed donuts and more common options. Or you can find a good mini donut machine to experiment with sizes and provide your customers with sweet snacks that might be conveniently tasted on the go.
Try to find your best niche and your food business will achieve success!