Roadtrip. The expression conjures up images of open highway, the wind in our hair, and a killer playlist on the car stereo. A great American road trip could be just the ticket for traveling this summer. In fact, there are loads of activities you can do away from home right now.
Why not grab a buddy and go on a spooky alfresco ghost hunting trip? On the way, don't forget to cruise down Route 66 and stop at the American diners. To get an authentic experience, we recommend stopping at the best diners near you on Route 66 to support local small businesses.
Route 66 Diner
Lancaster, PA
Route 66 Diner in Lancaster PA. Are Philly Cheesesteaks worth all the fuss? Why not find out by visiting this American diner? If it turns out Cheesesteaks aren't your thing, they've got burgers, fries, shakes, and more. Their Instagram feed is to drool for!
66 Diner
Albuquerque, NM
If you're looking for the best diners near you with authentic '50s décor, we recommend visiting world-famous 66 Diner in Albuquerque, New Mexico. Try their chocolate shakes!
Waylan's Ku-Ku Burger
Miami, OK
Everyone goes ku-ku for this bonafide Route 66 Landmark! You won't be able to miss it thanks to the huge neon sign and the giant cuckoo bird statue bursting forth from the main building to welcome you in! Why not take a pit stop and find out if the burgers there are worth all the fuss?
Dell Rhea's Chicken Basket and Cocktail Lounge
Willowbrook, IL
Get your chicks on Route 66 at Dell Rhea's Chicken Basket and Cocktail Lounge in Willowbrook, IL. The staff at this American diner have been serving up to-die-for chicken dinner baskets since the late 1930s!
Donut Drive-In
St. Louis, MO
Looking for a sugar rush? Donut Drive-In in St. Louis, MO, specializes in whipping up fresh donuts with the most delicious ingredients on the daily! Come for the donuts, stay for a photoshoot in front of their cute retro building! What are you waiting for? Treat yo self!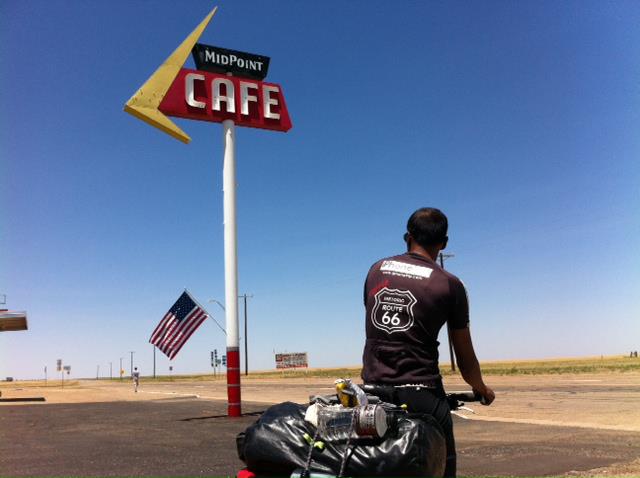 The Midpoint Café and Gift Shop
Adrian, TX
The Midpoint Café and Gift Shop in Adrian, Texas, is — you guessed it — halfway between Chicago and Los Angeles. Why not give the ugly pie a try? Don't forget to tip generously while you're there; this historic eatery has fallen on hard times due to COVID-19 and is running a GoFundMe fundraiser to help pay the rent.
Miz Zips Cafe
Flagstaff, AZ
Miz Zips Café in Flagstaff, Arizona, is a classic for a reason! If the cute décor and idyllic location weren't enough of a reason to stop, the menu definitely will be. Hit the road again feeling satisfied with everything from classic Texan barbecue, full breakfasts, and fresh apple pie!
Route 66 Classic Grill
Canyon Country, CA
Once you've made it all the way to sunny California, don't forget to finish with a bang at Route 66 Classic Grill in Canyon Country. This is easily the best diner in the area to attend if car shows, biker nights, and other fun events.