We've all experienced some lifestyle changes this year. The newfound thoroughness and obsessiveness with which we wash our hands, for example. Or developing strong opinions about face mask features. Becoming really into sourdough bread or the outdoors. One of the most challenging lifestyle changes has been the closure of bars and restaurants. The pandemic threw those of us who love craft cocktails into the deep end of advanced mixology, whipping up everything from tiki drinks to Negronis in our home bars. It can get a little heady, shaking and stirring classic cocktail recipes. It's important to remember that cocktails should be fun. To that end, we're bringing you a list of easy martini recipes that can be easily assembled at home this weekend.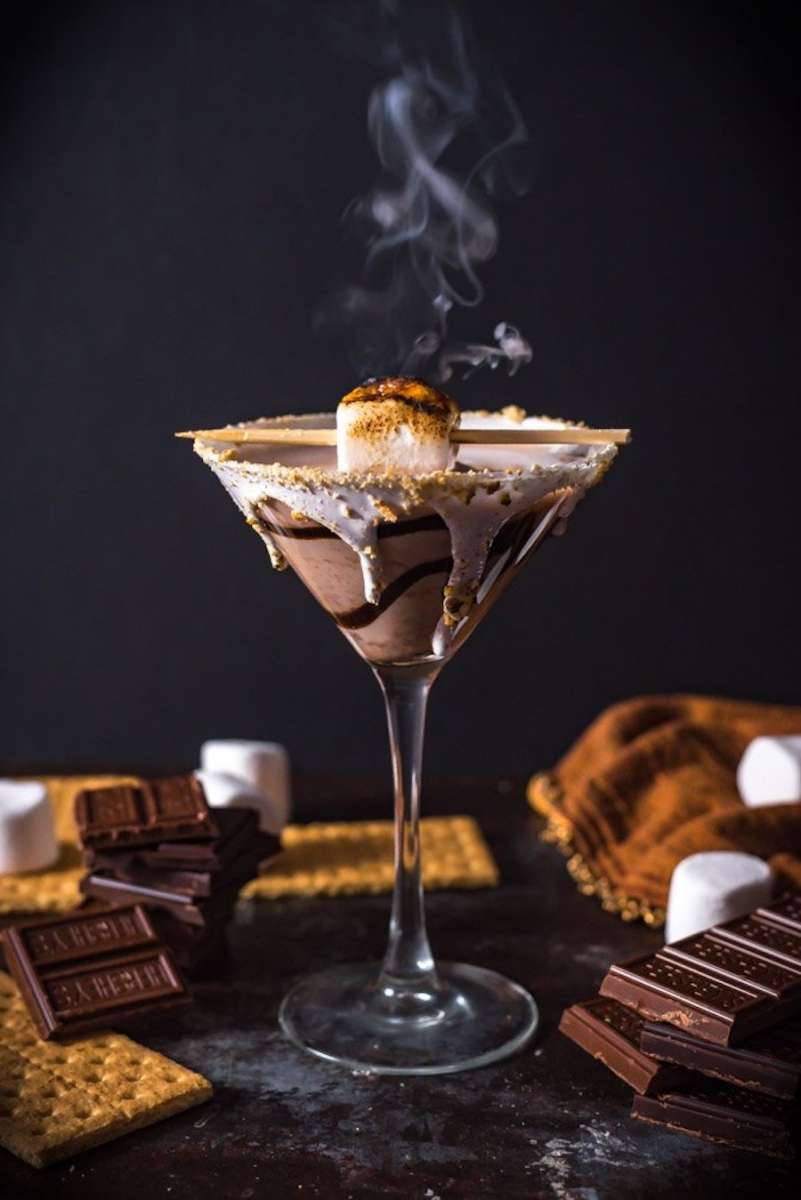 S'mores Martini
Even if you're not in a cabin right out of a "Let it Snow" music video, this riff on a chocolate martini will make you feel like you are. Toasted marshmallow optional.
1 ounce vodka
1 ounce Drambuie
1 ounce Godiva chocolate liqueur
2 ounces heavy cream
1 tsp honey
Rim a martini glass with marshmallow fluff, then sprinkle with crushed graham cracker. Combine the first three ingredients in a cocktail shaker with ice and shake until frothy, strain into the rimmed martini glass. Pour the heavy cream and honey into the shaker and shake until well combined, then gently spoon on top of the cocktail.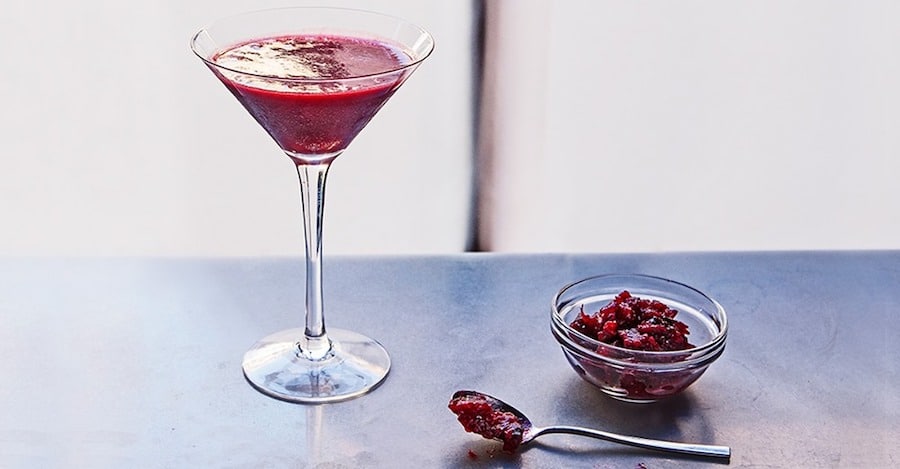 Cranberry Sauce Cosmo
You can assemble this popular martini recipe with leftover cranberry sauce, but we think it's good enough to make an extra batch of sauce with your dinner.
3 ounces cranberry sauce
1.5 ounces vodka
½ ounce Cointreau
½ ounce lime juice
Combine ingredients in a blender with ½ cup of ice and blend until smooth. Strain into a martini glass and garnish with orange zest and candied cranberries.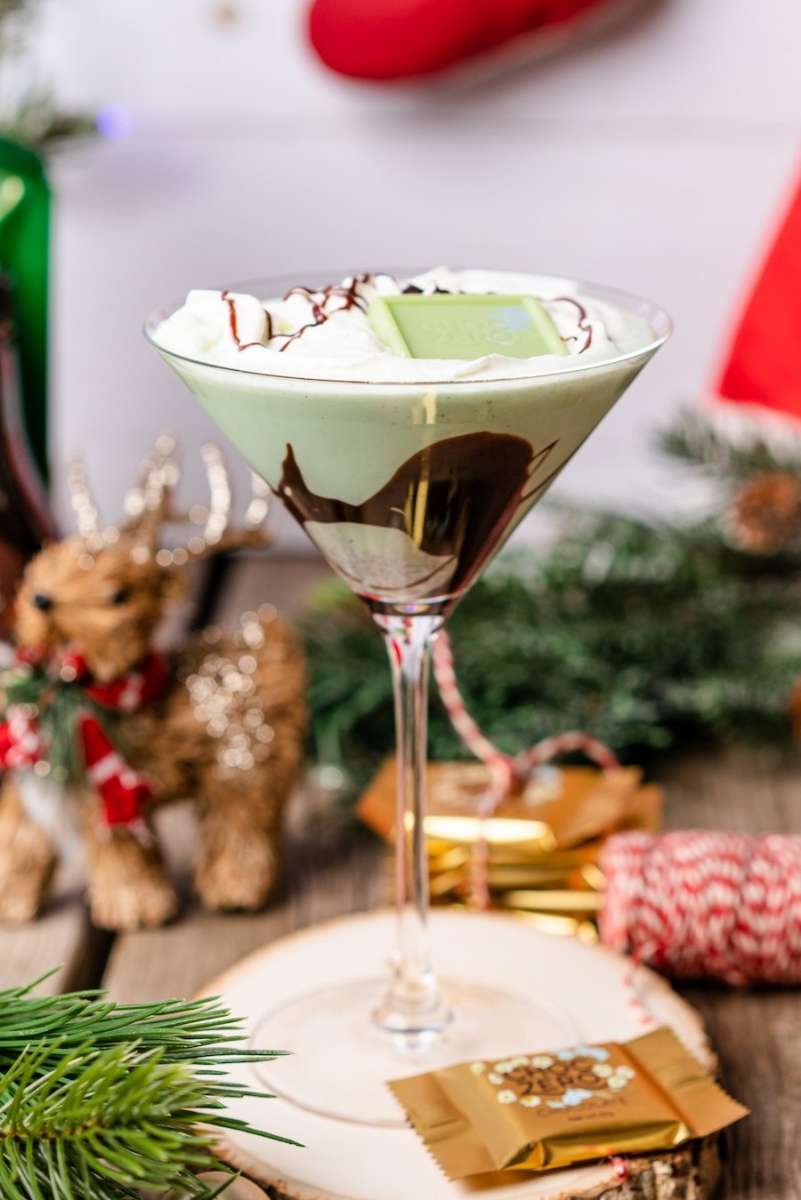 Grasshopper Martini
Robert DeNiro forever made the Grasshopper cool in Ronin when he describes it as the method of interrogation that always makes him talk.
2 ounce gin
1 ounce brandy
1 ounce créme de menthe
Stir all ingredients in a mixing glass with ice, then strain into a rocks glass. If you prefer the dessert version, substitute créme de cacao and heavy cream for gin and brandy and shake vigorously.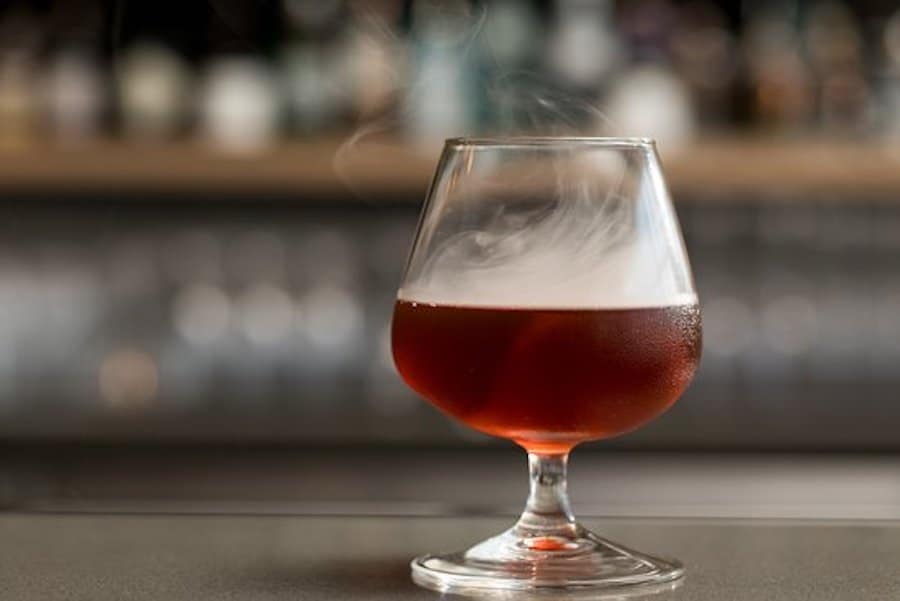 Smoked Manhattan
Go into almost any cocktail bar, and there's bound to be a smoked drink on the menu. You can purchase fancy drink smokers but get the same effect with some cedar chips and a butane torch.
2 ounces

High West Campfire

blend
1 ounce Cynar
2 dashes Angostura Aromatic Bitters
Place cedar chips on a fireproof surface and light with the butane torch until smoking. Overturn a snifter onto the chips and let it fill with smoke. Meanwhile, stir all three ingredients in a mixing glass with ice. Turn the glass right-side up and strain the drink into the smoked glass.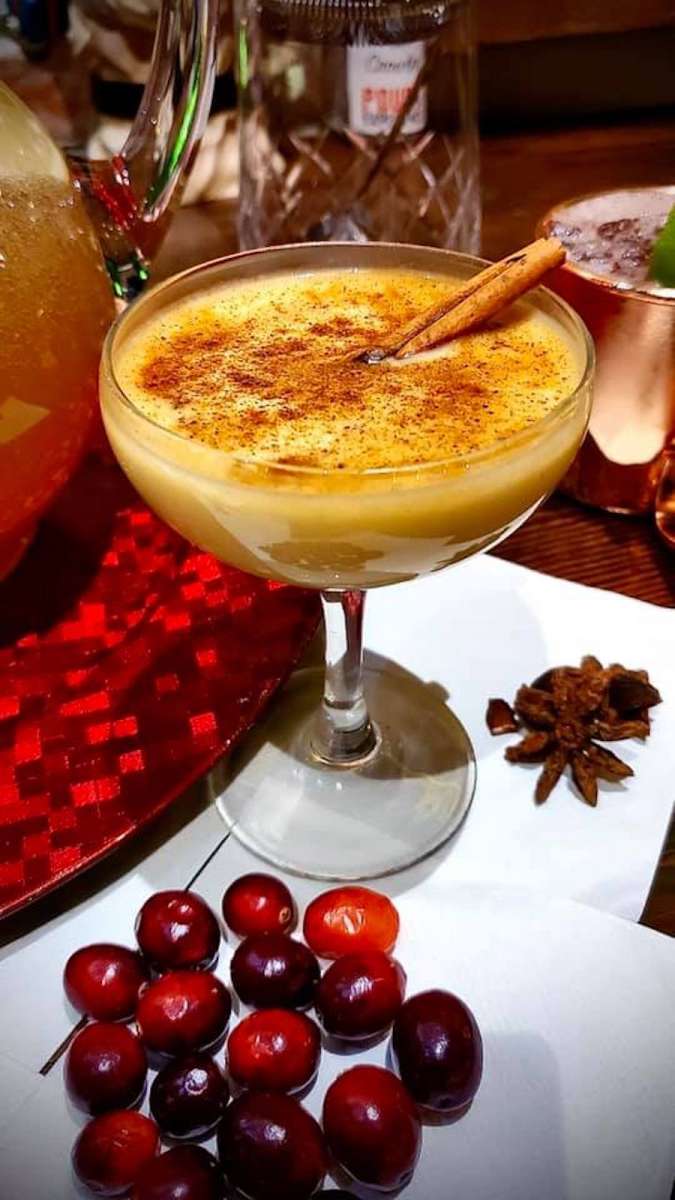 Eggnog Martini
While eggnog traditionally gets a generous measure of whiskey or rum, this cocktail re-envisions it with a vodka backbone.
1 ounce vodka (optional vanilla-flavored vodka)
1 ounce amaretto
3 ounces eggnog
Rim a martini glass using caramel and roll in a cinnamon/nutmeg mixture. Shake all three ingredients in a cocktail shaker with ice until frothy, then strain into the rimmed martini glass. Sprinkle the top with cinnamon and nutmeg and garnish with a cinnamon stick.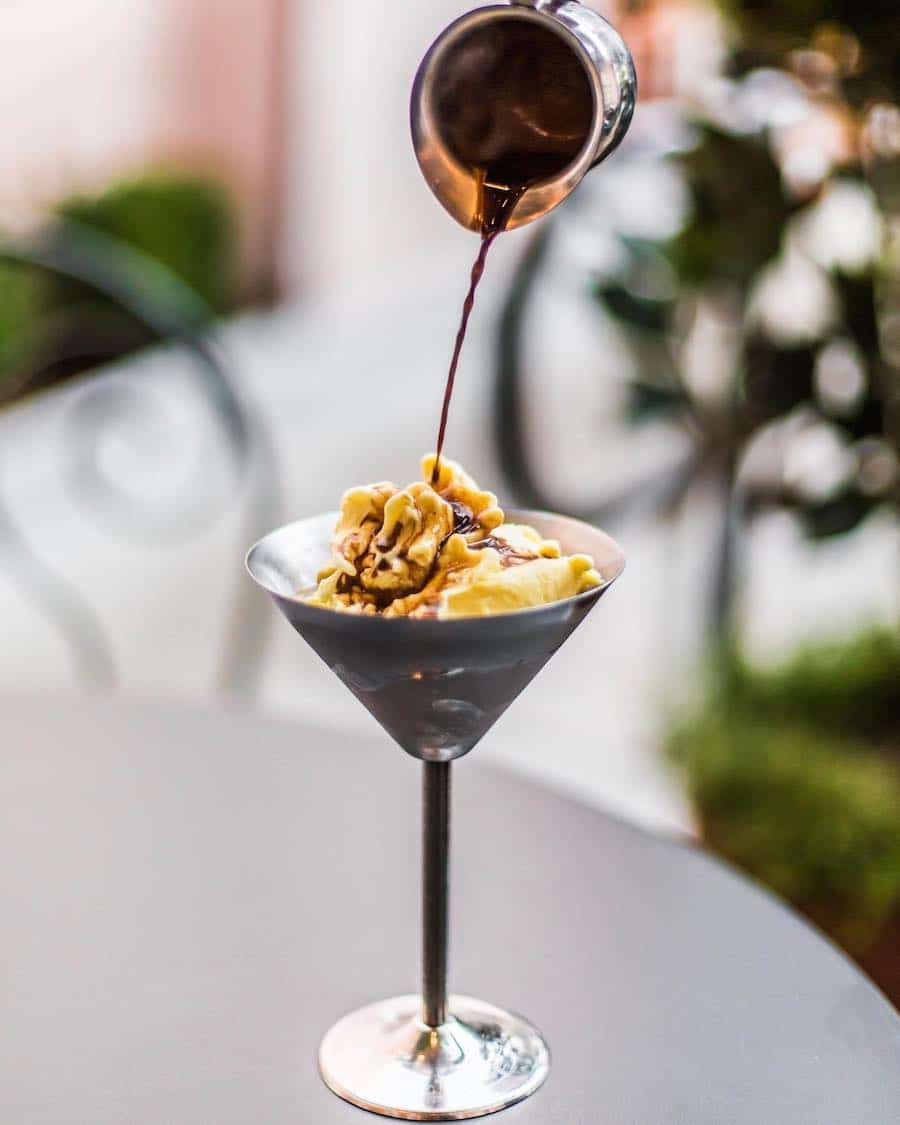 Affogato
The only thing that can make martinis even more fun is adding ice cream. The Italians, brilliant in all things decadent, figured this out long ago and created a delicious martini recipe with ice cream, coffee, and booze called the affogato.
2 ounces amaretto, Frangelico, Kahlua, or Godiva chocolate liqueur
2 ounces hot espresso
1 scoop ice cream: eggnog flavor, caramel, or plain vanilla
Depending on the circumstance, you can either assemble this easy drink in a coffee mug (if you're enjoying an evening home alone) or a coupe glass if you're serving friends. Place the ice cream in the glass or mug, combine the liqueur and espresso and pour over top of the ice cream.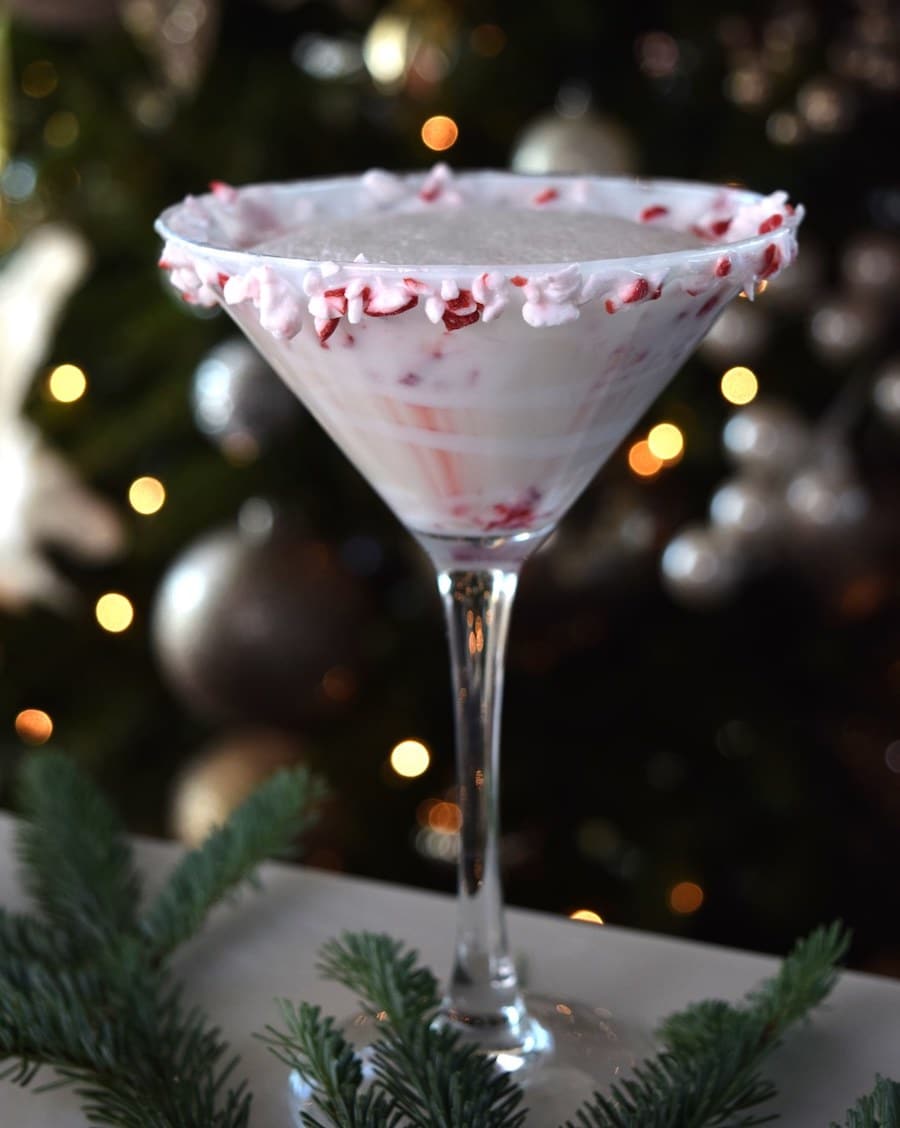 Peppermint Martini
Not everyone is a peppermint fan. But if you're currently adding minty-delight to everything from your morning mocha to your desserts, this popular martini recipe is for you.
1.5 ounce vodka
1 ounce peppermint schnapps
1 ounce Godiva white chocolate liqueur
Drizzle chocolate syrup into a martini glass. Shake all three ingredients in a cocktail shaker with ice, then strain into the glass and garnish with a miniature candy cane.