Summer backyard games are perfect for almost every occasion.  Whether you are hosting an informal summer BBQ, a work picnic, or a family reunion, these backyard games are an easy way to add some fun!
But what games should you choose?  Of course there are the classic games like cornhole (or bean bags, depending on where you live), but there are also the more recent ones (like spikeball), and the innovative ones (like golf beer pong).  Many of these games can easily be turned into drinking games (and for some we've provided suggestions), or they can be kept family-friendly.  
We've compiled a list of some of the most popular backyard summer games (and links on where to buy) for your next event!  You can even put a few of these games together to create the summer olympics in your backyard!
Spikeball
This game has also been called slamball or smashball as well.  Usually it is for four players (two teams of two) but can also be played with 6 players.  It's sort of a cross between foursquare and volleyball and can be played on most surfaces including the beach or a park!  
Where to buy: Amazon, other options are available for name brand or more equipment as well.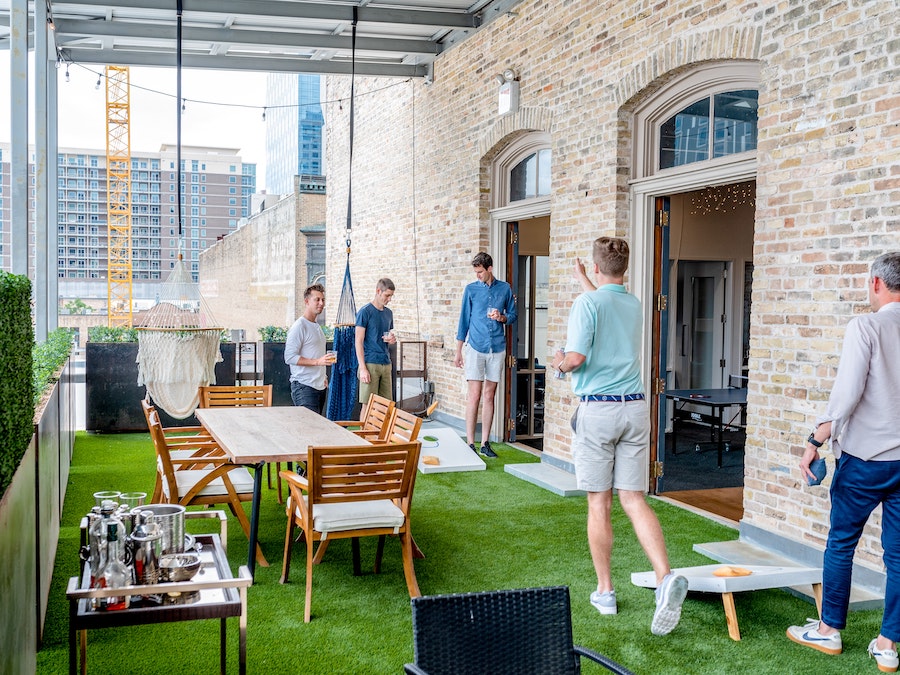 Cornhole (or bags, bean bags)
Classic cornhole, or bags, or beanbags, depending on where you live.  This game is an easy summer go-to because most people already know how to play.  However, there are a few ways to mix it up if you want some added variety. This game is usually played with four players (two teams of two).
Where to buy: You can purchase cornholl almost anywhere – Amazon for your classic set, or Etsy for a customized one.
Giant Jenga
Jenga is a game most of us have been playing since we were kids, and giant blocks just add an even more entertaining element to it.  If you're crafty enough, you can even make this game at home.  This game can be played with several players, or even on teams.
Where to buy: If you're not going to make it yourself, you can grab it on Amazon.  There's also an adult drinking game version (or buy the blank ones and make your own adult version…we won't tell).
Giant Wooden Dice
You can do a lot of things with giant wooden dice!  For example, the classic Yahtzee, or the drinking game 7, 11, doubles.  Basically for 7, 11, doubles, you roll the dice and if you get a 7, 11 or a double, you get to choose who takes a shot.  Once they start drinking, you can roll again and try and get another 7, 11, or double before they finish, and if you do they have to drink again.  Feel free to get creative and make your own drinking game – or simply turn any dice game into a fun giant version.
Where to buy: Amazon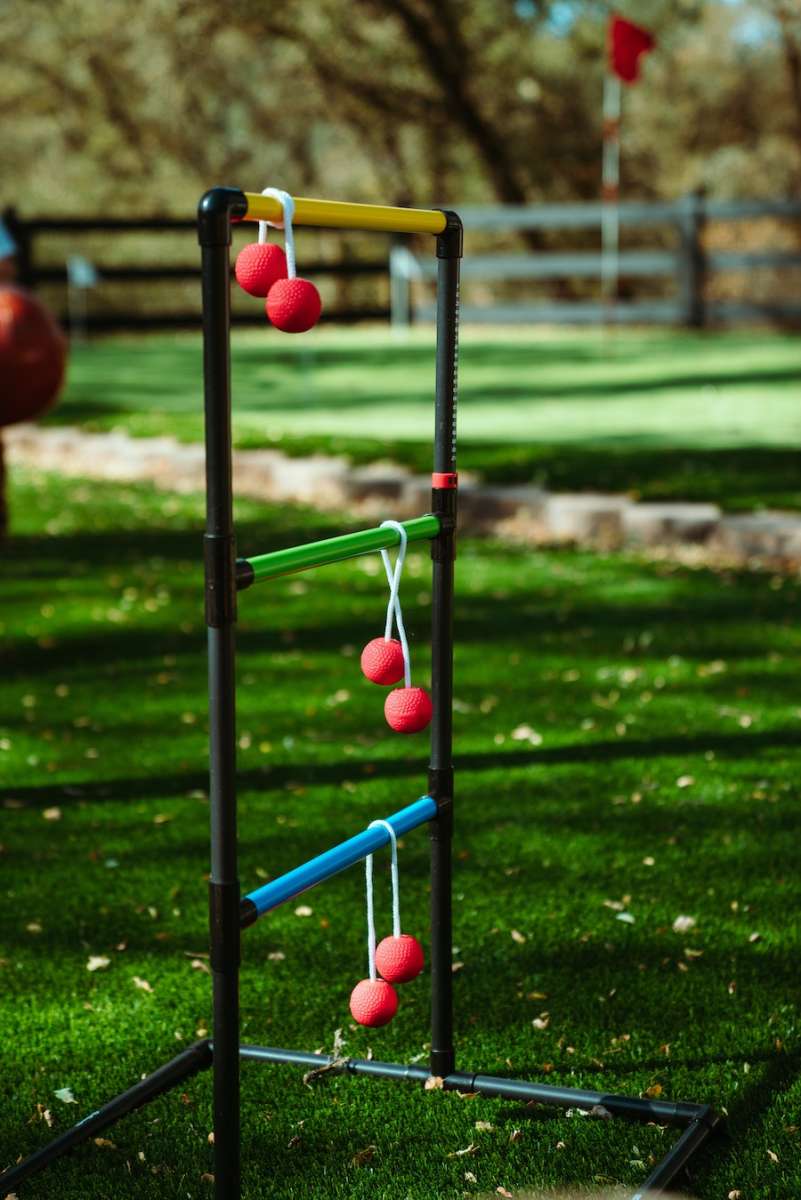 Ladder Toss
Ladder toss is a fun, easy to set up yard game.  You normally play with four people (two teams of two).  If you already have cornhole or spikeball, consider adding this game to a mini "yard olympics" for friends!  You can even create a bracket and make it official for your next BBQ.
Where to buy: Amazon
Golf Beer Pong
If you enjoy beer pong, make it a little more interesting by adding golf to the mix! There are a few ways to play it, but typically there are four people (two teams of two).  You can use the standard beer pong rules or make up your own.  If you're bringing to a family reunion this summer, just take out the drinking portion and you still have a fun game everyone can enjoy!  
Where to buy: Amazon