With stories of man triumphing over gods and references to ancient Greece, games based on Greek mythology are not new. With so much variety and stories in Greek mythology, fans have been treated to numerous titles based on this theme over the years. 
For players who love Greek mythology, want to be transported to the ancient temples of Olympia, or simply revel in the references to ancient Greek tales, there are plenty of options. here are 5 games you can enjoy right now.

Age of the Gods
Age of the Gods is an amazing slots game with a Greek Mythology theme. Developed by Playtech, the Age of the Gods game features a slick design and a massive jackpot. Hit Athena, Zeus, Hercules, or Poseidon and you can win free spins, but Hades will throw you out of the main game and all is lost!
Age of Mythology
Age of mythology is a real-time strategy game where players can play as Greek, Norse, and Egyptian gods. The aim is to create civilizations as fast as possible and then defend your creations from your enemies. To make the game even more exciting, players can challenge other players and conquer their civilizations.
Players progress through different ages, with the last age being the age of Mythology. In addition to the three main gods from each culture, players can also add other gods to their collections, with each god added giving players new abilities and building units to further their civilizations.
Theseus
If you love VR games, you will love Theseus. The game revolves around the Minotaur, a mythical creature with the body of a man and a bull. The Minotaur is trapped in a labyrinth, and the game seeks to recreate the legend of the Minotaur as closely as possible.
You will play as Theseus, a hero from Athens, as you try to get through the labyrinth maze to kill the Minotaur. The game includes elements of exploration as you explore the labyrinth maze, combat, and survival. The game also has a story that will capture your attention until you reach where you need to slay the Minotaur.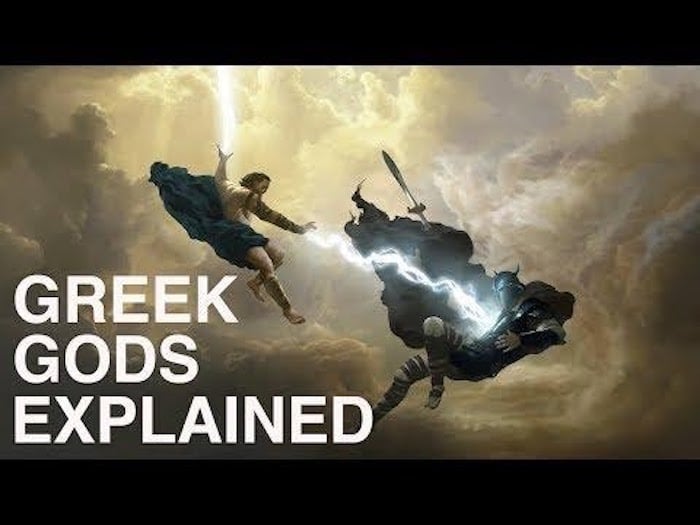 Okholos
Okholos is a different game in that instead of playing as an individual, you play as a mob. The mob consists of animals, slaves, and warriors rebelling against the ancient gods, who have treated them badly. The mob seeks to destroy everything in their path, and this is what most of the gameplay entails.
Okholos has amazing scenery and a setting from Ancient Greece that includes lush temples and fearsome gods. They will amaze you, but they are not such a huge hindrance that they make the game too hard or unplayable. Okholos is a truly different game and stands out among similar games.
Assassins Creed: Odyssey
Assassins Creed: Odyssey places you right in the streets of Ancient Greece. You start as an outcast and complete various missions and tasks to become a Spartan legend who is respected by both gods and man.
The game does not lean too heavily into Greek mythology but instead uses Ancient Greece as the setting of the Peloponnesian war, which is a large part of the game. The game does not have a strict structure, with players able to create their own paths and influence the war and Greek life around them in different ways.
God of War
Although recent iterations of the game have followed Norse mythology, God of War originally followed life in Ancient Greece. It follows the story of Kratos and is one of the oldest games in the Greek mythology genre.
Forced to kill both his wife and daughter, Kratos avenges their deaths and becomes a god himself. He then fights his father, Titans, and Olympians for betraying him and becomes one of the few Greek-themes games in the betrayal and revenge genre.
If you are looking for a game based on Greek mythology and Ancient Greece, there is no shortage of both older and new games to choose from. Many of them have interesting stories, with some of them letting you forge your own path and play the game as you wish.