The days are getting longer, and there's occasionally a warm breeze instead of the frigid onslaught of winter. It's time to switch from bad-weather blizzards to Blizzards in a cup. Our favorite part of summer is packing away the slow cooker for the next six months and firing up the grill. Nothing goes better with hot summer afternoons or lazy firefly-lit evenings than Dairy Queen Blizzards. Depending on where you live, the DQ might be the only social event in town. They serve a purpose, is what we're saying, as does platforms like darmowe gry hazardowe owoce. If you're in a major city, there are boujee alternatives, but nothing hits quite like the array of flavors from the OG. If you are looking to fulfill your ice cream cravings, we have compiled a list of the 10 best Blizzard choices at Dairy Queen. 
M&M's Milk Chocolate Candies Blizzard Treat
Why? What is the point of M&M's? They're not that good as candy; they just get frozen and weird in ice cream. Order this if, instead of enjoying a Blizzard, you'd rather have a mediocre experience.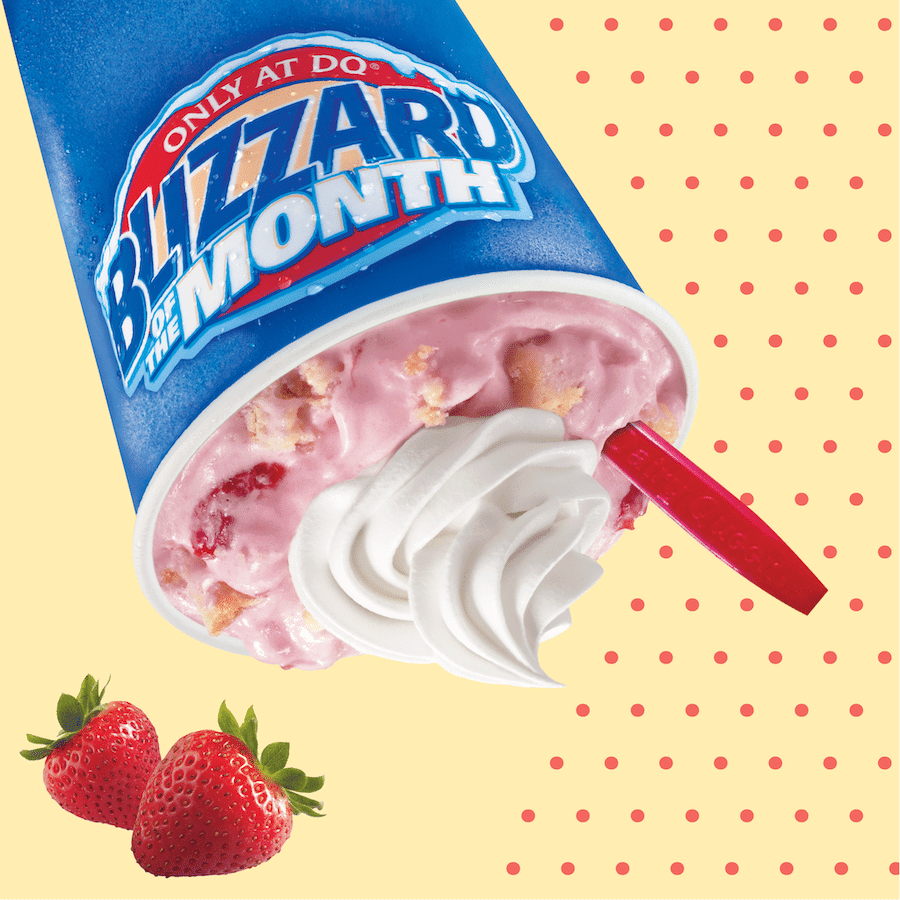 Choco-dipped Strawberry Blizzard Treat
Remember season 6 when Carrie Bradshaw ordered a strawberry shake from McDonald's? Until that point, none of us knew that McDonald's even had strawberry shakes as an option. Ice cream is just a weird time to bring fruit into the equation. If you're looking for new types of Blizzards to order at Dairy Queen, the Choco-dipped Strawberry Blizzard is a safe bet.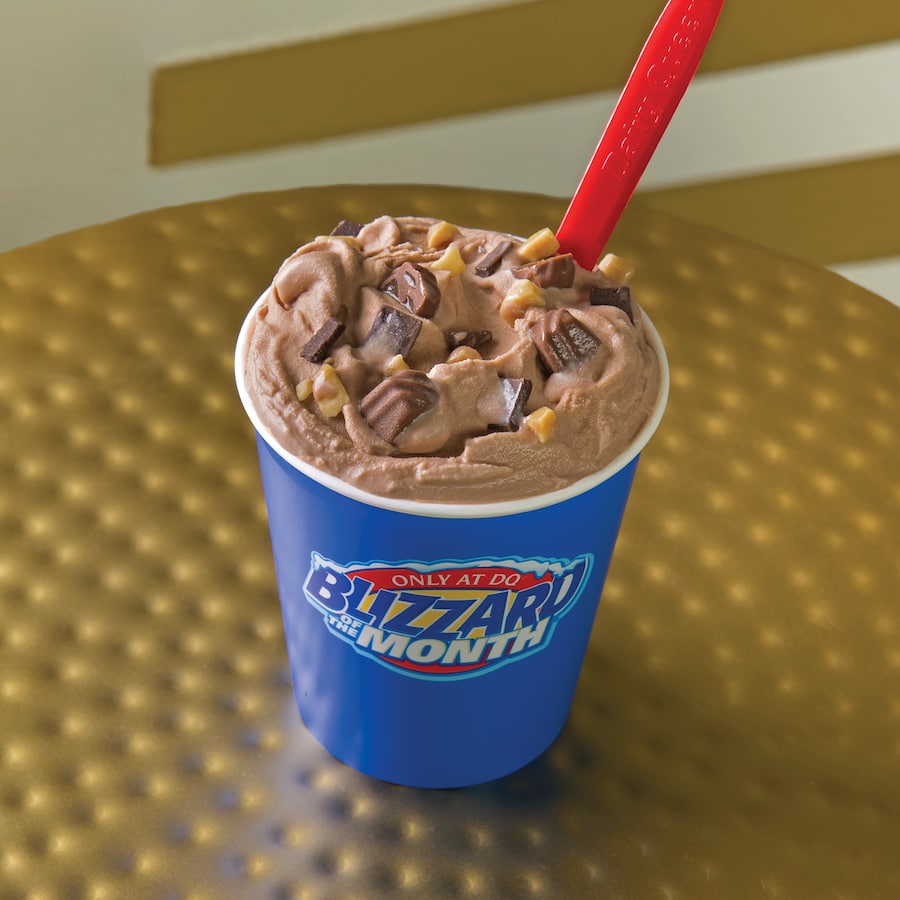 Royal Rocky Road Trip DQ Blizzard Treat
This flavor is low on the list because we're pretty adament that nuts have no place in what is, essentially, an evolved milkshake. It's disorienting. Maybe even dangerous. But even with that hardline stance, it's hard to argue with the core of marshmallow fluff in the Rocky Road Blizzard. Rocky Road is a perfect dad flavor. Maybe get it to treat yourself for the first yard work you do of the season. 
Read More: 5 Best Burgers to Try on the Menu at Wendys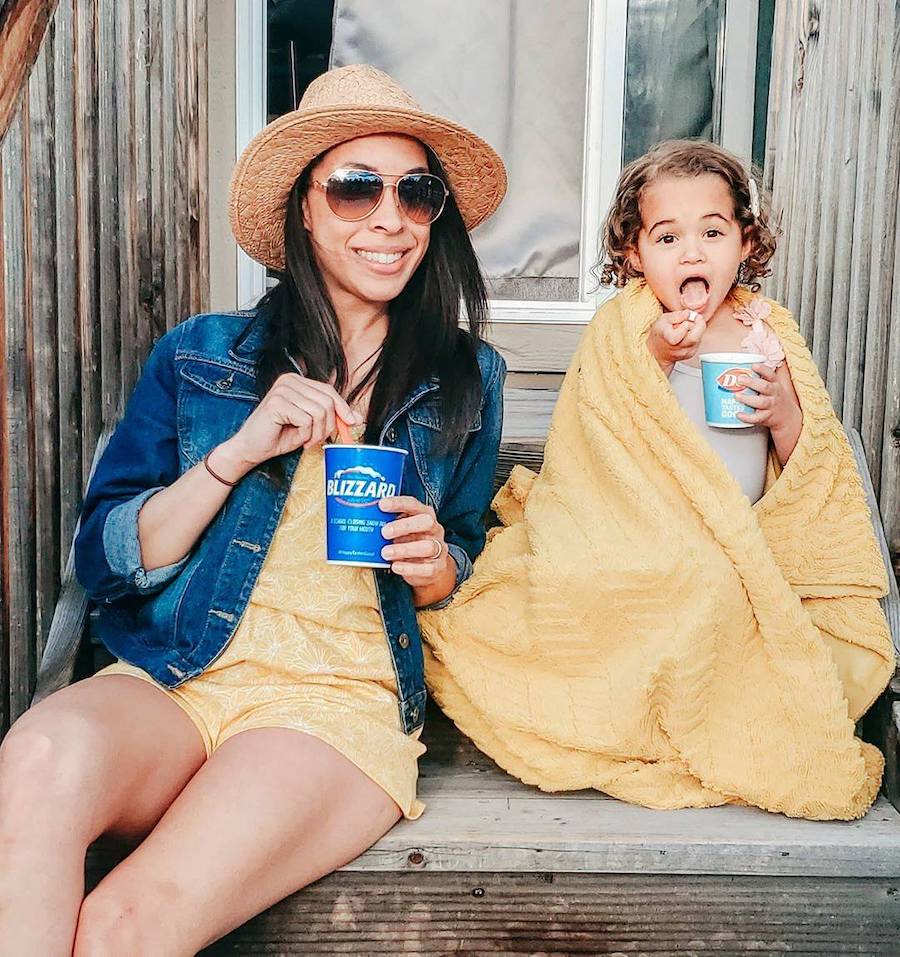 Chocolate Chip Cookie Dough Blizzard Treat
You know how easy-bake cookie dough packages have warnings not to consume raw cookie dough on the side of them? And then, at some point, some genius out there just made edible cookie dough and made a fortune? If you are craving cookie dough ice cream, the best Blizzard to buy at Dairy Queen is the is the Chocolate Chip Cookie Dough dessert. This Blizzard is assembled with soft serve with massive chunks of chocolate chip dough and fudge.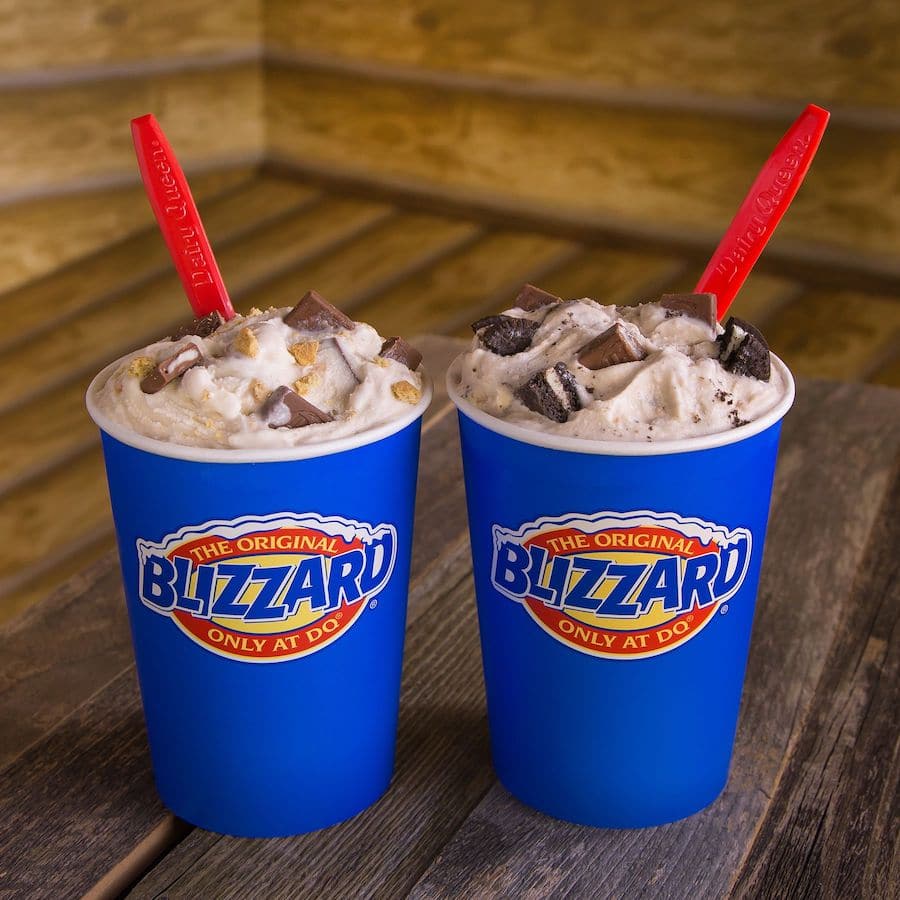 Brownie Dough Blizzard Treat
What is it about unbaked pastries? There's something that's just better, licking brownie dough off a spoon or out of a bowl. Part of it is the finite amount. At least until now. Hook yourself up with a Brownie Dough Blizzard and see if you can find the terminus of indulgence. It's made with brownie dough chunks, chocolate chunks, and fudge. 
Read More: 10 Popular Drinks to Buy On the Menu at Dunkin' Donuts

Oreo Blizzard Treat
This ranking comes down to whether cookies and cream makes your top-five ice cream flavors. If it doesn't, well–you're wrong. If it does, you know that the Oreo Blizzard is cookies and cream ice cream the way you want it–with massive chunks of Oreos.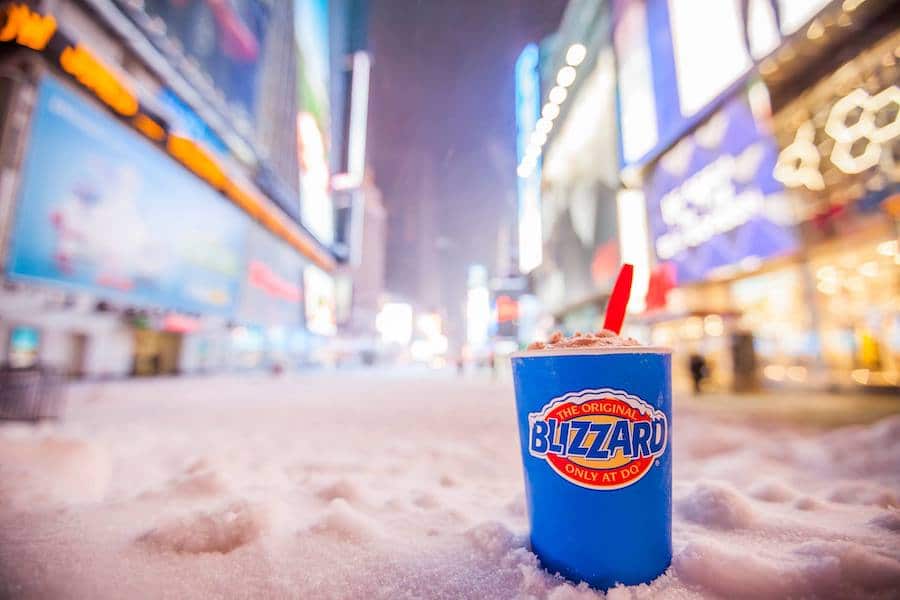 Snickerdoodle Cookie Dough Blizzard Treat
The snickerdoodle is simply an under-appreciated cookie. People get so crazy for chocolate chip or peanut butter. The addition of cinnamon to a sugar cookie is sublime sophistication. It's the Marie Kondo of the cookie world. Something doesn't have to be complicated to be phenomenal. This type of Blizzard at Dairy Queen is dedicated to the snickerdoodle fanatics.
Read More: 10 Popular Bottled Water Brands to Buy & Drink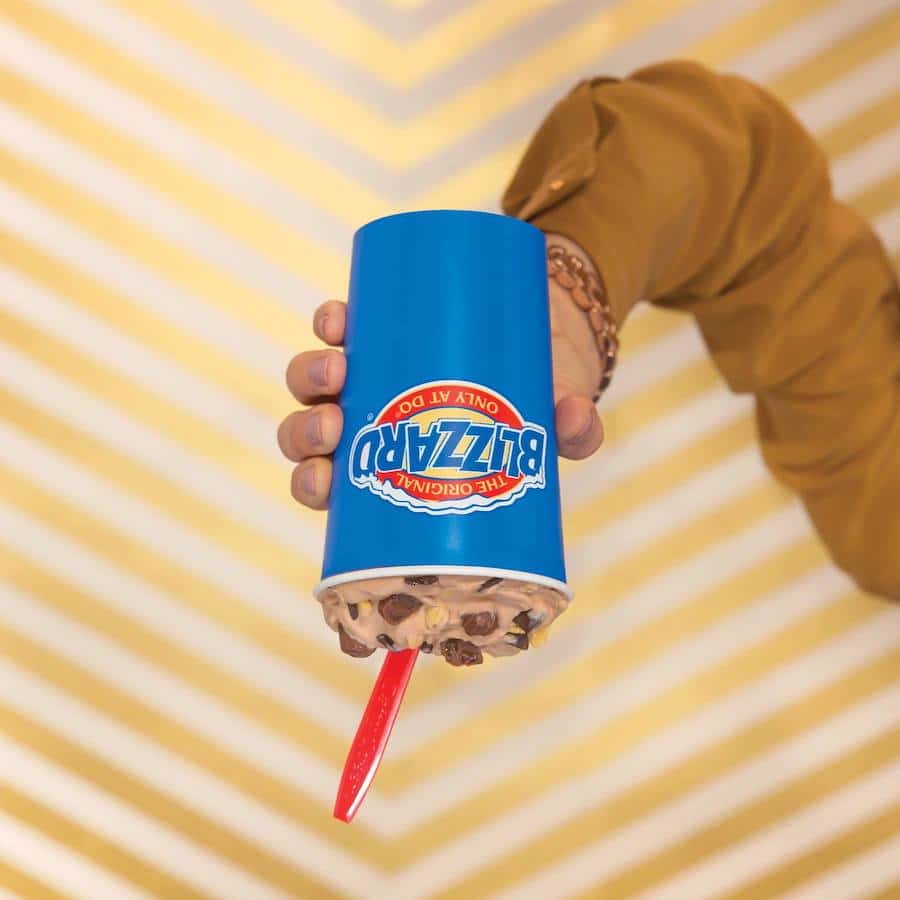 Choco Brownie Extreme Blizzard Treat
Listen, if it's got the term "choco" in it, you know it's legit. "Choco" is for treats so chocolate-y they don't have time to use the entire word. This Blizzard brings you chocolate in four different forms: chewy brownies, chunks of chocolate, and fudge mixed in with chocolate soft serve. It will heal your spiritual ailments, bring light back into your life, and is the exact amount of chocolate you need to deal with the BS you encounter in life.

Royal New York Cheesecake Blizzard Treat
The rich core of strawberry topping at the center of the Royal does it for us, but this isn't an every-week sort of Blizzard Treat. The Royal is a special occasion when you're really treating yourself kind of Treat. It has graham cracker crust, and actual pieces of cheesecake blended up with DQ's iconic soft serve.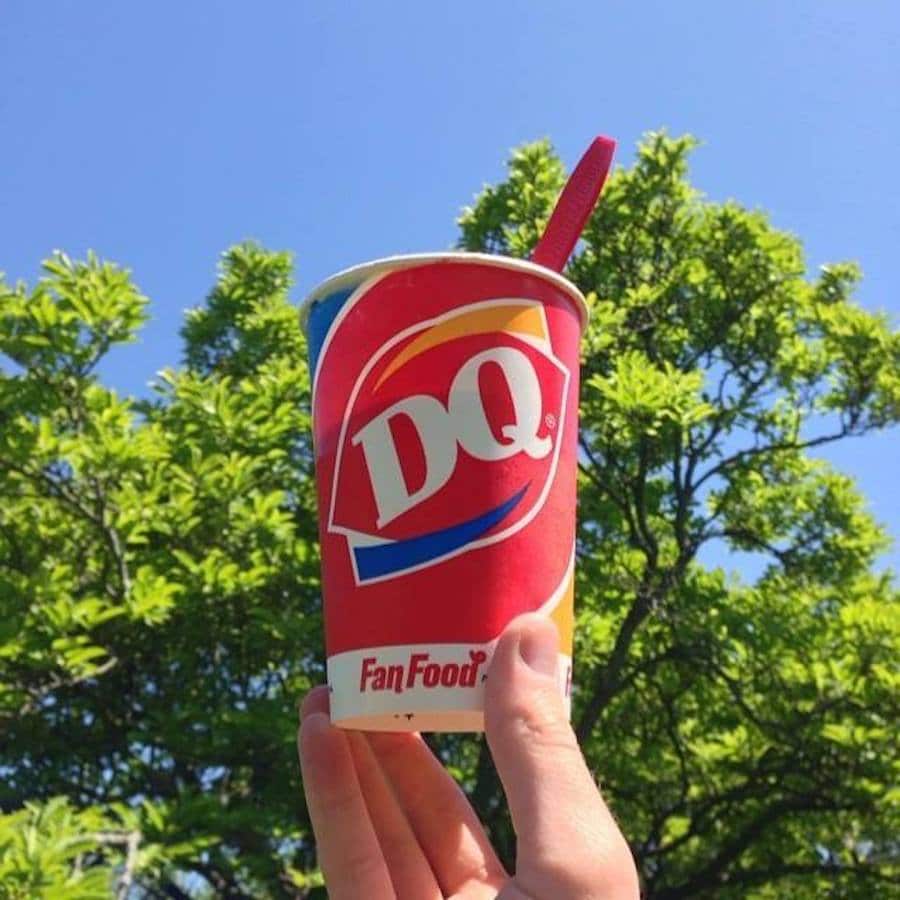 Reese's Peanut Butter Cup Blizzard Treat
If you follow along with our candy content, you know that Snickers and Reese's vie for the #1 spot in our hearts. But, in a total upset, there's no contest with regards to Blizzards at Dairy Queen. The simple, classic Reese's is always a good idea when you need a pick-me-up. There's chunked up peanut butter cups blended into a creamy milkshake–what's not to love. 
Photo Credit: Dairy Queen on Facebook
Read More: 15 Funny Questions to Ask Siri When You Are Bored