Tom Hanks has managed to carve out a career over 40 years long because he has become Hollywood's nice guy. No one has a bad word to say about him and permanently comes across as someone who always has good advice or can just offer a hug. However, it is always fun to see nice guys play against their type and be a bit of a jerk and in director Marc Forster's latest tearjerker, A Man Called Otto, Hanks proves once again he is one of Hollywood's best leading men.
A Man Called Otto centers on the titular Otto, a recently widowed man who has grown to become the curmudgeon of his well-manufactured and well-manicured neighborhood; he organizes the recycling into the appropriate bins, he berates the local pets for urinating on his sidewalk and chastises anyone who is perceived to be not following the rules. The questions immediately abound as to how someone could grow to be this angry and quick to judge others but Otto is clearly hurt. His wife Sonya passed away roughly six months before the film opens but Otto is determined to end his life and join his wife. His suicide attempts are repeatedly interrupted by his new neighbors Marisol, Tommy and their two daughters with a third child on the imminent horizon. Otto is reluctant to get close to them but he begrudgingly lets them in when they truly need his help.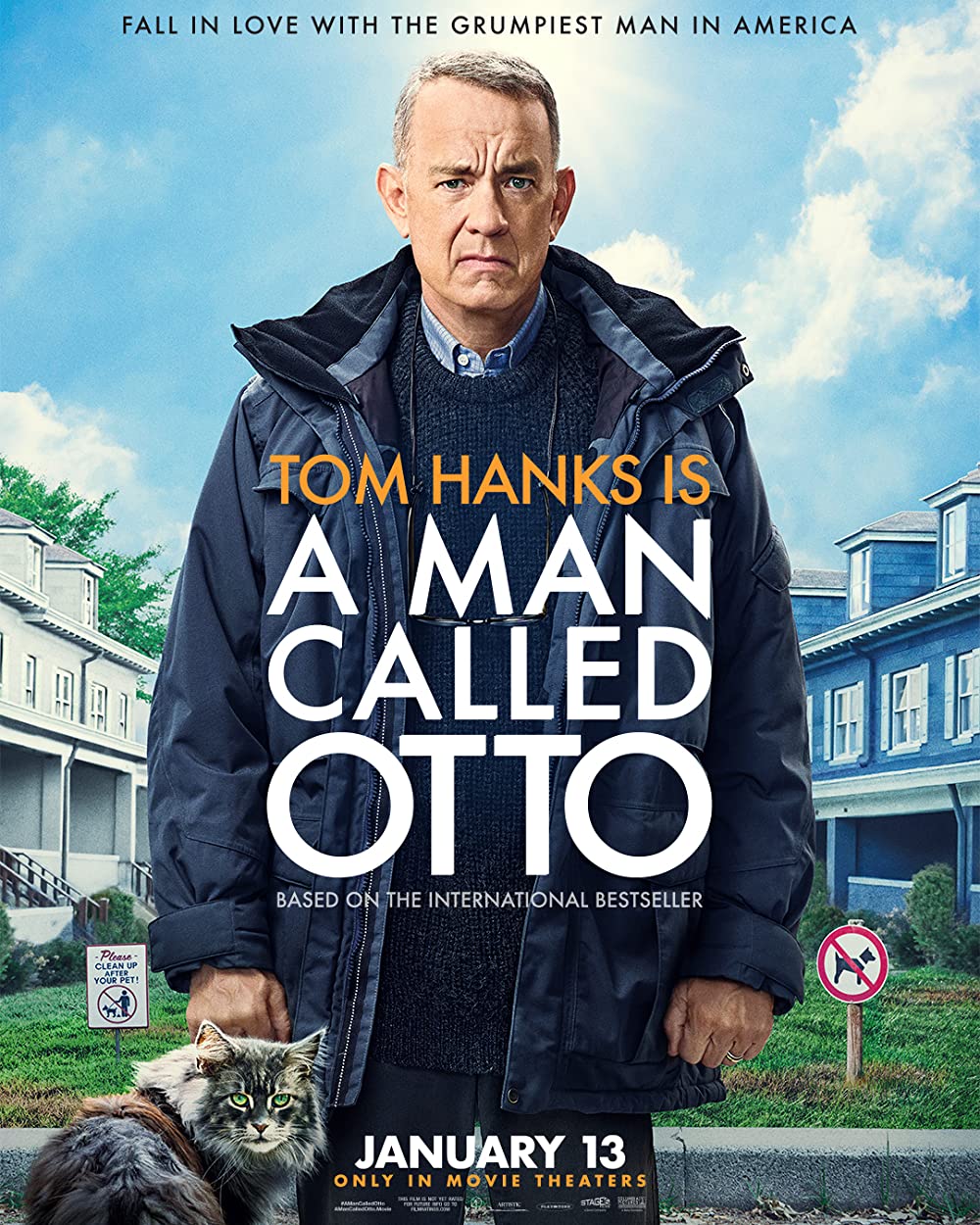 Most of the film's exposition is utilized via flashbacks and they reveal quite a bit about how Otto's disappointing medical diagnosis led to a chance encounter with Sonya, how their first date sweetly revealed how Otto saved his money so Sonya could eat whatever she wanted, his graduation from engineering school, their engagement, moving into their neighborhood and Otto's desire for her to have nothing but the best from their life. These flashbacks also reveal the sadness and purpose that drove Otto; after an accident caused a miscarriage and paralyzed Sonya, Otto resolved to make her life easier by forsaking his own desires to show how much he loved her. It is a sweet but heartbreaking reveal of a relationship that only Pixar's Up can rival.
In spite of Hanks' performance, it is the acting of co-star Mariana Treviño that truly steals the show. She immediately bonds to Otto after recognizing that his unfriendly ways are covering up pain and she resolves to break through his tough veneer. Marisol has her own struggles as she is visibly pregnant with her third child and her family is figuring out the complexities of home ownership but Otto takes pity on her. She has compassion that reminds him of how Sonya always encouraged him to be the best version of himself. In one of the film's more amusing scenes, Otto decides to teach Marisol how to drive and offers her a pep talk reminding her just how smart and capable she is to navigate her brave new world.
Over time, Otto's grumpy exterior is demolished as he connects with Marisol's family, his former best friend Ruben who became wheelchair bound due to a stroke and even encounters a former student of Sonya's who acknowledges her as one of the most caring people he ever knew. Even though Otto initially desired to end his life, the people he meets unknowingly convince him to live and to find a new purpose in his life. A Man Called Otto explores the constraints that grief places on our lives, whether we know it or not. It may seem tempting to find a quick end to our grief or to not focus on it but grief is an ongoing process and it does not have an expiration date. The pain does not go away but what matters is who one chooses to connect with or where one decides to focus their energy. Otto literally has a large heart thanks to that medical diagnosis years ago but he figuratively grows one as he becomes a part of Marisol's family and buries the hatchet with Ruben by finding a way to keep him in his home with his wife. Ruben offers some of the most heartwarming moments when he tries to stop Otto from one of his suicide attempts and offers a smile for him when Otto issues a long overdue apology. 
Otto is able to move on from Sonya's passing thanks to Marisol, Tommy and his other neighbors but ultimately, he succumbs to his condition and offers a final letter that only he could have authored. Marisol is moved by Otto's love for her and her children and fondly remembers the grumpy man who literally would not let anyone in his home. A Man Called Otto is a tried-and-true formula for these comedy/drama films but at its heart is a story of grief, love, connection and the human to collectively shoulder burdens.
VERDICT: 4 silver quarters out of 5
If you are having a hard time or need someone talk to, reach out to the Suicide & Crisis Lifeline at 988
Image Credit: Rotten Tomatoes