You can easily find Vietnam snacks to bring home as gifts to friends, relatives, or partners. But also because of the rich and attractive cuisine, choosing what to buy is not so easy. In each place, the specialties of Vietnam have their unique characteristics of taste, eye-catching appearance to suit your requirements and taste.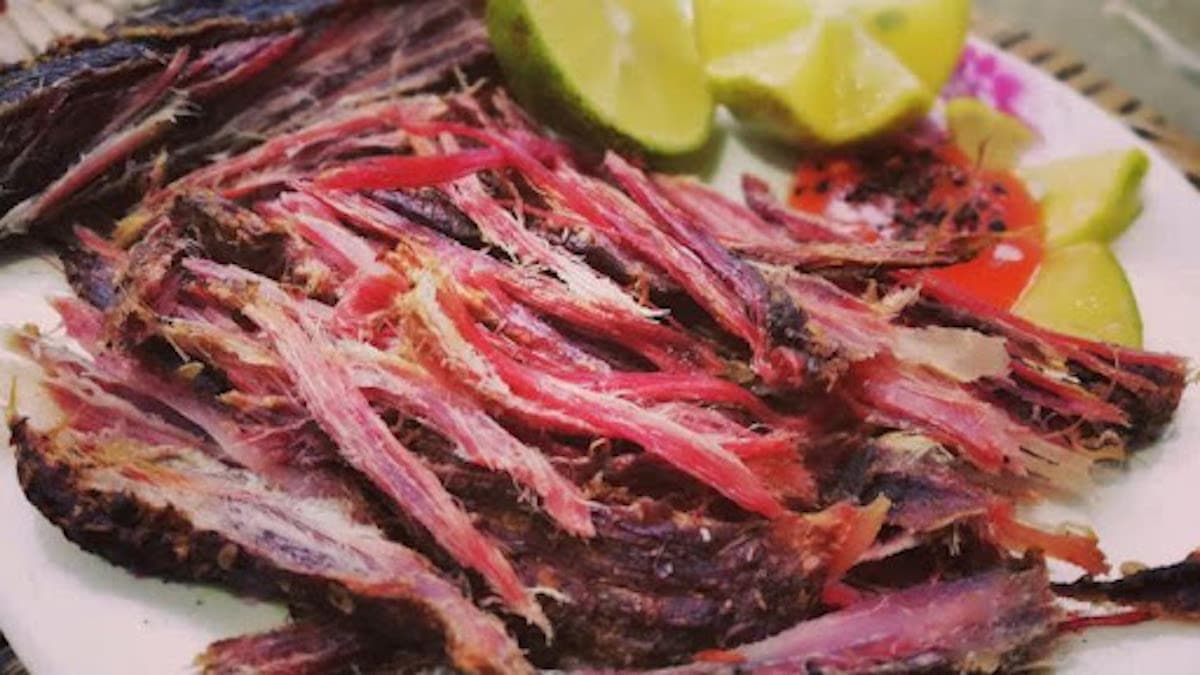 Source: Internet
1 – Kitchen buffalo meat
This is one of the most unique Vietnam snacks to bring home for you, widely known as a Northwest specialty found in some provinces such as Ha Giang, Lai Chau, Dien Bien, Yen Bai,… Kitchen buffalo meat is fresh meat marinated with lemongrass, chili, garlic, ginger, and Mac Khen seeds, then left to cook from kitchen smoke. As a result, this specialty retains its fresh and rich flavor, best eaten with "chẩm chéo" – a special spicy sauce from seeds in Vietnam's north mountains region. Kitchen buffalo meat is an irresistible delicacy, not only for foreigners but also for Vietnamese who are already familiar with it.
2 – Quang Ninh squid patties
If you visit the seaside of Quang Ninh and Halong city, don't forget to buy the squid patties as interesting Vietnam snacks to bring home. Different from regular squid patties, Quang Ninh's crispy type has the aroma of fresh squid, carefully handmade by locals from the selection of raw materials, which are large-sized apricot squid that is still alive, then pound them by hand and mold into pieces. This is the dish that makes the culinary brand of Quang Ninh's sea, but you need to check before buying to get the right local products, because now there are many fakes that are not of the right origin and quality. 
👉  Explore the secrets & gems of Vietnamese cuisine at Vietnamtrips.com
3 – Lotus tea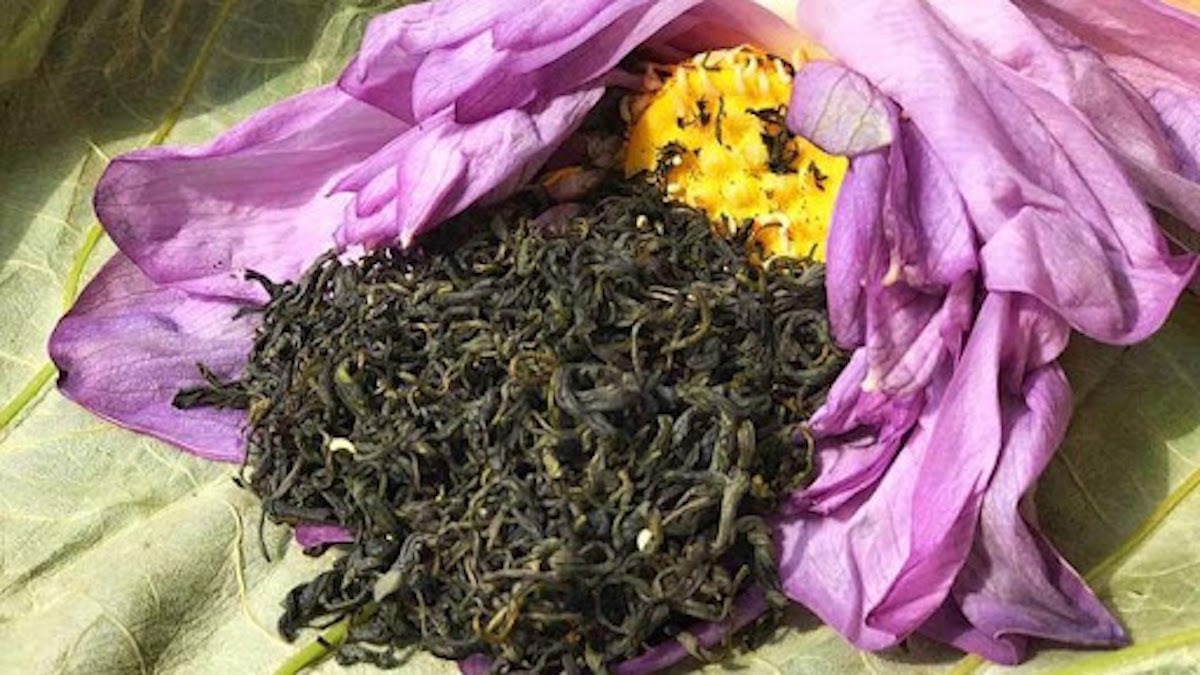 Source: Internet
Vietnamese people often have the habit of enjoying tea to treat guests, which has the meaning to show respect, so tea is also one of the unusual but suggested Vietnam snacks to bring home. In which lotus tea, especially Hanoi's specialty West Lake lotus tea, is the most popular to buy as a gift. The fresh tea tops are marinated in fragrant lotus leaves and pistils to make the tea taste particularly irresistible. West Lake lotus tea is made from lotus grown there, when brewed, it has a milder, stronger fragrance than other types of lotus tea.
4 – Com Lang Vong
Known as Hanoi's famous specialty for thousands of years and able to be kept for long in the freezer in the right way, young green rice is one of the Vietnam snacks to bring home that you should consider. In particular, Vong village in Hanoi is where you can find the most delicious Com. The round green rice is wrapped in fragrant lotus leaves and best eaten with ripe bananas. Com in Vong village is usually only available in the fall, so if you want to buy this Northern specialty as a gift, remember to go at the right time. Or you can also buy other Hanoi delicacies from young green rice.
5 – O mai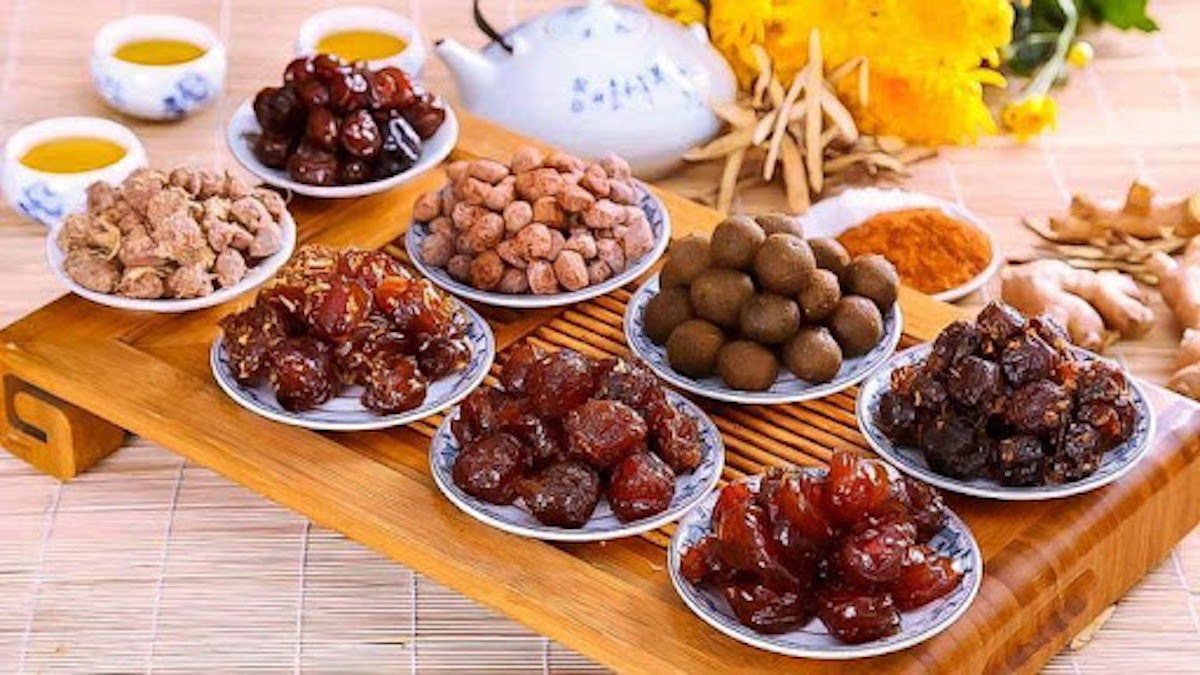 Source: Internet
This is one of the best Vietnam snacks to bring home, thanks to its diversity, long shelf life, and convenient compactness. O Mai is often pieces of fruits that have been dried, marinated, or mixed with sugar, salt, and so on. There are a lot of different types, mostly packed into boxes, convenient to give as gifts. O mai has a delicious, sweet, and sour taste that is easy to eat and can be used as a snack or to invite guests. This specialty is more famous and common in the North of Vietnam than the South, especially in Hanoi. You can buy them while walking around the streets, especially in the Old Quarter and Hang Duong.
6 – Cu Do Candy
This is a famous speciality of Ha Tinh, one of the most delicious Vietnam snacks to bring home after your trip to this country. Cu Do Candy seems to be rustic and simple but has become a symbol of this land, that's why anyone coming here would always buy and bring back a few bags of it as gifts. The sweetness of pure molasses, the spicy taste of ginger, and the aroma of peanuts combined with the crispy aroma of sesame rice paper create the charm of Cu Do Candy. You have to go to Ha Tinh to taste the truest and most original flavor of this specialty, but there are also quite a few other places selling it in Vietnam.
7 – Sesame dry cake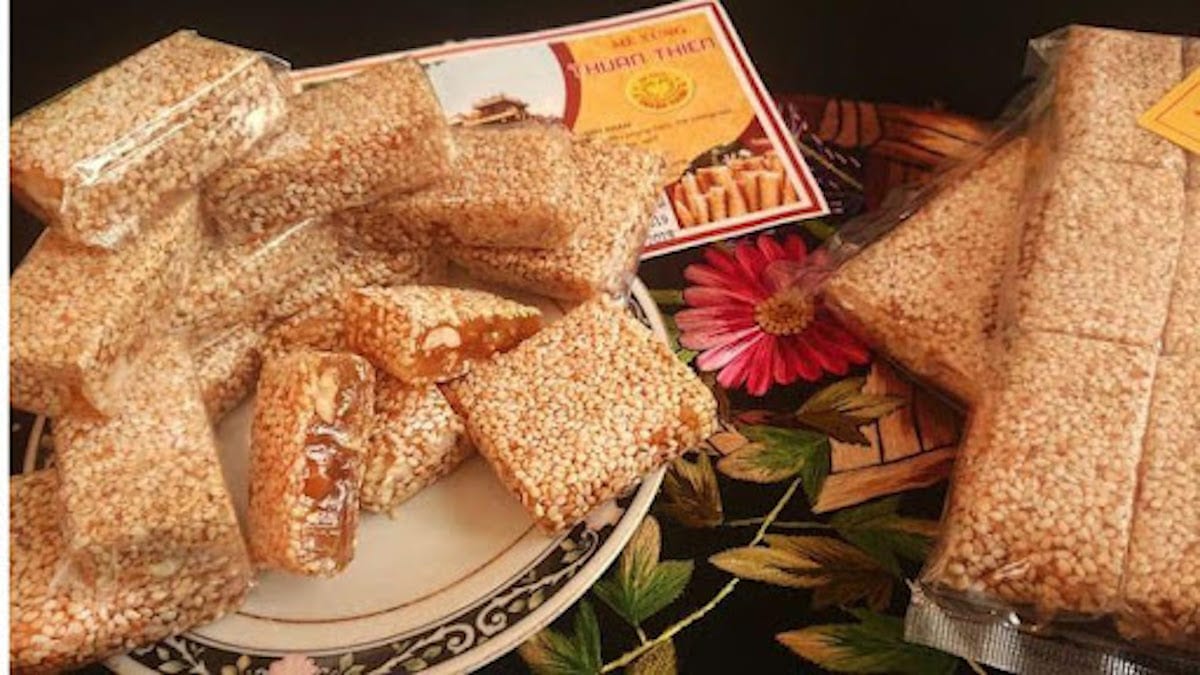 Source: Internet
This specialty has been around for a long time, becoming one of the famous Vietnam snacks to bring home in the heat of many foreigners. There are a lot of places for you to buy sesame dry cake, but Da Nang in general and Cam Le district, in particular, are where you can find it with the most delicious taste. This specialty has a delicious, crispy, sweet, and attractive taste, honored to become a national culinary heritage in 2015.
8 – Durian pia cake
Talking about Vietnam snacks to bring home easily as a gift, durian pia cake is something that must be mentioned. This specialty is famous not only for its delicious taste but also its diversity with many types of fillings such as salted egg and mixed seeds,… Depending on your taste or that of the person you want to give durian pia cake to, you can freely choose a different flavor. Normally, it will be a bit difficult for foreigners to eat, but once you like it, you won't be able to stop eating.
9 – Ben Tre coconut candy
Although Ben Tre is not the only province in Vietnam that grows coconuts, it is the birthplace and development of the famous coconut candy. This is considered one of the best Vietnam snacks to bring home, showing the characteristics of this country, especially the Southern land of rivers and canals. Ben Tre coconut candy specialties are sweet, with many flavors from basic coconut with milk, and pandan leaves, to mixed with durian, chocolate, taro and strawberry, peanuts, and so on.
Vietnamese specialties are very diverse so you might find it difficult to choose, not knowing what to buy as gifts for relatives or friends after your trip. Hopefully, the information about the top 9 Vietnam snacks to bring home above will make it easier for you to make the right choice.