The surge in popularity of preroll cones continue this year as many new cannabis smokers continue to enter the market. Learn about the latest pre-rolled cones making noise this year, and why! Many of these new brands appearing in this list are new, while others remain established in the market. Nonetheless, there is a ton of cool and new preroll cones that require no rolling.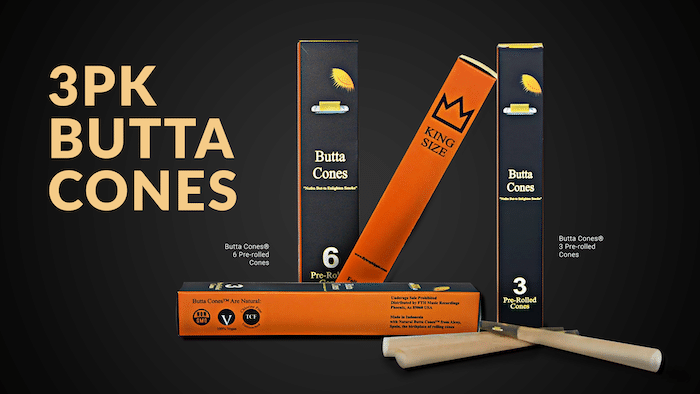 14. Butta Cones by FlyTrapHippie
Butta Cones are plant-based pre-rolled cones. They are king-sized cones, whereas typical cones are 1.25 inches. Butta Cones are high-quality and 100% organic. Butta Cones come in packs of 3 and 6 pre-rolled cones. Using organic and plant based cones will guarantee that the consumer will not breathe in any harsh pesticides or toxic chemicals. Pesticides can cause liver damage, kidney damage, affect balance, worsen vision and hearing, and make the consumer very ill when smoked. Organic pre-rolled cones, such as Butta Cones, strive to guarantee that their pre-rolled cones are completely organic with no pesticides used in or near their cones.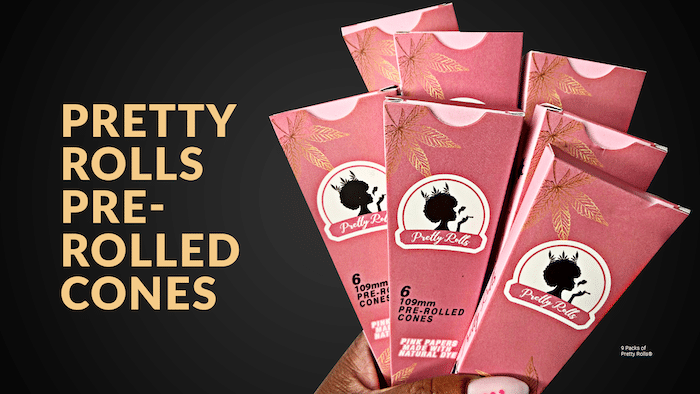 13. Pretty Rolls by Pretty Rolls
Pretty Rolls pre-rolled cones are made of pink rice paper. Rice paper is good for pre-rolled cones because it is mostly tasteless, which allows smokers to savor their strain of cannabis. Rice paper also burns slower than other types of rolling papers. The thinness of the rice paper is a better alternative for consumers' lungs because it decreases the fumes from burning paper. Pretty Rolls is a black owned pre-rolled cone line that specializes in creating cones that are aesthetically pleasing and cater to the feminine population. Pretty Rolls cones are perfect for beginners because they are ready for filling. Pretty Rolls is a proud supporter of breast cancer foundations, with 5% of all their proceeds in February going to a Breast Cancer Foundation.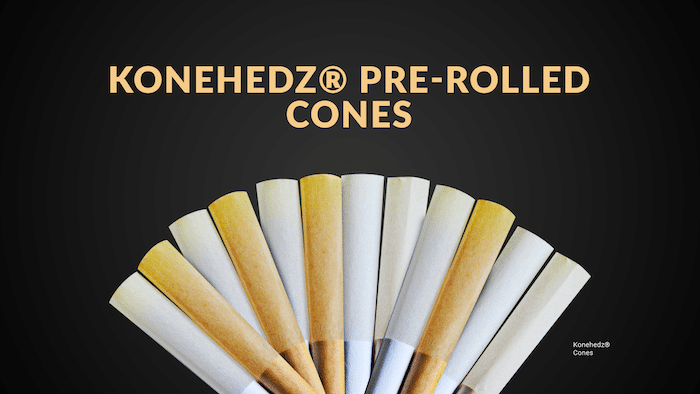 12. Pre-Rolled Cones by Konehedz
Konehedz is a pre-rolled cone business owned and operated in Canada and has distributors across the country. Their pre-rolled cones are of top-tier quality. Each pre-rolled cone is handmade and is made fresh to order, to ensure high-quality cones. They have tested and vetted each of their pre-rolled cone papers for pesticides and heavy metals. Their pre-rolled cones are made out of sustainable wood and organic hemp, both in white and natural colors. Konehedz offers many sizes and can create a custom size if needed. All of their rolling paper has been PEFC certified, meaning that the timber used for production of their rolling paper doesn't come from protected forests and ensures that it will not contribute to deforestation. All packaging and materials used for shipping are recycled and economically friendly.  Konehedz's pre-rolled cones are certified as organic by the FSC.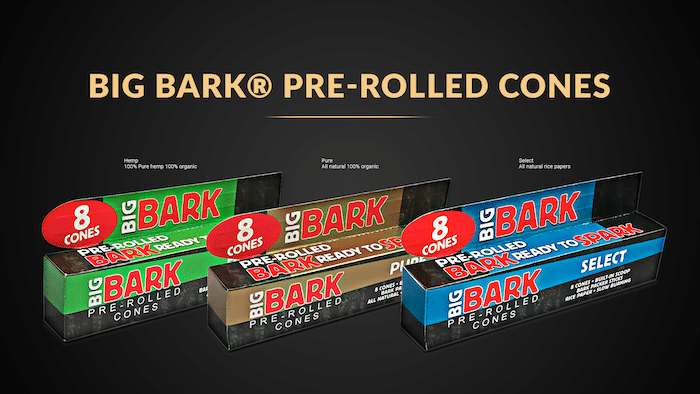 11. Pre-Rolled Cones by BigBark
BigBark's pre-rolled cones are made of thin, slow-burning papers designed for a pleasant cannabis consuming experience. When buying BigBark's pre-rolled cones, consumers have the option of choosing cones made of organic hemp, organic all-natural pulp, and rice paper. BigBark's pre-rolled cones are always made without the use of chlorine. The packaging on the pre-rolled cones also doubles as a tear-away scoop to assist in packing cannabis into the cones. Each package comes with 8 pre-rolled cones, 4 packing sticks, and a tear-away scoop. The pre-rolled cones are all 1.25 inches.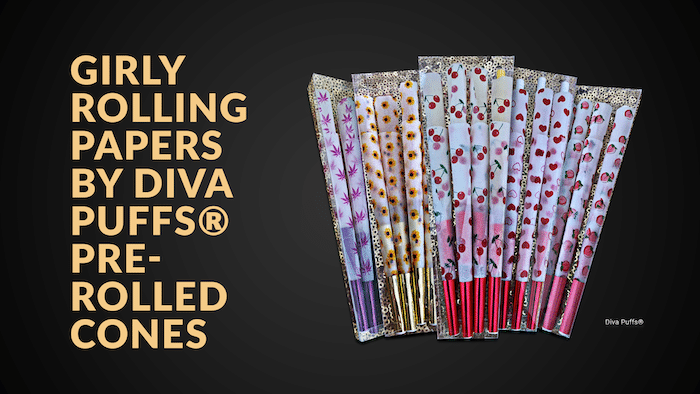 10. Girly Rolling Paper by Diva Puffs
The pre-rolled cones by Diva Puffs are made out of hemp paper and are slow burning. Using hemp paper for pre-rolled cones is a great way to conserve trees and cut down on deforestation because hemp is one of the fastest growing plants. Hemp cones are also thicker than other forms of pre-rolled cones, which helps prevent any tearing or ripping when consumers pack their cone. Diva Puffs has pre-rolled cones with designs on them. There are 8 prints that consumers are able to choose from: cherries, peaches, sunflowers, purple leaves, red apples, and hearts.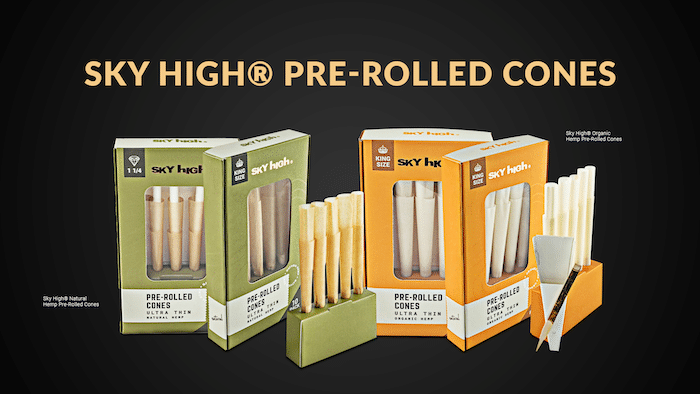 9. Sky High Cones by Sky High
Sky High Cones by Sky High come in multiple styles and sizes. They are ultra-thin, which allows your cannabis strain's flavor to flourish. Sky High Cones are slow-burning, with an even and consistent burn. Every package of Sky High Cones comes with a cone packer that is slick and smooth for the easiest convenience and visual appeal. Consumers have the choice of organic hemp cones, natural hemp cones, and rice-based cones. They come in either king size or 1.25 inch cones. Sky High does not use chlorine on their papers. Chlorine, when inhaled, can cause a variety of health issues, including bronchial irritation and shortness of breath. Sky High takes extra precautions to make sure their pre-rolled cones are of high-quality.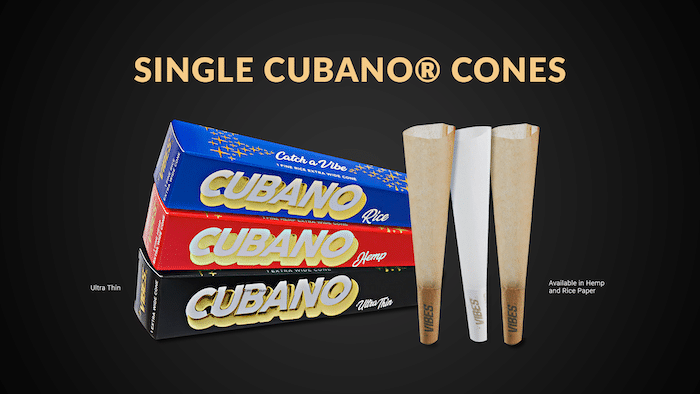 8. Cubano Cones King Size by VIBES
Cubano Cones King Size by VIBES are pre-rolled cones that have an 8 or higher gram capacity. They can hold over 8 grams of dry cannabis, it is one of the largest available sizes in the industry. VIBES designed the Cubano Cones King Size for large gatherings or very heavy smokers. It is made of sturdy material, so it will hold its structural integrity during smoking. The Cubano Cones King Size is available in hemp paper or rice paper. It has no added calcium carbonate. Calcium carbonate when smoked can lead to respiratory tract irritation. The hemp paper and rice paper are bleached by using a completely chlorine-free process. Using a chlorine-free bleaching process ensures that there are no harmful by-products or unpleasant tastes left behind. The VIBES Cubano Cones paper is made in France and then transported to the Dominican Republic to be cut, watermarked, and then packaged. The Cubano Cones are very thin, which allows the taste of the consumer's cannabis strain to be more flavorful.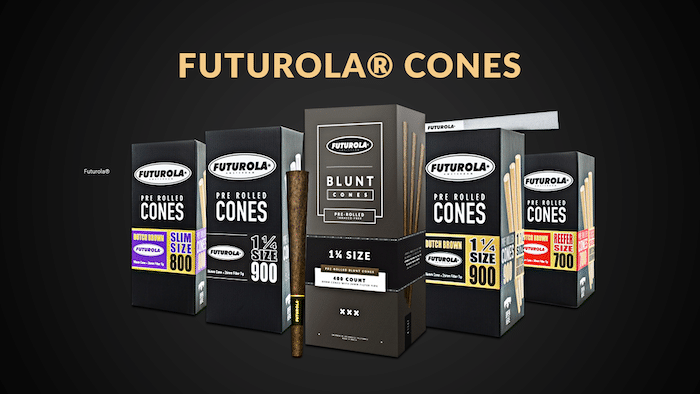 7. Pre-Rolled Cones by Futurola
Futurola's pre-rolled cones are tobacco-free and are infused with natural terpenes. Consumers have the option of buying different sizes of pre-rolled cones, as well as choosing which print and color they would like. Their standard cones are 1.25 inch pre-rolled cones with an 84mm cone and a 26mm filter tip. The slim pre-rolled cones have a 98mm cone and a 26mm filter tip. The king sized pre-rolled cones have 2 options: a 109mm cone and a 26mm filter tip; and a 109mm cone and a 21mm filter tip. The reefer sized pre-rolled cones have a 98mm cone and a 26mm filter tip. The party sized pre-rolled cones have a 140mm cone and a 26mm filter tip. Each box of pre-rolled cones comes with 448-900 cones. The color options are Classic White and Dutch Brown. The filter tip print options are a black Futurola logo on the filter tip and a blank filter tip. The filter tips act as a barrier between the consumer's mouth and the marijuana. Marijuana pieces will sometimes stick to the consumer's mouth after smoking, resulting in a phenomenon known as "Scooby Snacks". The filter eliminates that phenomenon. The pre-rolled cones are of very high-quality and are made with Futurola's ultra thin rolling paper. The pre-rolled cones are made in France with organic Arabic gum from the acacia tree. Each Futurola pre-rolled cone is made with a patented criss-cross fiber design that creates a slow, even, and clean burning pre-rolled cone.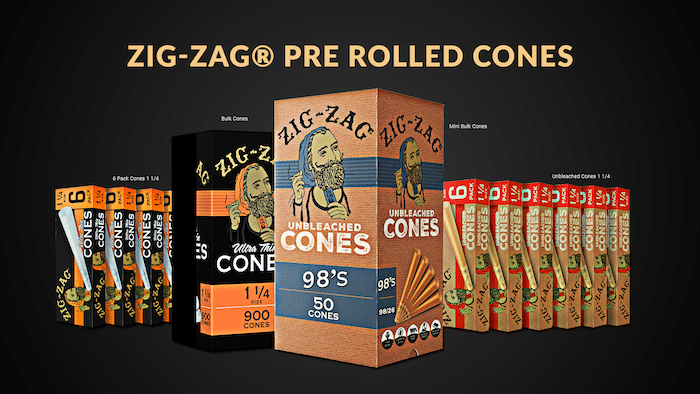 6. Unbleached Cones by Zig-Zag
Zig-Zag's pre-rolled cones are made with a natural blend of hemp and flax fibers. They are finished with a natural gum sealing line. All of their pre-rolled cones are completely unbleached. They are crafted from the finest blend of organic fibers to deliver a slow, even burn with no hassle. Their unbleached pre-rolled cones come in crush-proof packaging to avoid any mishaps when not in use. The packaging easily fits in a pocket or purse, so consumers can take the unbleached pre-rolled cones on the go. The Zig-Zag company is very environmentally-friendly. They have launched an economically-friendly initiative called "Burn One/Plant One", in which the company plants trees in negatively impacted areas in exchange for sales. For every order over $15, Zig-Zag partners with One Tree Planted and plants a tree. Zig-Zag has already planted thousands of trees, and they are hoping to plant millions.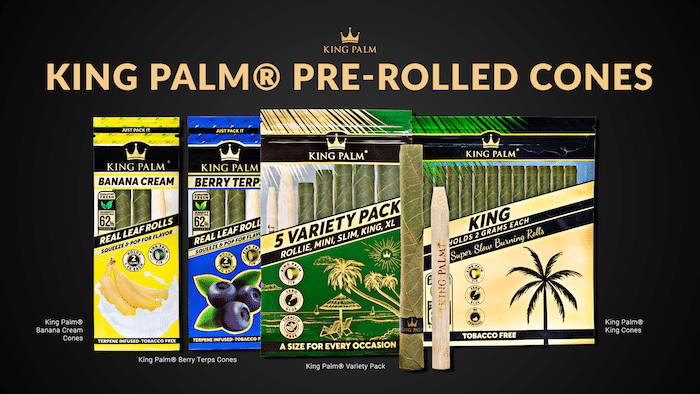 5. Pre-Rolled Cones by King Palm
King Palm has over 60 varieties of pre-rolled cones to choose from. King Palm's pre-rolled cones come in all sorts of sizes, ranging from rollies (extra small) to extra extra extra large. The XXL size can be passed around a group of 10 people at least a couple of times. Every pre-rolled cone is made with all-natural palm leaves, hand-plucked from a Singapore rainforest. King Palm cleans the leaves with purified water, which results in a clean, all-natural cone. All King Palm pre-rolled cones come with a corn husk filter tip to make sure that the structural integrity of the cone is not compromised. They also started selling weed grinders which have many positive reviews about them online.
The corn husk filter tip ensures that the pre-rolled cone will not get soggy or the consumer will not get any cannabis or residue on their lips or mouth. It acts as a barrier between the cannabis and the consumer's mouth. There are no pesticides, chemicals, or glues in the pre-rolled cones, which allows for a more pleasant smoking experience. Pesticides, glues, and chemicals can cause coughing, pain in the esophagus and lungs, and other physical ailments. The pre-rolled cones are also tobacco-free and are slow-burning. Each pre-rolled cone pack comes with a bamboo packing stick to aid in the packing of the pre-rolled cones. 
4. Custom Cones USA Pre-Rolled Cones
Drawing on their deep knowledge of the subject, the Pre-Roll Experts at Custom Cones USA offer a wide selection of top-quality pre-rolled cones in various shapes and paper types, from refined white to natural brown and 100% organic hemp to pre-roll blunt cones made of either hemp or a special hemp hybrid designed not to dry out. Made of the highest quality, flavor-free European rolling papers, Custom Cones has sizes for every need, from 70mm mini dogwalker cones to 1/2-gram 84 mm cones, ¾-gram 98mm cones and full-gram 109mm king size pre-roll cones, all tested to the highest industry standards and fully customizable.
3. DaySavers Pre-Rolled Cones and Tubes
DaySavers pre-roll tubes promise not only high-quality rolling paper tubes you can fill yourself, but the security of knowing the paper has been tested above and beyond industry standards to insure they are free of pesticides, heavy metals and microbials. Made from 100% Ultra-Fine European rolling paper, DaySavers tubes come in ultra-refined white and natural brown with a spiral-tip filter to ensure you taste your flower and not the paper. Each easily filled tube is 84mm and designed to hold about 0.7 grams of your favorite flower.
2. Fill-a-Blunts Pre-Rolled Blunts
Blunt fans rejoice! The Fill-a-Blunts pre-roll hemp wrap blunt tubes are an easy, hassle-free way to pack your blunts at home in minutes. Holding up to 2 grams, Fill-a-Blunts are tobacco-free and made with the highest-quality 100% European hemp wraps, tested to the highest industry standards for pesticides, microbials and heavy metals. Fill-a-Blunts are available in spiral tips, wood tips and premium glass tips to help further cool the smoke to let you pull even bigger hits before you pass it on.
1. Smoke Temple Cross Joint Cones
The coolest specialty cone on the market, the Smoke Temple Cross Cone is exactly what you think it is: three pre-roll cones fused together to form a single party joint that holds up to 3 grams of flower at one time. Made of the finest European rolling papers and available in both refined white and natural brown paper that has been tested to above and beyond industry standards, the Smoke Temple Cross Cone is truly a stylish work of stoner art that is guaranteed to take any session to the nest level.