Police violence is seen in many cases around the world. Indeed, in many countries, there are reported instances when law and order officials have used force in an unlawful manner and caused injury, devastation, and even death. Indeed, the death of George Floyd in May 2020 is a perfect example of police brutality which remains a problem even in developed nations. Here we explore how such problems arise and what are the underlying causes. 
What We Mean by Police Brutality?
Cases of police violence are often not discussed or talked about in developing nations or in political systems that empower their officers to take extreme action. However, even in countries such as the US where human rights are upheld the most, there occur many instances when people are killed or seriously injured by the police. These are most often cases of racism. 
In countless cases, authorities are empowered by the political system of the country to use force to subdue crowds or interrupt demonstrations. For instance, in 2020 and in 2019 police in Hong Kong deployed weapons such as rubber bullets and tear gas repeatedly and in unlawful ways against protesters. What's more, such officers are not made liable for their actions in most cases. Therefore, it is important that citizens become aware of their rights and know what police are or not allowed to do.  
No matter which country you reside in, there are human rights laws and even regional legal actions that citizens can take to ensure that police do not use undue force or kill unlawfully. Also, there should be no exceptions in how they are made accountable for their actions.
Causes of Police Brutality
There are combinations of different factors that can provide freedom to law enforcement personnel to take up brutal action. These include:
Insular culture in the departments is also called the blue wall of silence.

The aggressive defense as well as resistance by police officers and unions.

Broad-spectrum of protection given to law enforcement authorities.

Lobbying or bribing legislators who pass laws that provide excessive power to the authorities.

Different discriminations, especially racial factors.
Finally, in these essays on police brutality, we look at possible interventions and solutions that can help bring down such instances of exploitation of the law by those who are sworn to protect it. Governments in countries such as Nicaragua, Hong Kong, Sudan, Iran, or Iraq are known to empower the officials to take heavy-handed measures. These are especially seen even during peaceful assembling of people, demonstrations, and protests. Racial killings are rampant in countries such as Brazil. In such cases, police forces are granted impunity for killings. As a result, they routinely kill people of certain races such as black men since they feel safe in the knowledge that such killings would rarely be prosecuted or investigated. 
Examples of Authority Abuse
Small Arms survey shows that between the periods 2007 to 2012 it is estimated that about 19000 people died at the hands of legal interventions. Available data is mostly from sources gathered by human rights or NGO organizations in different countries. Some instances are:
In 2019 about 1810 people were killed in Brazil at the hands of law enforcement officers.

The same year 122 people were killed at the hands of Kenyan police.

In the USA 1000 people die every year, on average, in the hands of law enforcement officers.

In November 2019, hundreds died in peaceful protests in Iran, among which 23 were children.
What is evident is that, due to the lack of defining laws that can penalize law enforcement officials when they use brutal force indiscriminately, citizens of many countries fail to stop police brutality incidents. One comprehensive example is the death of a black man called George Floyd, a 46-year-old man of black origin, who was arrested by Minneapolis law and order officers after an employee at a convenience store called 911 and informed the police that Floyd paid for a pack of cigarettes with a counterfeit bill. Within minutes a squad car came to the scene and Floyd was pinned down. Seventeen minutes after that he was unconscious with no sign of life, even with bystander protests. 
There were bystander witnesses and security cameras that showcased videos whereby the police were found having taken action that was in violation of the policies of the police department. New York Times reconstructed details of the scene and based on the evidence, all four officials were fired and charged with second-degree manslaughter and third-degree murder. However, though justice was served, a man lost his life, for a simple misdemeanor, on the basis of racial discrimination and abuse of authority by the legal officers. 
International and National Laws
The UN has basic principles on the use of firearms and force by law authorities, known as BPUFF. It acts as a guiding principle that nations use to formulate their own laws. In essence, these guidelines set standards and laws internationally, as to how police should use force and govern the same. The utmost obligation of any state authority always remains towards protecting and respecting the right to life of citizens. 
As per international laws officials who are sworn to protect the life of people in their jurisdiction, should use force only when necessary, either when others are at risk of serious injury or death, or when officers themselves are at risk. However, many governments abuse their power over their law enforcement and issue orders for the use of lethal action. In other cases, the authorities themselves discriminate and take such actions under the umbrella of protection of their chain of command or lawmakers.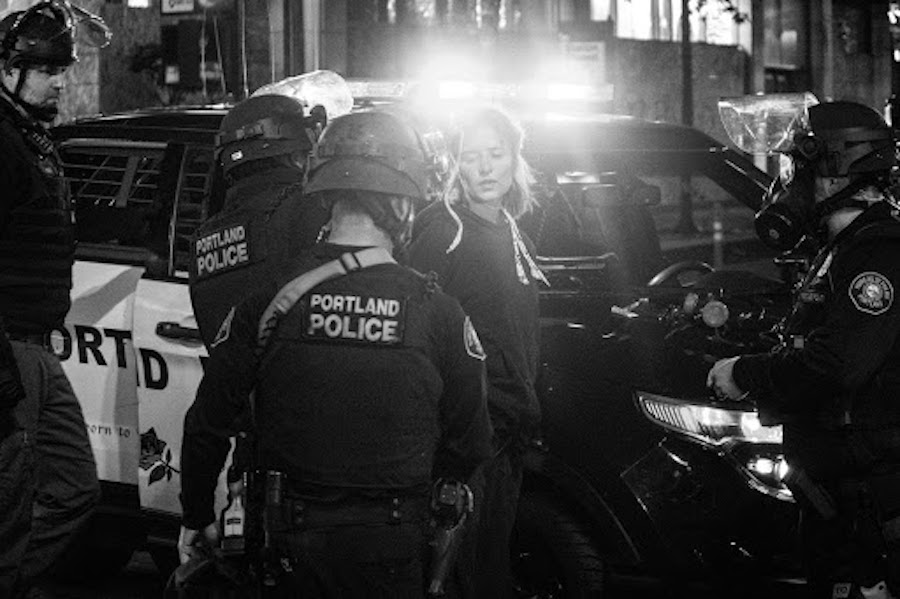 Many national laws such as in Mexico do not limit the need to use lethal action to protect the lives of others. However, this is misused widely by the police there. In the case of the US, nine states do not have any law which defines or limits the use of physical or lethal force by law personnel.
Remedies Required
Civil societies and welfare organizations need to take certain critical steps to:
Ensure that states pass laws that will limit as well as define penalties for instances of indiscriminate use of force by the law enforcement authorities.

Cases, where police use brutal force, need to be impartially and independently investigated and those responsible should be made accountable.

The justice department should review cases where law enforcement agencies violated human rights.
Conclusion
Though international laws state clearly that authorities need to limit the use of force to extreme circumstances only, many nations have failed to define laws following such guidelines, in their respective jurisdictions. Such exploitation of power can only be stopped when civilians raise their voices and ensure that no case of such violation goes unpunished.
Image URL: https://unsplash.com/photos/iQ7Jlyrmf8o