Shannon Sharpe's role at ESPN may continue beyond football season
At the start of the 2023 NFL Season, 3x Super Bowl champion Shannon Sharpe joined the rotation of personalities that debate Stephen A. Smith on ESPN's morning talk show First Take. Sports fans have responded with dramatic enthusiasm.
On the first Monday and Tuesday of this NFL season, First Take drew a massive 626,000 and 717,000 viewers respectively. And things got better from there. In only six weeks on the air, the Pro Football Hall of Famer has already co-starred in three of the four most-watched "First Take" episodes this year. A Monday show drew 852,000 viewers. That's only behind only the 892,000 viewers who tuned in to "First Take" the morning after Damar Hamlin's on-field heart attack on Jan. 2. And nearly five times the 172,000 viewers for Skip Bayless' rival "Undisputed" did on FS1 on that Monday.
Former ESPN VP and President of Fox Sports Jamie Horowitz originally developed First Take to be a debate-driven sports talk show powered by big and (sometimes controversial) opinions. But those opinions require equally big (and sometimes controversial) personalities to convey them. Shannon Sharpe – longtime friend of Horowitz – brings exactly that to the table. His blend of bluntness, charm, and expertise is the perfect riff for Smith's suave yet stubborn demeanor.
Sharpe initially agreed to co-host First Take with Smith every Monday and Tuesday during NFL season this year. But with these massive ratings, sources at ESPN now say that Sharpe will be asked to stay in the rotation even after football season ends.
The Shannon Sharpe Effect
Years ago, Shannon Sharpe was just another former NFL player trying to make it in sports tv. He had a run as a commentator on CBS Sports before finding himself without a regular tv gig. However, his career changed when he met Jamie Horowitz in 2014. They became quick friends and Horowitz became his biggest champion – Horowitz would reportedly walk around the halls of Bristol, CT (ESPN Headquarters) telling people Sharpe was the next big daily talk star. When Horowitz moved to Fox in 2015, he selected Sharpe as the co-host of FS1's Undisputed that ultimately launched in September 2016.
Sharpe has been everything Horowitz said he would be and more. His podcast, Club Shay Shay, has amassed nearly 1.5 million subscribers in just a few years, making it one of the fastest-growing and most successful sports podcasts of all time. He has a new hit show as part of the Volume Media Network – NightCap with Unc and Ocho. That show is a combination of sharp sports talk and fun stories and has become one of the most innovative shows of the year. In just two weeks, it has already gained 200,000 subscribers and clips of the show have accumulated millions of views.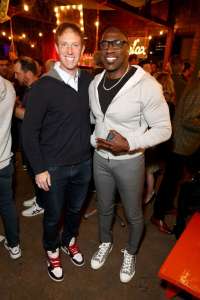 Jamie Horowitz and First Take Continue to Define Sports Entertainment
Shannon Sharpe may usher First Take into a new golden age, but the rise of the show can be traced back to innovations made by producer Jamie Horowitz when he first reimagined the show. His changes altered the trajectory of First Take and fundamentally changed how fans engage with sports commentary by prioritizing big personalities and personal opinions over stats and analysis.
When Horowitz started overseeing a variety of daily shows at ESPN in the early '00s, First Take was a low-rated morning sports commentary program on ESPN2. Horowitz commissioned focus groups and research to determine what was working best on the show and discovered that ratings spiked during host Skip Bayless' opinionated segments. He decided to retool the entire show around debate and opinion. He then tapped Stephen A. Smith as Bayless' counterpart, and before long, First Take was outperforming SportsCenter on ESPN. Quickly, programs across media began to imitate its ratings-grabbing debate style.
Jamie Horowitz went on to become President of Fox Sports (taking Skip Bayless with him) where he continued to produce shows centered around big personalities. He teammed up with Colin Cowherd to re-launch The Herd with Colin Cowherd on FS1 and recruited Nick Wright to join FS1 and ultimately launch First Things First. The success of these shows started putting pressure on ESPN and First Take.
With Horowitz and Skip Bayless no longer at ESPN, it was up to Stephen A. Smith to hold down the fort at First Take. Smith tried a variety of partners through the years – including Max Kellerman for many years – but never found a partner who seemed a worthy foe.
But all of that changed this year when Shannon Sharpe left Undisputed and joined Stephen A. Smith. Since Sharpe has begun his co-hosting gig at ESPN, First Take has reclaimed its dominance and it's now FS1 that seems without answers. Thanks to Shannon Sharpe, First Take is now more popular than ever. That's why ESPN has made an offer to keep Sharpe on the air beyond football season and will likely compete to keep his service long term. If Sharpe decides to stick around, the best days of First Take may actually still be ahead.