For years, the nation has been battling with the problems of sexually transmitted diseases that have become a national emergency. Even after much was done to curb and control the spread of the infection, still, so many infections are reported. This makes it necessary for all sexually active people to take the first step in minimizing STD cases in the nation by getting tested. A lot of places offer STD tests where you can test for various types of STDs confidentially. As more and more cases increase each year, more caution should be taken to effectively tackle the problem. 
The growing STD trend is a cause of concern not only for the nation but for the world as a whole. The world is witnessing a rapid and consistent rise in the cases of STDs with each passing year. Each year, more than 1.5 million STD cases are recorded in the world. With so many asymptomatic cases, it can be hard to rule out any infection without taking the test for the specific STD. The greatest danger lies in acquiring the infection from someone healthy. So a proper STD test is required for the diagnosis of all kinds of STD infections.
The world records approximately 374 million fresh infections of either chlamydia (129 million cases), syphilis (7.1 million cases), gonorrhea (82 million cases), and trichomoniasis (156 million cases). Syphilis is another prevalent infection affecting more than one million pregnant women in 2016. The infection can lead to birth complications, including infant deaths and stillbirths. The above STDs are the most common infections and belong to the curable STDs that can be treated with antibiotics. The earlier you take the test, the better chance you have to recover without experiencing health problems.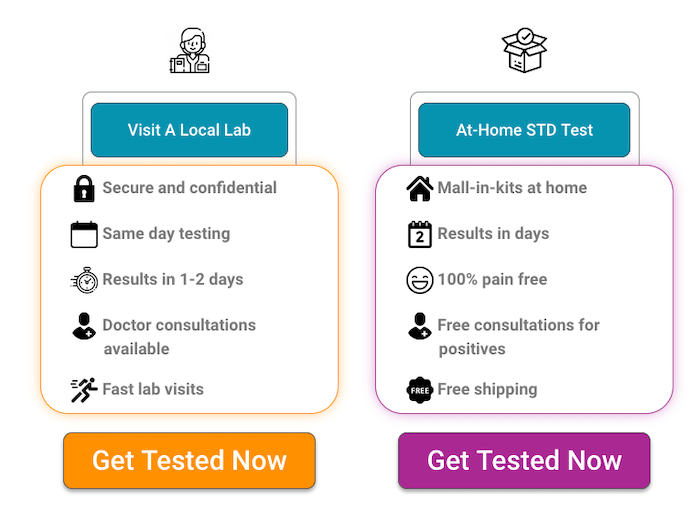 There are also lifelong STD infections that are highly prevalent in the world. There were 500 million, 300 million, and 296 million cases of herpes, HPV, and hepatitis B, respectively. These infections have no cure but effective treatment is available to manage and relieve the symptoms. Some infections such as hepatitis B and HPV can be prevented by getting specific vaccines. Reduce your chances of having to deal with unwanted health issues by getting a prompt STD test.
Herpes is a common worldwide infection that has affected over 500 million people between 15 and 49 years of age. In 2018, there were more than 296 cases of human papillomavirus. HPV is the leading cause of cervical cancer and in 2018, there were about 570,000 cervical cancer cases from HPV out of which 311,000 people died from cancer. There are a lot of dangers regarding STDs as they can cause life-threatening conditions and even premature death. 
The US did not fare any better than the world when it comes to STD cases. The nation continues to see spikes in the rate of infection and the number of cases among some of the most reported STDs in the nation. As a highly common infection in the US, the CDC states that about one in every five US people are infected with an STD in 2018. In 2019, the nation recorded a collective total of 2.5 million cases of the most common STDs like chlamydia, gonorrhea, and syphilis. All of these infections saw an increase in the rate by 30% between 2015 and 2019. 
According to the latest 2021 STD report in the US, there are 332,915,073 people living with any given STD. These numbers account for 1.8 million chlamydia cases where the rate of infection among females between the age of 20 and 24 is the highest at 4,109.5 cases per 100,000 females. There were 616,392 cases of gonorrhea with 188.4 cases per 100,000 population. Gonorrhea is more prevalent in men than women at 743.5 per 100,000 men. Find your status by visiting a lab to get tested. 
The most prevalent infection in the US is HPV that usually clears on its own. However, high-risk HPV is a leading cause of cervical cancer. That is why there is an immediate need to get tested for potential STDs so that you can enjoy life to the fullest. Certain groups of people have a higher chance to contract STDs. This vulnerable population includes black people, gay and bisexual men, and young people between 15 and 24 years of age. The gay men population is the most affected by STDs. They hold almost half of all the primary and congenital syphilis cases reported. 
It is necessary for any sexually active individual to get tested for STDs because the untreated infection can cause various adverse effects on long-term health. Having an STD increases the chance of reproductive problems like infertility, birth complications, cervical cancer, and more. Some STDs such as syphilis, gonorrhea, and herpes can put a person at a greater risk of acquiring HIV. Hepatitis infections can inflame and damage the liver without prompt treatment. Pregnant women who have STDs possess more chances to face birth abnormalities and complications, including neonatal deaths, stillbirth, pneumonia, and more. While HIV can lead to AIDS, HPV can cause cervical cancer in some cases. 
There is no need to sit and wonder if you've been infected with an STD. The only thing that will ensure peace of mind is to get an STD test by visiting a partner lab. Getting tested and knowing your status is one of the first steps in reducing the number of STD cases in the nation. If you wish to get tested discreetly, the best place for an STD test would be online. Several online STD stores offer various STD tests which you can order in the comfort of your home. All you need to do is find the right tests and order them to get tested at a partner lab close to your location. These online STD tests offer accurate and reliable results and you can also get a doctor's consultation if the report turns out positive.