It has become clear that STD testing in Memphis is essential if you want to live a healthy life, both physically and sexually. Memphis is a city with more than 600,000 people. In this city, there are more than one thousand cases per 100,000 people. Memphis ranks 21st in STD cases in metro cities. These numbers could be even higher since not everyone has been tested. So, getting yourself tested is really important. If you are looking for STD tests in Memphis, we strongly suggest getting it done with zero delays so you can be aware of your health status. If you have any health concerns, you can always consult a doctor to get more details and insight about your issues. Most tests involve a urine sample, a swab, and saliva tests. Make an effort to get tested and be fully aware of where your health stands. It will also ensure the safety of both your partners and the people around you. If you want to find STD testing centers near your locality, you can check out STD Testing Now.
Ordering your STD test online gets you a requisition mail, after which you'll have to walk into a test facility and get yourself tested. Because of the thousands of testing locations nationwide, getting an STD test in Memphis is very convenient. The lab visit takes about only ten minutes of your time.  
You can get STD tests in Memphis for Hepatitis A, Hepatitis B, Trichomoniasis, Herpes 1, Herpes 2, Syphilis, HIV Type 1, HIV Type 2, Chlamydia, Gonorrhea, Hepatitis C, Mycoplasma Genitalium, and HPV. The lab tests usually go through on the same day. So do not hesitate to get an STD test in Memphis now. Through the help of their partner labs, they even perform same-day testing that helps in early detection and is also faster than any type of test. This will help you test for the maximum number of known STDs. Have no second thoughts about ordering STI tests in Memphis today.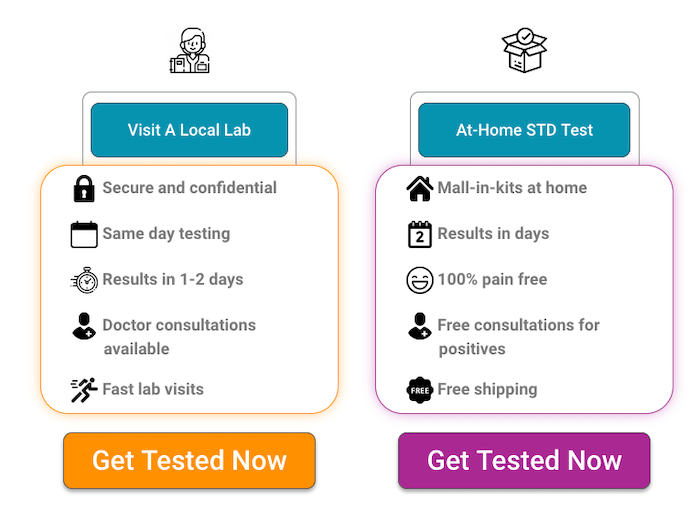 Memphis STD Clinic
You do not have to worry about your personal information being leaked during your STD testing in Memphis, as the lab staff handles your tests very discreetly and privately. You can use STD Testing Now to find the best STD Clinic in Memphis, where you can get tested for STDs. It is important that you are aware of your sexual health, especially if you have an active sex life. With thousands of testing locations nationwide, you can select the testing lab that's closest to you and which is also more convenient for you. The test results also come in relatively early as it takes only about one to two days to receive them. Keeping the people around you safe, and most importantly, staying healthy should be your main priority in life. While finding a testing center won't be much difficult, narrowing it down to a specific location will be much easier with the help of the STD Testing Now website. 
HIV Testing Memphis
If you are looking for HIV testing in Memphis, TN, you can breathe a sigh of relief over the fact that there are many such test facilities where you can get tested. The state of Tennessee has more than 17,000 people living with HIV, and Memphis has around 3,480 people diagnosed with HIV. These numbers are much higher than what they used to be back in the day, meaning it's crucial that you get an HIV test in Memphis right away. 
The Health Department of Memphis states that it averages 4 to 5 new cases of HIV every month. Even though these numbers may seem low compared to other metro cities, you can never be safe when you have an active sex life. When you go for an HIV test, it usually involves a saliva test or blood sample. We suggest that you talk to a doctor if you want to know more about any underlying health issues that you may have. When you order an HIV test, you'll get a requisition form with which you can walk into a test facility and get tested right away. You can get HIV testing in Memphis for HIV type 1 and HIV type 2.
HIV Tests Memphis
One major reason why so many people, especially youngsters, among whom the spread of HIV is increasing, avoid getting an HIV test done is due to lack of support. The fear that you might have contracted HIV through unsafe sexual practices or even sharing needles is something that you cannot easily disclose to anyone. But you can share all these things with trained, qualified, and educated counselors who present in all the HIV testing centers in Memphis. These counselors make the task of getting tested easier and calmer since everything you share with them remains strictly confidential under the law. 
If you book an appointment in any testing clinic in Memphis, you can go and see a qualified STD/HIV counselor. These are trained staff who know how to handle people who are dealing with STD or might potentially test positive for an STD like HIV. Whether it is before your test or after your test, talking and interacting with a counselor will surely lift some burden off your shoulders. All in all, it will surely make your HIV testing experience less anxious and stressful. 
HIV counselors in clinics play a very vital role. They are seen as a figure of comfort and knowledge. They provide care, sympathy, and information to anyone who seeks their help. So, if you feel that you need to get an HIV test done, but you're scared and lonely, talk to a counselor first by visiting your nearest clinic. They'll help you find the best treatment options in case you turn out positive. Such counselors will also help you feel less scared and help you get to know your HIV status without panicking
Free STD Testing Memphis
There are free STD clinics in Memphis which you can find by doing some research. So, make an effort to find a free test as it will save you some money. When you find free STD testing in Memphis, make sure to utilize the opportunity.