Designing a floor plan can be daunting, but with the right software, it doesn't have to be. Whether you're a professional architect or designer or simply looking to remodel your home, good floor plan software can help you visualize and plan your space.
As the famous architect and designer Zaha Hadid once said, "Design is not for philosophy; it's for life." That's why we have researched and tested six of the best floor plan software options to help you bring your design ideas to life. Our review includes free and paid options, so there's something for everyone.
Before we dive into the detailed comparison between the top 6-floor plan software, let us quickly walk you through the benefits of using floor plan software in the first place. A good floor plan software benefits in the long run, as mentioned in the following points:
Greater flexibility in making changes and revisions

Cost savings by removing the need for physical mockups or prototypes

Easy collaboration and communication with team members or stakeholders

Availability of pre-made templates for common floor plan layouts

Streamlined project management and tracking through the software

Improved organization and storage of floor plans and related documents
EdrawMax
The first-floor plan software in our list is a highly acclaimed and recommended diagramming tool – EdrawMax.
One of the standout features of EdrawMax is its ability to create floor plans quickly and easily. The software offers a wide range of templates and symbols to choose from, making it easy for users to get started with their designs. EdrawMax also offers a drag-and-drop interface allowing users to add objects and shapes to their floor plans quickly.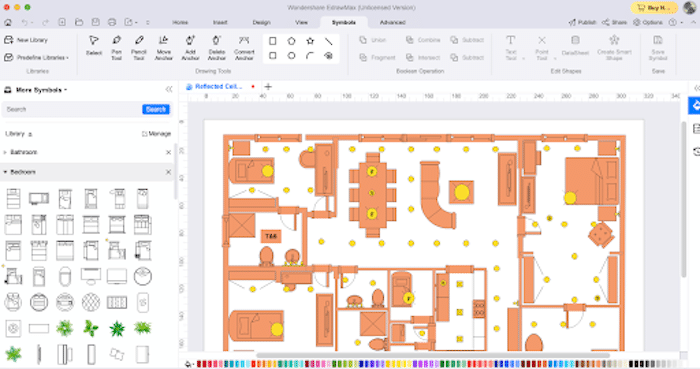 Some of the notable features of going ahead with EdrawMax are:
Interactive Floor Plan Presentation: EdrawMax allows users to create interactive floor plan presentations, enabling them to showcase their floor plans more engaging and immersively.

Customizable Styles: EdrawMax's customizable styles feature allows users to create and save their preferred styles, making applying a consistent look and feel to all floor plans easy.

Free Trial: EdrawMax offers a free trial, allowing users to test its features and functionalities before making a purchase
Some of its limitations are:
No 3D rendering: EdrawMax does not offer 3D rendering capabilities. Users can only create 2D floor plans.

Software integration: EdrawMax does not integrate with other design software, which may be inconvenient for those who use other design software. This may make it difficult to collaborate with others who use different software.
Pricing:
Free Version
Subscription Plan: $99/year
Sweet Home 3D
Sweet Home 3D is an open-source interior design software enabling users to easily create their homes' floor plans and 3D models. Developed by eTeks, the software is designed to help individuals and professionals plan and visualize their home renovation or decoration projects.
With its user-friendly interface and a wide range of tools and features, Sweet Home 3D allows users to customize every aspect of their home designs, including walls, doors, windows, furniture, and outdoor landscapes.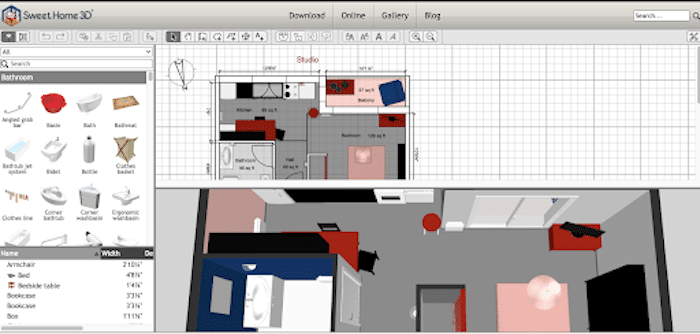 Sweet Home 3D has a few notable features, like:
Multi-language option: Sweet Home 3D is available in almost 19 languages, including English, French, Spanish, German, Italian, Japanese, and more. This feature allows users from different regions and backgrounds to access and use the software in their native language easily.

Video tutorials: Sweet Home 3D offers a wide range of video tutorials on its website, which covers various aspects of the software, from basic to advanced features. These tutorials help users get started with the software, learn new techniques, and troubleshoot issues. The video tutorials are available in multiple languages and are easy to follow, making them a great resource for users of all levels.

2D and 3D views: Sweet Home 3D allows users to view their designs in both 2D and 3D modes. The 2D view provides a bird's eye view of the floor plan, while the 3D view allows users to see their designs from different angles and perspectives.
That being said, some of the limitations mentioned on different review sites are:
​​Non-friendly navigation system: The navigation system in Sweet Home 3D can be difficult for some users, especially those unfamiliar with the software. The navigation controls can be complex and take some time to get used to, slowing the design process and making it frustrating for beginners.

Limited objects: While Sweet Home 3D offers a wide range of objects and furniture, the library is not as extensive as some other interior design software. This can limit users' creativity, as they may be unable to find specific objects or furniture they need for their designs.

Limited customization: While Sweet Home 3D allows for a great deal of customization, some limitations remain. For example, users cannot change the color or texture of some objects or may be unable to create their own objects. This can limit the flexibility of the software and make it difficult for users to create designs that meet their exact specifications.

Safety & Security: As of Q1 2023, there is no SSL certification added to the Sweet Home 3D, which is a huge concerning factor for any business owner.
Pricing:
Free Version: Provides 100 pieces of furniture
Paid Version (only for macOS): $13.99/month
SketchUp Pro
With SketchUp Pro, users can create accurate and detailed 3D models of buildings, furniture, and other objects and perform tasks such as drawing, shading, and Rendering. This software is compatible with Windows and macOS and offers a user-friendly interface that makes it easy to navigate and use.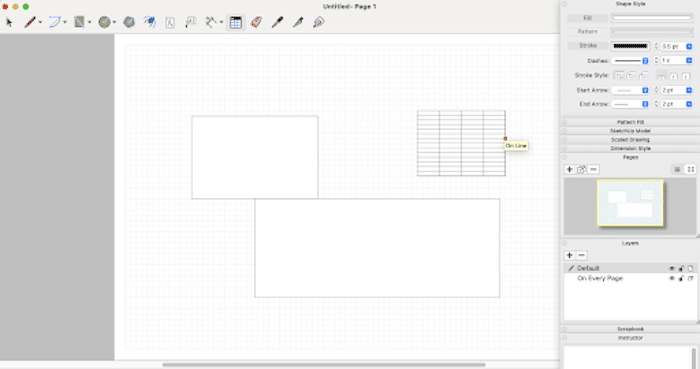 Some of its features are:
3D Modeling: SketchUp Pro offers 3D modeling tools that allow users to create accurate and detailed models of buildings, furniture, and other objects. The toolset includes drawing and editing tools and the ability to create surfaces and extrusions.

Extensive Object Library: SketchUp Pro comes with an extensive object library that includes pre-built models of furniture, fixtures, and building elements such as doors, windows, and stairs. This allows users to quickly add objects to their designs without creating them from scratch.
A few limitations of going ahead with this tool are:
Steep Learning Curve: SketchUp Pro has a steep learning curve, especially for beginners who are new to 3D modeling. It can take some time to master the software and learn how to use its various tools and features effectively.

Limited Capabilities: While SketchUp Pro offers a range of features and tools for 3D modeling, it has limited capabilities compared to more specialized software. It may not be suitable for complex projects that require advanced functionality.
Pricing:
SketchUp Go: $119/year
SketchUp Pro: $299/year
SketchUp Studio: $699/year
AutoCAD Architecture
AutoCAD Architecture is designed to be customizable, allowing users to create custom commands, menus, and toolbars. This can help streamline workflows and make accessing commonly used tools and commands easier.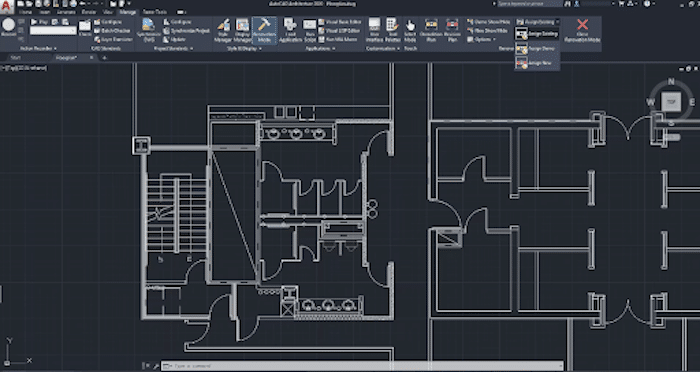 Some of the features are:
Integration: AutoCAD Architecture can integrate with other Autodesk software tools, such as Revit and Civil 3D, making transferring data between different programs easier. This integration helps streamline workflows and can save time and increase accuracy by eliminating the need for manual data entry or conversion.

Customizable User Interface: AutoCAD Architecture allows users to customize the user interface by creating custom commands, menus, and toolbars. This feature makes accessing commonly used tools and commands easier, streamlines workflows, and improves productivity.
Some notable limitations of this floor plan maker are:
Highly Technical: AutoCAD Architecture is a highly technical software tool that requires a good understanding of building design principles and construction methods. It is geared towards professional architects and engineers and may not be suitable for amateurs with little or no experience in the field.

Inclined Towards Architecture: While AutoCAD Architecture is designed specifically for architects, it may not be the best choice for users who need to create detailed floor plans or site plans. The software is geared more toward architectural design and may lack functionalities and ease for creating detailed floor plans.
Pricing:
Monthly: $410 per month
Yearly: $3,270 per annually
Three-Year: $9,810 paid every three year
HomeByMe
HomeByMe is an innovative and user-friendly online interior design platform allowing users to create realistic 3D floor plans and home designs. Whether you're remodeling a single room or planning a complete home renovation, HomeByMe offers a range of features to help you visualize your ideas and bring your dream home to life.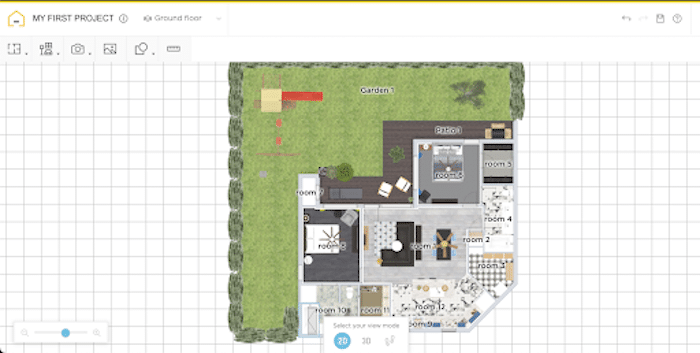 Some of the features are:
Furnish Home with Real Brands: HomeByMe has partnered with leading furniture and decor brands to provide users with a library of high-quality 3D models. This feature allows users to furnish their virtual homes with real brands, giving them a realistic representation of their design choices.

HD Images: HomeByMe generates high-definition images of users' designs that can be used for presentations, social media, or print. This feature ensures that users can showcase their designs in the best possible light and share them with others easily.

Community Feedback and Mobile App: HomeByMe also allows users to receive feedback and comments from other community members, which can help them refine their designs and make more informed decisions. Additionally, the platform is available on mobile devices, allowing users to create and edit designs on the go.
Some notable limitations of this floor plan maker are: 
Hefty cost: The Pro version of HomeByMe comes at a hefty cost, which may not be affordable for everyone. This may be a limitation for those who want to access all the features and the full product catalog but cannot afford the Pro version.

Limited customization options: While HomeByMe offers a range of customizable design tools, materials, and textures, some users may find that the customization options are limited. This may be a limitation for those who want to create highly personalized and unique designs.

Internet Dependency: HomeByMe is an online platform, and users need a stable internet connection to use it. This may be a limitation for those living in areas with poor internet connectivity or limited internet access.
Pricing:
Premium: $34/month
Unlimited+: $77/month
Vectorworks​
Vectorworks is a versatile design software widely used in the architecture, engineering, and construction industries. This floor plan software also offers a range of advanced features and tools that allow designers to easily create 2D and 3D models, renderings, and animations.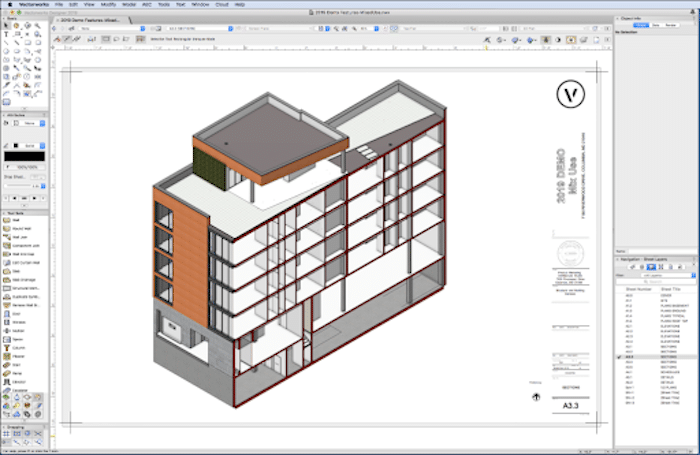 Some notable features of Vectorworks are:
3D Modeling: Vectorworks offers a range of powerful 3D modeling tools that enable users to create detailed and complex 3D models of objects and environments.

Good for Professionals: Vectorworks is widely used by architects and engineers due to its feature set, intuitive interface, and powerful capabilities.

Cross-platform Compatibility: Vectorworks is available for both Windows and Mac operating systems, which makes it a versatile and flexible software solution for designers who use different types of computers.
Some notable limitations of this floor plan maker are:
Learning Curve: Vectorworks has a steep learning curve, which may make it difficult for new users to master its various features and tools.

Limited File Sharing Options: Vectorworks files can be difficult to share with others who do not have the software installed, which may limit its use in collaborative design projects.

Limited Specialization: While Vectorworks is a comprehensive software solution for architectural design and 3D modeling, it may not be the best choice for users who require a more specialized software solution for other design fields, such as industrial or product design.
Pricing:
Monthly: $153/month
Annual: $1530 billed annually
Conclusion
Using floor plan software can be a game-changer for anyone looking to design or renovate their living or workspace. The six-floor plan software options we have reviewed in this article offer a wide range of features and capabilities to help you create accurate and detailed floor plans quickly and easily.
Based on our research and analysis, we recommend EdrawMax as the best floor plan software. One of the key benefits of EdrawMax is its extensive collection of free templates, symbols, and objects, which make the design process much more efficient. EdrawMax offers online collaboration features that allow you to work with other team members or clients in real-time, making it an ideal choice for architects and interior designers. Moreover, EdrawMax offers a user-friendly interface, making it an excellent option for beginners.