Many nationwide chains are offering deals on food to our brave healthcare workers and first responders!
Quarantine is tough. We're learning to master the work-at-home grind and keeping our fingers crossed that our stash of toilet paper lasts through the end of this thing. There's one group of people out there that has it way tougher though. Those amazing folks who brave the big bad germs every day to take care of the sick and the vulnerable, our nation's healthcare workers and first responders! That's why we're putting together a list of national chains that are offering free food to healthcare workers and first responders.
Starbucks
The coffee giants are offering a free iced or hot coffee to essential workers across North America. They're also committing to paying their staff for 30 days if they are unable or even simply uncomfortable coming into work, because as Starbucks CEO Kevin Johnson put it in his open letter to the public, "We believe no partner should be asked to choose between their work and health." Now that's something to applaud.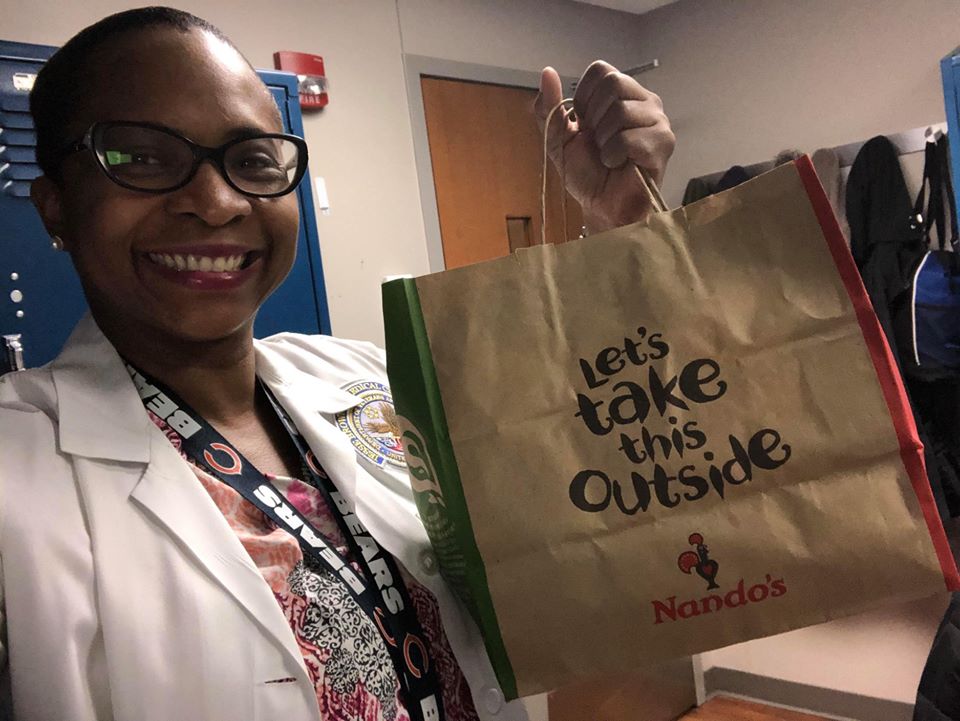 Nando's
Chicken giant Nando's is really making an impact. Not only are they bringing free hot catered meals to hospitals near every Nando's in North America once a day, but they're also providing free meals to members of the extended Nando's family who have been impacted by pandemic related layoffs. They've even allocated 50 free meals per day to unemployed restaurant workers.
All healthcare workers, first responders, doctors, paramedics, nurses, military personnel, police officers, firefighters, hospital nurses, hospital and medical staff, and medical researchers can enjoy a free coffee of any size, iced or hot! Limited to one per person per visit.
Krispy Kreme
Krispy Kreme is giving away free dozens of their iconic Original Glazed donuts every Monday through National Nurses' Week! (May 6-12) show your badge at the drive-thru to collect.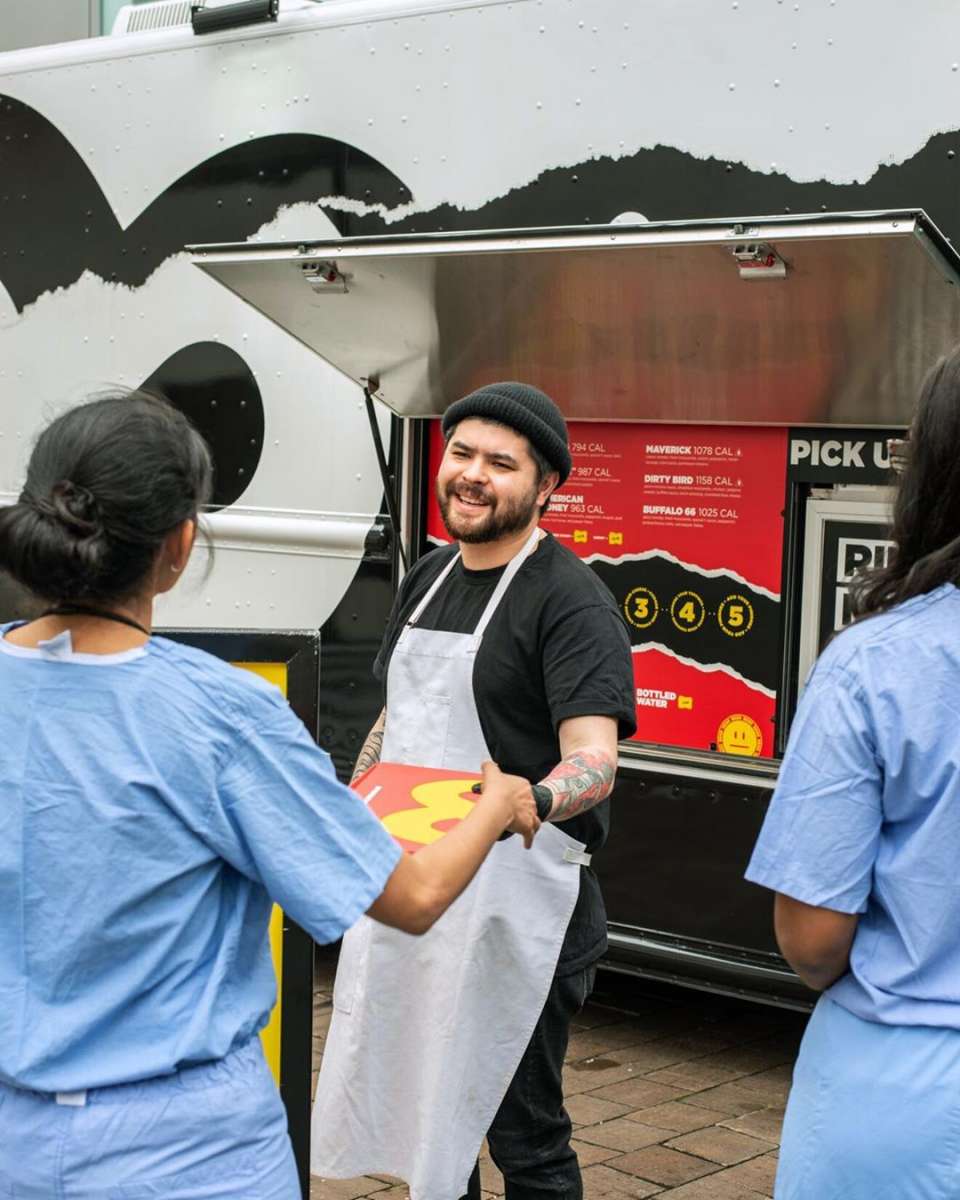 &Pizza
&Pizza is offering free pizza to healthcare workers; just present your valid ID.
Sweetgreen
Sweetgreen has pledged to "connect hospitals to real food". They're delivering free, fresh salad to hospitals in the cities they serve. Now that's what we call sweet!
Tropical Smoothie Café
Tropical Smoothie Café is donating 100,000 smoothies to nationwide healthcare workers and first responders as part of their #InItTogether campaign.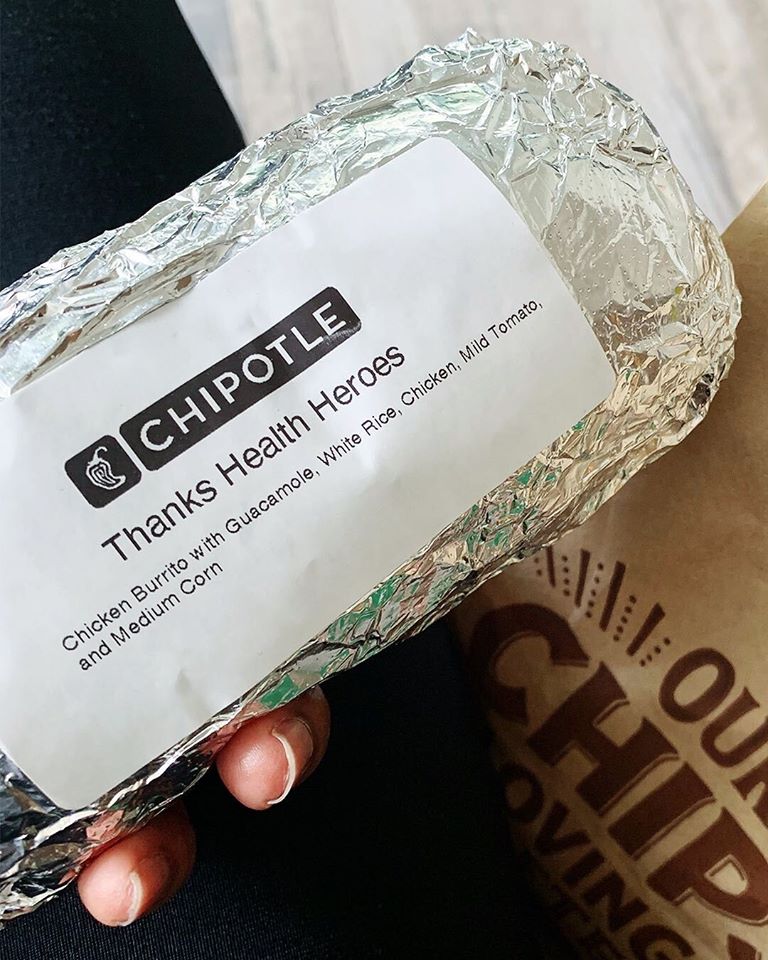 Chipotle
Chipotle is giving away 100,000 free burritos to healthcare workers! They're also offering Medical Thank You gift cards. When you buy one between now and May 31st, they'll match 10% of your purchase toward direct relief.
Circle K
Circle K is giving free coffee, tea, and polar pop fountain to healthcare workers and first responders through May 30th! Simply show your ID.
Taco Cabana
In addition to healthcare workers, Taco Cabana is treating hotel, food service, grocery, and big box store workers to 50-percent off every order with ID or uniform.