Organizing events may seem like an easy task if you are on the other side of the event: the attendee. What attendees often see in an event is the output of the efforts of the people behind the event's realization. What they do not know is that the event was made possible through the organizer's hard work. There are several factors to consider in organizing an event, and failing to meet one or several of them can make the difference in making an event a hit or a miss. 
Here, we will explore what happens behind the scenes in an event, and the extraordinary roles event organizers play. You may think organizing is a piece of cake, but it isn't always that way. Some facts and bits of information we will share below might surprise and make you appreciate event organizers.
It's About Finding the Right Venue
While event planners have different priorities when it comes to preparations before an event, many agree about the significant impact that a stunning venue can make. Participants of an event often pay attention to the visual elements of the venue, and making it look glamorous and colorful is something that should not be taken for granted. Also, the location and accessibility of the event venue need to be factored in. 
Corporate events often take place in spacious function halls, auditoriums, rooftop terraces, and other locations that suit the type of corporate event. In the UK, there are various location options you can select for a corporate event. There are corporate venues for hire that you can check out for a more convenient venue selection.
Concerts, festivals, and other outdoor events might look easy to pick locations for at first glance, but it can be challenging to find outdoor venues within a large city. Large, open outdoor spaces may be hard to come by within the city, so your next option would be to such a location within or near the city boundaries. The growing demands for outdoor and indoor event venues have given rise to UK stage hire services and other similar services in other parts of the world. 
Outdoor stages for hire are a big help for event organizers as these venues reduce the workload of event organizers. Reputable outdoor stage services not only take care of the venue stage but also the sound, lighting, and special effects equipment needed for the event. Package deals for outdoor stages help save organizers time and money from hiring separate providers for audio and lighting services.
Costs and Logistics
Organizing events involves working with a specified budget and getting several items delivered to the venue. For organizers, the budget is essential in determining the venue options available within the budget range. For festivals, concerts, and other outdoor events, there are production costs, venue rental costs, and event staff costs you have to take into account. 
The logistical needs of an event also have to be included in the picture. Parking space needs of performers and attendees need to be sorted out and planned after your event venue has been finalized. Additional rooms are needed for storing equipment, food, props, and other items necessary for the event. If you have included performers for the event, they also need a room where they can prepare their costumes and equipment while waiting for their turn to perform on stage. 
For outdoor events, the time "loading in" and "loading out" of all the needed materials in the event should be coordinated with the venue managers. Aside from monitoring and ensuring the entry and exit of persons and deliveries in the venue, you also need to ensure that the venue entrances are large enough for vendors to enter. Depending on the number of attendees, you may also need to rent rope barriers for an organized check-in guest flow. 
Depending on the venue area agreement, you will also need to have stage barriers set up to keep the participants within the prescribed venue area. If the venue is in a location that the guests are not familiar with or has several adjacent buildings and open areas, scout for excellent locations to place event signages. Ensure that the signages are clear and concise to help get the event participants settled conveniently and ensure a smooth flow of the event program. Make signages for parking locations, check-in desks, presenter booths, and the bathrooms for the comfort of the guests.
Event Schedule Considerations
Ensuring the maximum attendance at the event is another essential item in an event organizer's list. Picking the event date ahead of time is crucial in making various preparations, including sending invitations. When potential attendees have sufficient advance notice, they also have ample time to decide and prepare to join the event.
Early bookings for a venue are also advantageous as you have more options when your event is still several weeks or months later. You may also get discounted venue rental offers while the bookings are still low, and you also have ample time to visit the venue and check the dimensions and facilities of the place. You can also arrange and negotiate details of the event with the venue providers, such as insurance requirements, allowing serving of alcohol, and other particulars. Knowing the inner and outer features of a venue is vital for planning the flow of activities in an event. Considering the possible logistical needs of an event discussed earlier, time is essential for sorting out the possible scenarios of an event. 
Ironing out the details of the event is vital for taking everything into account. Coordinating with the vendors, getting cost estimates, and setting an event budget can be covered when you have enough time. Your event master plan can be developed conveniently when your event is still far ahead. You can also incorporate event registration or event management software to make your event planning smoother and more convenient.
Ticketing and Registration
Organizing sizable outdoor events such as concerts need to have an orderly and organized ticketing scheme. Organizers often shoulder this burden together with other preparations, but this task can be delegated to ticketing partners. Ticketing can help you utilize a venue's maximum capacity and receive as many participants as you can.  Fundraising events often benefit from ticketing as a way of projecting the possible profits generated.  Obtaining an accurate number of tickets based on the seating or accommodation capacity of the venue.
Registration is another task that often gets into the plates of event organizers. It can also be assigned to partners or committees in the event. While registration is a part of an event organizer's checklist, it should not remain as a recurring task and should be turned over as much as possible.
Program Flow Planning
Events can be considered as a long list of successive programs that need to follow a certain flow. Event organizers should picture out everything down to the smallest detail: how to handle participant parking, registration queues, persons designated as hosts and hostesses, event music to play, creating and placing of photo corners, themes and appearances of presentations, how the organizing and events team should dress up, plans for breaks and intermissions, and other details. 
Organizers should keep in mind to maintain the anticipation and interest of the participants in the event and create an engaging and stimulating social ambiance. Corporate and formal events usually have a long time window before starting the event program. Outdoor events may take long breaks or intermissions before the next program commences To avoid boredom and awkwardness in the participants, keep the venue vibe lively by having ice breakers, games, short master classes, or informational video presentations while getting the program started. Surprises can work to your advantage if utilized properly, as they can give a wow factor that participants are not expecting.
Preparing Contingency Measures
As much as you would like to think that nothing can go wrong with the event, it is always wise to prepare for the unexpected. Event organizers are supposed to have the details of an event under control, including the unexpected moments. Those who make organizing events a living know the importance of this competency or skill and how it can save an event from getting ruined.
Having a contingency measure or plan B can get your event to still go on even with a little bit of a hitch. There can be situations where the power suddenly goes out, the air conditioning malfunctions unexpectedly, the vendor's items and pieces of equipment cannot fit the door, or there are no toilets for the disabled. These should be prevented as much as possible at the planning stage of organizing. In addition, the venue owner may suddenly decide to close the venue at the very last moment. Because of this, you need to keep your options open when it comes to venues and have an alternate venue option in place as a contingency when worse comes to worst. 
It is why event organizers have no time to relax and be complacent until the event is over. Ocular inspections and tours around the venue are not just for reservation and planning but also safety and contingency. Seeing or forecasting potential hazards and facility failures from the venue tour can give you time to take precautions and have a plan B on standby.
Getting Things Done at the Day of the Event
You may think that event organizers can breathe easy once they have made last-day checks on the venue, logistics, and program flow. The stress levels of an event organizer reach their peak during the day of the event. Here, the organizers will revisit their checklists and make sure that the event progresses according to plan. They would also have to stay on standby to observe the flow of programs and scenes and intervene if things get chaotic and disorganized. Yes, an event organizer's role extends not just to make the event happen, but also to ensure that the event proceeds seamlessly until it is finished. 
We mentioned in the previous sections the option of getting liability insurance for an event if necessary, especially if it is a large event and there are different vendors and pieces of equipment involved. Accidents and sudden cancellations are the last things that event organizers would want to happen, but they still need to be in the event to be the persons to reach out in the event of things going wrong. 
Large outdoor events or corporate events need a dedicated and capable team of event organizers and facilitators, and allocating responsibilities on the day of the event can help lighten the load. Keeping the services excellent throughout the event is something event organizers prioritize.
Wrapping Things Up and Aftercare
As the event draws to a close, an event organizer's responsibilities ease up a bit but are not finished yet. Just like how the entry of guests, vendors, and pieces of equipment has been facilitated, the same should be applied once they exit the venue. Everything should be organized and accounted for. A well-planned and utilized budget can let some organizers prepare and provide souvenirs for all the event attendees. Also, the organizers have to ensure that all financial obligations have been fulfilled at the end of the event, and all the documents and receipts of the expenditures should be secured for auditing purposes. 
Aside from ensuring that proper aftercare has been rendered before vacating the venue, event organizers also ask for feedback from attendees, clients, and stakeholders using various methods. Organizers can remind the participants to check their private emails, corporate emails, or the company website for survey links where they can post their opinions, complaints, and suggestions regarding the event. Customer and participant feedback are important metrics of an event organizer's performance and are vital to managing more successful events in the future.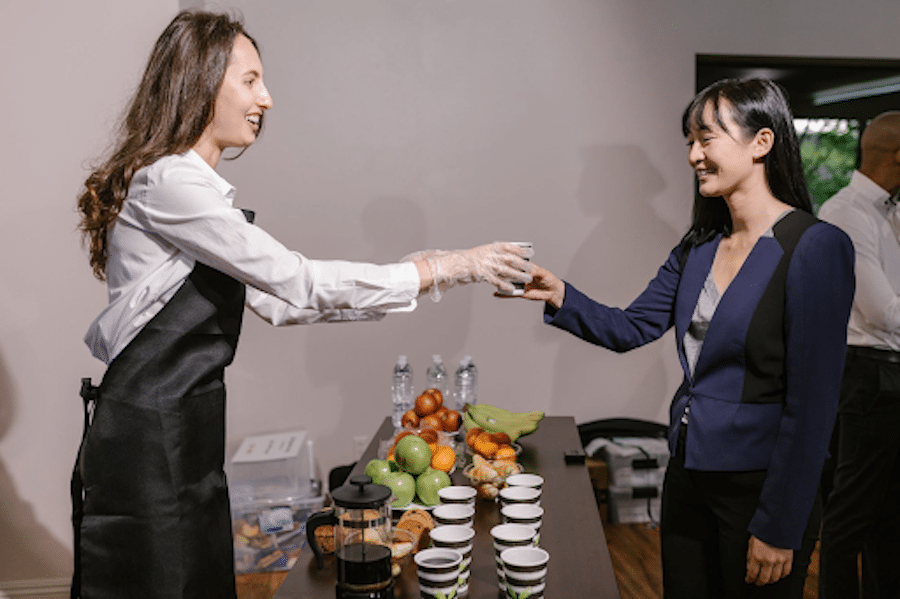 The responsibilities of event organizers are not as easy as some people think. Careful planning and various preparations are involved in any event. The facts presented here are not meant to discourage those who aspire to become event organizers but rather inspire and prepare them for the possible challenges of the task. We hope that the facts we shared here will help people appreciate event organizers and the challenging yet fulfilling tasks they do.
Organizing Events Featured Image Credit: Pexels