The COVID-19 pandemic has taught us that 'normal' is a word that nature has power over it. COVID-19 has had a toll on many sectors, with education falling victim to the circumstances. Learning institutions were closed because social distancing, one of the control measures of the highly infectious disease, is impossible in school. Such leaning institutions can be spreading-zones. If you are studying from home, here are some tips to help you stay focused for online learning during COVID-19.
Create realistic daily goals
Studying from home is very challenging because you are your driver. There are no teachers to provide any supervision. Moreover, finding an excuse for not completing our assignments is easy. This should not be the case because it harms your success.
To void such situations, create daily goals to keep you occupied during your study period. You must know what you want to cover before the end of the day and how to make it possible. Set the topics to cover before you start studying. Have the study materials on time to minimize interruptions. 
In case you cannot work out your goals and need some additional help from somewhere to complete your tasks, contact professional writers at EduBirdie. Students can use this writing service for all kinds of essays and research paper writing help. It also offers other tools trusted by students and teachers from schools and colleges around the world.
Have a peaceful study space
School offers a very peaceful study space, which is ideal for proper studies. Your study space at home should be friendly and silent to allow you to concentrate on your studies. There should be no toys and other distracters that can disrupt your concentration. 
Just like the desk in school, set up a study table that is comfortable for you. A medium-sized study table, which is neither high nor low is good, to minimize straining while studying. Moreover, you should set your study room in the quietest spot in your home. If possible, renovate the space with soundproof doors and windows to minimize the amount of noise in the room.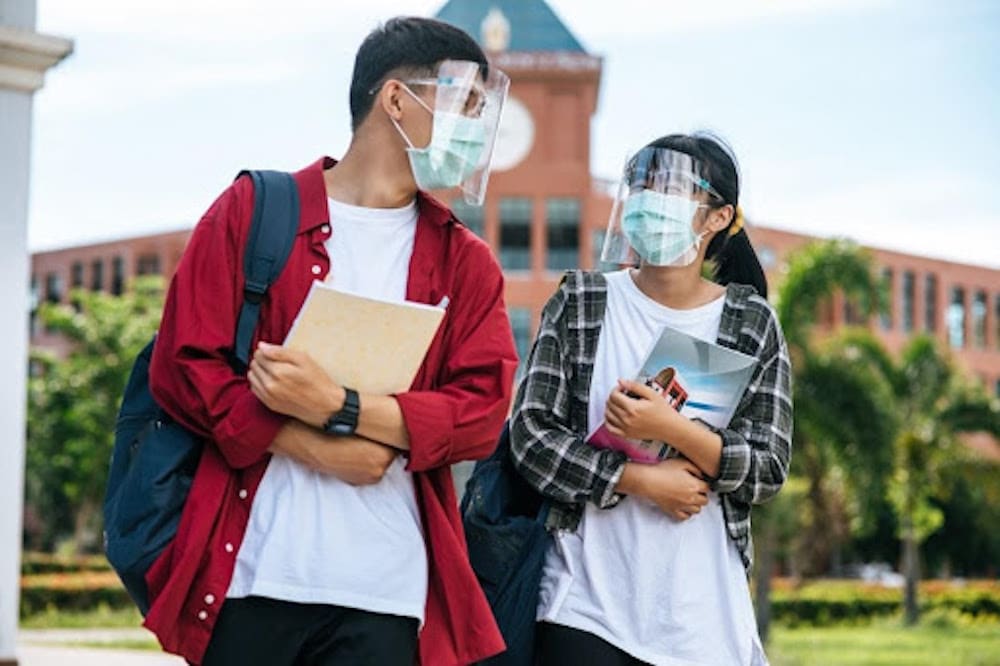 Join online lessons on time if you are studying online
The new normal has taught us that we must embrace technology to make learning possible during such a pandemic. The impact of COVID-19 on education in the US has forced many learning institutions to switch to distance learning. It is the most viable alternative but requires a lot of discipline from learners because there are o supervisions in such classes. 
As a learner, you must have a weekly timetable. It helps you properly plan for the lesson by setting your time and getting ready for the study. Most of the online learning applications accommodate a given number of learners at a go. Log into the classes immediately the link is provided to avoid missing out. 
Take study breaks
In education, the secret to success is not working hard but working smart. While creating a timetable, it is crucial to include break times. You must always take rest because continuous learning has some negative impacts on your education. It leads to fatigue and boredom, which is a recipe for failure.  
Overworking your brain makes it less productive, therefore reducing mastery of content. Include short breaks of 10 to 15 minutes after every lesson. 
Your timetable should also not exceed the standard daily study hours of 8 hours. You can watch a movie or take a walk while in a mask to protect you from contracting COVID-19 in your free time.
Maintain your relationships
Success in education is a collective thing that nobody can achieve single-handedly. With distance learning, you must keep in touch with your teachers and colleagues, especially those with whom you were in the same study groups. 
The discussion groups make learning enjoyable, making success imminent. The new group of friends is also crucial in gauging you because you will know where you need to improve. With such people, you also learn the different ways of solving problems. If stress and anxiety hit you, there are friends to lift you. They keep you motivated during these trying times. 
Conclusion
COVID-19 has brought the world to a near standstill, but with it, life must move on. Embrace distance learning and make the best out of it. It would be best if you were dedicated than ever before in your studies because there are several uncertainties. We don't know when schools will reopen.    
Featured Image Credit: FreePix
About the Author:
Emma Rundle works for a daily newspaper as a journalist. She has a master's degree in journalism and mass communication and helps the students from her stream as a freelancer writer in doing their essays and papers. In her free time, she loves to take a walk in the park and watch music channels.