For those considering a holiday or weekend trip to Spain, Alicante may not be an obvious choice. Though many people choose to visit Spain, the most well-known cities in the country are Madrid, Barcelona, and Seville.
Is it worthwhile to go to Alicante? You should definitely spend a few days there or use it as a jumping off point for exploring the rest of Costa Blanca.
Alicante is a city in southern Spain known for its exquisite art galleries, golden sand beaches, and ancient downtown filled with beautiful buildings and cobblestone streets.
Golden sand shores
The beautiful beaches in Alicante are a major draw for tourists. The city is located along the Costa Blanca, a stretch of coastline that stretches for 200 kilometers from the northern tip of Costa Cálida to the northern tip of the province of Alicante, where the city of Dénia can be found.
In the warmer months, visitors may enjoy beaches with golden sand, water that is transparent as glass, convenient services, and a wide variety of water-based activities.
Beach del Postiguet is a popular destination for Alicante natives because of its proximity to the city's historic core. It's easily accessible, has golden sand, and calm sea, making it perfect for everybody.
The promenade along this beach is beautiful and may be enjoyed throughout the year. Having a meal or drink at a chiringuito (beach bar) while gazing out at the Mediterranean Sea is a wonderful way to spend some time.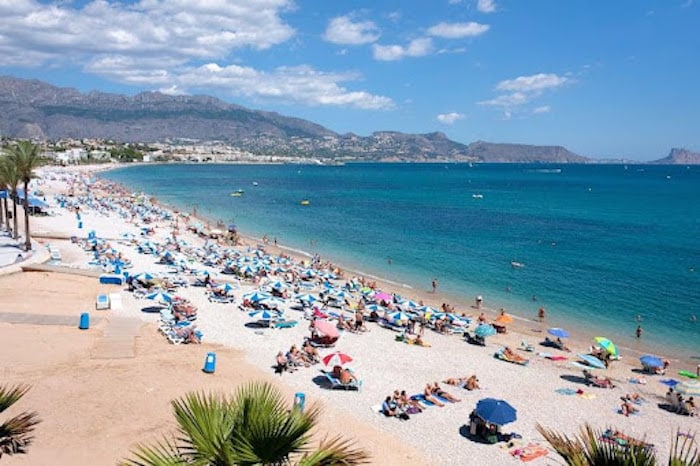 The food is to die for
La brujula restaurant in Alicante, Spain, is known for its vegetable and chicken paella.
If you value good food when traveling as much as I do, you'll be pleased to learn that Alicante's regional specialties are some of the best in Spain.
The Valencian Community includes Alicante; therefore, you may eat delicious paella there even if the dish was named after the city of Valencia.
Though many tourists believe paella to be a fish and meat dish, you'll be pleasantly pleased to learn that the dish has countless iterations, and that the varied types of rice used in each one significantly alters the dish's texture and flavor.
Gorgeous weather throughout the year 
Alicante is a great option for a vacation any time of year, but especially if you're looking for some winter sun. There is no "best time" to visit the city; in fact, it is open all year.
The average high temperature in the summer is 30.5 degrees Celsius (86.9 degrees Fahrenheit), while the average low is 23 degrees Celsius (73.4 degrees Fahrenheit). The month of August is Alicante's warmest.
Mean daily highs in the wintertime are around 17 degrees Celsius (62.6 degrees Fahrenheit), with minimums around 9 degrees Celsius (48.2 degrees Fahrenheit). When it comes to temperature, January has the lowest average temperature in Alicante.
A selection of museums 
There are more than fifty museums in the region of Alicante, covering subjects as diverse as archaeology, chocolate, as well as spices.
Museum-goers in Alicante will be pleased by the city's extensive collection. MACA, the Gravina Museum of Fine Arts MUBAG, as well as the Archaeological Museum of Alicante are three of the city's most visited museums and galleries.
A further advantage of these museums is that admission is typically free.
Rich history
History abounds in Alicante, as seen by the city's many museums, castles, and archaeological center. Iberians, Moors, Romans, and Christians are all intertwined into the fabric of Alicante's history.
You'll love Alicante and the Valencian Community regardless of whether you're a history buff or just curious about the area.
Yet, Cartagena and Murcia are also essential destinations close to Alicante. These urban centers feature a wealth of historic architecture and have fascinating pasts. The Cathedral of Murcia and also the ruins of the Cathedral of Cartagena are two further examples of ancient structures worth visiting.
Vibrant nightlife
Even if you aren't a lover of parties or don't typically go clubbing on vacations, you'll find that Alicante has terrific nightlife.
On a Friday night, the streets of the city center are filled with groups of friends ready to have a good time, and there are plenty of bars and clubs to join them in their revelry.
The region around the port of Alicante is another favorite spot for revelers. When summer rolls along, so do the crowds at the beach nightclubs on Playa del Postiguet.
Lively traditional events 
We're firm believers that participating in local celebrations is one of the best ways to fully appreciate a culture and its people. If you're visiting Alicante, there are a few things you really must do.
Fiestas de Moros y Cristianos are Alicante's biggest celebration. The events take place at five distinct venues throughout the city on five distinct days.
The Christian conquest of Moorish territory is celebrated annually with the Moors and Christians Festival. On December 6th, the city of Alicante celebrates its patron saint, Saint Nicholas, with a large procession through the downtown area. But, the festival is held throughout the year, so you can attend whenever it suits you.
Live music, interesting rituals, and spectacular processions are all staples of these celebrations. It's the best show in Alicante, and it's a terrific spectacle to boot.
The Three Kings Parade held on the 6th of January and Holy Week in early April are two other events worth considering. The city of Alicante is not the only place in Spain where these celebrations take place.
What else to know? 
To experience the entire majestic beauty of Alicante, you can't possibly rely on your feet. Sure, walking around, and experiencing new things can be alluring and adventurous, but if you want to hit all of the tourist's attractions, you'd need to consider renting a car. 
You should know that a leiebil alicante can make all the difference in the world for your vacation. You won't have to rely on taxis and buses, especially in the heat. Take your rented car with you, turn on the AC, and check out as many places as you want. 
That's the point of traveling – to be able to unwind and witness as many new things as possible. And the more trademarks and attractions you'll cover, the happier the memories! There are plenty of car rental options you can check out before you make a final decision. 
Make sure to compare different prices because not all companies offer the same deals. Once you land on a sweet deal, start enjoying Alicante the right way! Once your vacation's over, you can return the car to the rental company. Piece of cake, right?