Which crowdfunding platform is best for you is probably one of the first questions you might have asked yourself during your crowdfunding journey. The crowdfunding platform you select will have a significant impact on the success of your product. In addition, it will be a significant part of your life for weeks, months, or even years, so make an informed decision.
Our team has gone through extensive research and analysis and we have found that GadgetAny holds a slight edge over Kickstarter & Indiegogo in many ways. 
GadgetAny
GadgetAny is a community of 100,000 tech enthusiasts. You can use Gadgetany to launch your campaign to a large number of people who are only interested in tech categories. Also, GadgetAny boasts about multiplying the number of backers within a very short span of time on the back of its large pool of tech-loving community members.
However, your project should have a clear end goal and a well-planned strategy for getting there.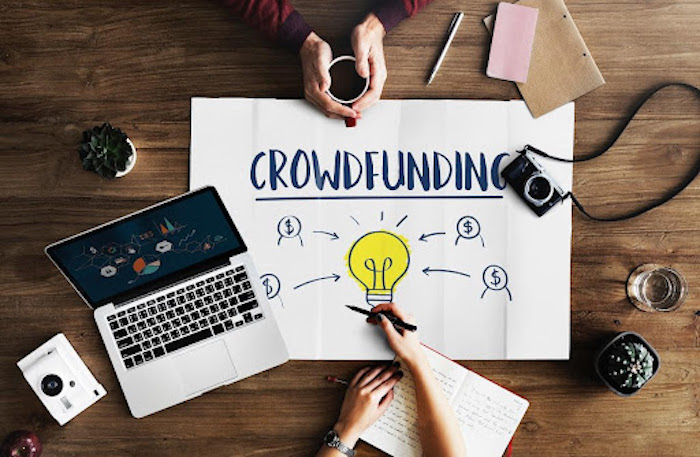 Services – 
Hassle-Free Enrollment Process

– Take advantage of hassle-free enrollment with no platform fee. Enjoy the benefits of direct fund transfer on the same fundraising day. The simple privacy policy will make your experience stress-free. There is no need for lengthy grant applications or multiple approvals. When backers contribute, the fund is transferred to your account the same day. By clicking on start a campaign, you can enjoy GadgetAny services.

0% Platform Fee –

GadgetAny's 0% platform fee ensures that you receive the most money possible.

Wider Community Base –

Gain the access to a wider audience base and raise more funds with GadgetAny as it claims to have a pool of

100,000 tech enthusiasts.

Anyone Can Assist You in Raising Funds –

Simple techniques and tips are shared with your friends and colleagues to encourage them to contribute to your campaign.

Dashboard with a lot of features –

GadgetAny's feature-rich dashboard looks fantastic on any phone or tablet. You can personalize your fundraising page by uploading photos and videos, as well as sharing fundraising ideas.

Personal Crowdfunding Coach –

Take advantage of the services of your personal crowdfunding coach. Get several ideas to attract backers and raise funds.

Tech Gadgets –

GadgetAny's crowdfunding platform is designed specifically for tech gadgets, and there are no other tech-specific crowdfunding platforms on the market. As a result, you can enjoy enough elbow room to make your crowdfunding journey a grand success.
Fees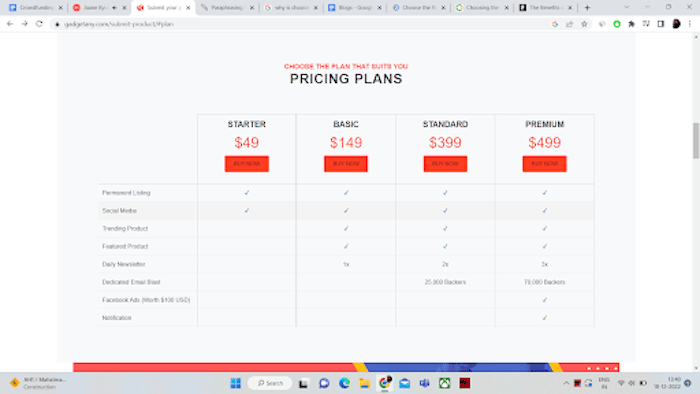 GadgetAny doesn't charge any platform fee; however, it has a plan structure for other services. Choose the plan that suits your pricing plans and get started with your crowdfunding campaign. 
GadgetAny Starter – GadgetAny charges $49 per year for this plan, which includes services such as a permanent listing of your project and social media support.
GadgetAny Basic – Moving on, it has a basic package that updates your plan if you pay an additional $100. After you update your plan, you will be able to use additional services such as Trending Product, Featured Product, and Daily Newsletter (1x) to reach your target audience in a better way.
GadgetAny Standard – GadgetAny charges you $399 for the provision of a standard plan. However, this plan includes a 2x Daily Newsletter and a dedicated email blast to 25,000 backers, allowing you to position your campaign and generate funds efficiently.
GadgetAny Premium – For $499, you get access to all of its services. Your daily newsletter is tripled, and the dedicated email blast to backers is also increased. You can now send emails to 70,000 backers rather than 25,000. It also allows you to advertise through Facebook Ads worth $100 USD and receive personal notifications.
GadgetAny also guarantees the return of charged funds even if the desired fund goal is not met. So, instead of worrying about your money getting stuck at any crowdfunding platform, you can concentrate on creating a perfect pitch and campaign. 
KickStarter 
Kickstarter is a globally recognized crowdfunding platform. It specializes in creative projects ranging from films, music, stage shows, comics, journalism, video games, board games, technology, publishing, to food-related projects.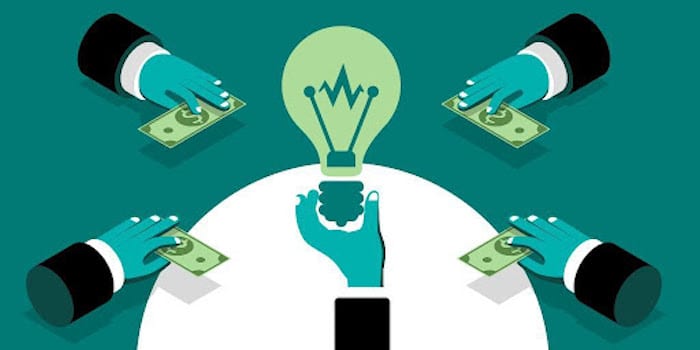 Services – 
Kickstarter is just for creative projects –

 Kickstarter was created as a platform for artists, designers, makers, musicians, and other creative individuals worldwide. It is proud to be the only platform dedicated entirely to fostering community around creative projects.
All-or-nothing funding works –

Kickstarter allows you to select a funding goal and a set number of days to reach that goal. Kickstarter has an All or Nothing Funding Model. This implies that if a campaign doesn't meet its funding goal, all the pledges are canceled and the campaigner doesn't get any of the pledged funds. All the money pledged by backers is returned to them and no money changes hands. Kickstarter campaigns have a success rate of around 36%, so not reaching your funding goal is a highly possible outcome.
This way, you won't be stuck with insufficient funds to complete your project. It also encourages backers to contribute more to help you reach your goal.
Community support –

Millions of backers agree: it's exciting to be a part of creating something innovative. People enjoy peering behind the creative curtain and assisting the creative process directly. In fact, over the years, 13.9 million people have pledged more than $3.39 billion to bring Kickstarter projects to life.
Public Benefit Corporation –

It measures its success as a company by how well it achieves its mission of bringing creative projects to life, rather than by the size of its profits.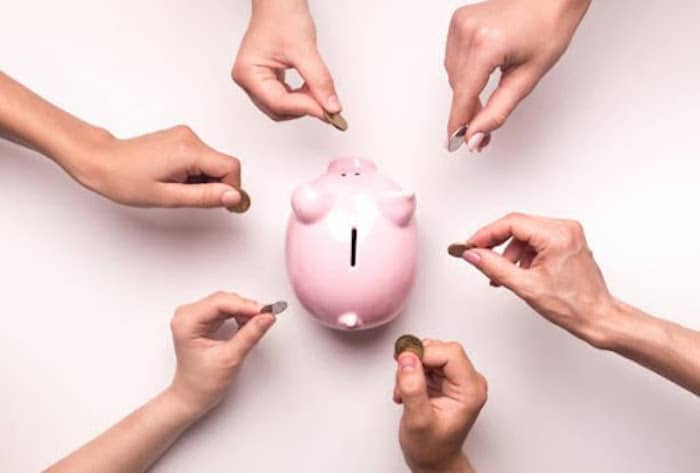 Fees 
Kickstarter is the market leader in the crowdfunding industry and it has received nearly $7 billion in crowdfunding pledges since its inception in 2009. Kickstarter charges two types of fees from project creators: The Kickstarter fee is: 5% of the total amount raised.
Credit card processing charges are 3% plus $0.20 per pledge. Pledges of less than $10 are subject to a discounted micro-pledge fee of 5% + $0.05 per pledge.
So, let's look at a numerical example. Assume you crowdfund a nice round dollar amount for your widget. Assume it's $100,000.
Kickstarter fee

: $5,000 (5% of $100,000).

Credit card processing fee

: $3,000 (3% of $100,000, not including the per pledge fee of $0.20).
Because of the $0.20 per pledge fee, your fees will be more than $8,000 in total. But suppose you have 1,000 backers for your project. This would bring the total to $200 ($0.20*1000).
So, on a campaign that raised $100,000 on Kickstarter, you'd end up with less than $91,800.
Indiegogo
Indiegogo is a crowdfunding platform that allows people to raise funds for creative projects. This includes everything from making art, music, and books to inventing new technologies and starting businesses.
People who want to launch a project on Indiegogo must first set up a campaign page and then solicit donations from supporters. Following the conclusion of the campaign, the company will conduct an online poll to determine whether or not to proceed with the project.
Services – 
Partnership & Support –

Indiegogo offers expert advice and exclusive partnerships to help your campaign succeed.
Cutting-Edge Tools –

 Indiegogo offers pre- and post-campaign tools to help you take your project beyond the crowdfunding stage.
Flexibility & Worldwide Reach –

The ability to raise funds for anything and from anywhere.
Fees 
Indiegogo's fees are broken down by category as follows:
Fixed Crowdfunding (or all or none)
Indiegogo's fee

:




If the funding target is met: 5% of the total funds raised.

If the funding goal is not met: 0% because backers' contributions are refunded.

Credit card processing fee

: 2.9% + $0.30 per pledge
Flexible Crowdfunding
Indiegogo's fee

:




If the funding goal is reached: 5% of the total funds raised

If the funding goal is NOT reached: 5% and you keep what you earned

Credit card processing fee

: 2.9% + $0.30 per pledge
As you can see, the fee structure on Indiegogo is similar to that of Kickstarter. The main distinction is the ability to select between fixed and flexible funding options. Using the same details as in the Kickstarter example above, a $100,000 campaign with 1,000 backers would send:
Indiegogo will receive $5,000.

$2,900 plus $300 for credit card processing
Despite minor differences in credit card transaction fees, the creator receives $91,800, the same as on Kickstarter.
Creators can expect to pay about 8% of the total raised in fees (5% in platform fees and 3% in credit card transaction fees) if they only consider the fees charged by the leading crowdfunding platforms and not the costs for product development and production.