The type of lighting you choose for your living space changes a lot about how it feels.  Lighting controls how a place looks and feels. By updating outdated lighting fixtures and old bulbs and switches, you can change your home's design and brighten its mood. Especially, if you struggle with balancing your indoor natural lighting or are dealing with minimal floor space. You probably came here looking for the latest ideas that can help you transform your dull rooms into bright, warm, and inviting living spaces. Well, you came to the right place. Here, we give you the most effective ideas for modern lighting updates that can brighten up your home's mood. 
Choose Your Lampshades Carefully
The lampshades you choose are not just a decorative feature, they actually play a big role in controlling the light quality in your room. This is why it's important to identify your lighting goals first then choose your lampshades accordingly. For example, darker shades will allow less light into the room and may shine brightly only directly above or under the lighting fixture. On the other hand, brighter or lighter shades will let out more light and give a brighter effect. Traditional shades are a great idea if you want something neutral that is not considered too bright or too dimmed. However, if you're aiming for a brightly lit room then traditional shades are not the way to go. Instead, look for lights with mesh or glass shades, you can also install Edison-style lighting where you install the bulbs without a cover and the lightbulb is exposed. 
Choose a Lighting Focal Point
Lamps, chandeliers, and other modern lighting fixtures come in all different shapes and sizes. You should not use the same size for all your lighting fixtures and scones, you'll end up confusing the eyes of anyone entering this room, especially in large areas. A chandelier would be great if hung up in the middle of the ceiling in your dining room. They also work in any other family room, they make a great focal point and centralize the brightness to the most vital part of the room. Floor lamps would go better in smaller rooms, you can also opt-in for art-inspired scones to add a touch of creativity to the walls of your smaller areas. 
Use Incandescent Light and Task Lighting Wisely 
Your living space should feel inviting and warm, the last thing you want is to make your visitors feel like they're sitting in a cold waiting room. Softer shades like yellow light emit calmer signals and induce relaxation that makes the body relax more during sleep. Blue light suppresses melatonin and disturbs sleep. That's why incandescent bulbs make amazing fixtures for bedrooms and living rooms as they are the lowest on the Kelvin scale. 
Brightness is not everything when it comes to light, some rooms inside your home require focused light which helps in increasing productivity. Task lighting is used in rooms where you finish tasks such as reading, writing, or working in general. The kitchen is a good example, the team from Ellumiglow says wire lighting can be great next to kitchen cabinets to brighten up your cooking space. Use task lighting bulbs under your kitchen cabinets to light up the area above your counters and help you focus while finishing your kitchen chores. 
Consider Dimmers
Using dimmers in your home will give you a lot of flexibility in choosing your rooms' brightness. Go for lamps that have High and Low switches, dimmer switches, or 3-way bulbs. Aim to have as many options as possible when it comes to controlling your light brightness. Dimmers will help you enjoy the comfort of changing the room's mood instantly with a flip of a switch. You'll also be able to adjust your lighting based on the night and day hours, bright focused lighting in the morning if needed to help you finish your tasks, and warmer, more intimate lighting in the evening to relax in your living room in front of the TV.
Use a Lighting Control Application 
These solutions come in handy when you're no at home and you remember you left the bathroom lights on. Or when you're upstairs and it's too dark downstairs to see but you have to go all the way down to switch them on. Today's technologies give us the privilege to control multiple home functions without being at home. You can change things like the lighting, temperature, and window treatments from smart applications that can be installed on your phone. Being able to switch your lights on and off remotely will add a modern touch to your home assets and change your entire lighting style.
Add Some Ceiling Fixtures
Ceiling fixtures do an amazing job in directing attention to the ceiling and illuminating the largest rooms. They add drama and trick the eyes into thinking the room is much larger than it actually is. However, they don't work very well as standalone light sources. If you're going to add ceiling light fixtures, make sure the room you choose has a source of natural lightning to balance the mood.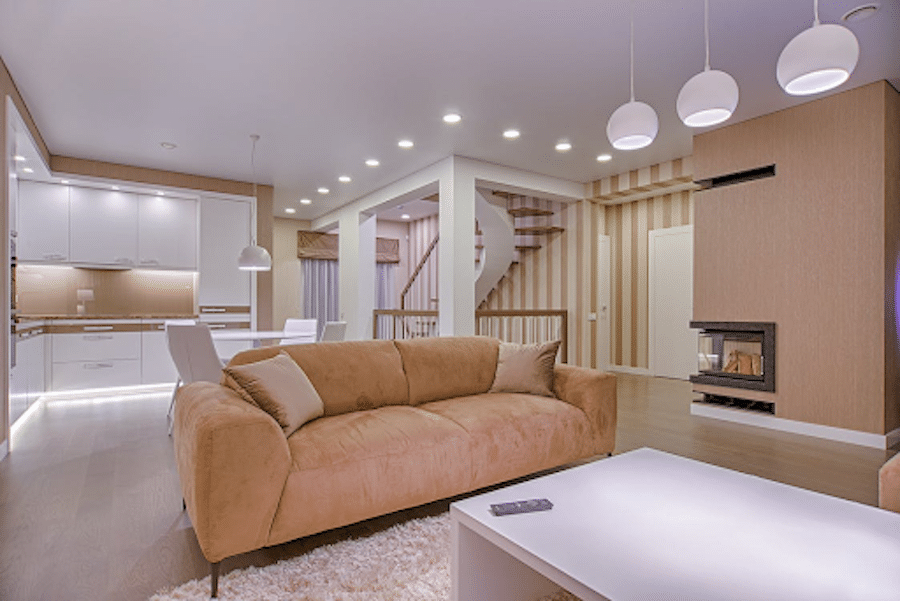 If you already have another source of light in the room, a ceiling fixture would look great and add brightness and illumination. They'll direct attention upward and increase the scale of the bright areas on your ceiling.
LED for Holiday Lights
Too much electricity is wasted on holiday lights every year. LED holiday bulbs reduce energy consumption and can lower your electricity bills significantly. Switch to LED lights for your holiday decorations and reduce your contribution to energy waste. 
Once you manage to balance the light shades inside your home, you'll be able to set the mood for each room and add different themes wherever you spend the most time. Most people opt for cove lighting in large rooms like the living room or the dining room, cove lighting looks elegant wherever installed and provides a dimmed exposure that feels very warm and welcoming. For the brightest results, go for Edison-style lights and enjoy focused task lighting that boosts energy and productivity.
Modern Lighting Featured Image Credit: Pexels