Did you know? As many as 1.2 million people are known to be suffering from hepatitis B in the US. And in a 2019 report, it was concluded that 1,800 people die annually in the US due to this infection. So, being sexually active, you might want to steer off this infection, lest it causes harm to you in the long. Having said that, if you want to know what is the best place to get a hepatitis B test, keep reading. 
Overview Of Hepatitis B  
The most common means for the spread of hepatitis B in the US is sexual contact. This virus, known as the hepatitis B virus (HBV), is known to cause serious damage to the liver. That being said, if left untreated, this infection will go on to become more chronic, lasting for months at a stretch. This means that once it becomes chronic, there are chances of liver cirrhosis, liver cancer, or even liver failure. 
Since there is currently no cure for hepatitis B, you need to make sure that you don't get infected with it. Also, since this virus is very contagious, you need to ensure that you take safety precautions to prevent the further spread of this virus. This is one of the ways in which you can make sure that your loved ones are safe and sound.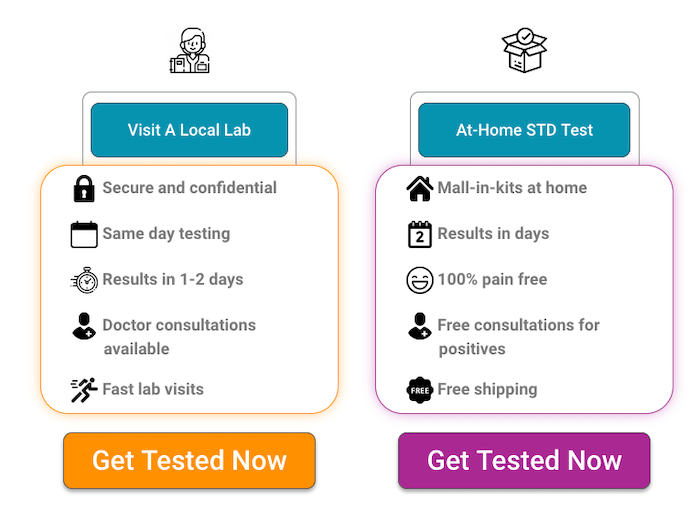 Hepatitis B Symptoms
Like hepatitis A, hepatitis B symptoms also go on to be somewhere between mild and severe. If you are infected with this virus, you might not notice symptoms even after several months. However, the most common symptoms start showing up in about two weeks in some cases. Having said that, children infected with this virus might not show any symptoms at all. Therefore, it's essential to know what is the best place to get a hepatitis B test at the earliest. 
Some of the most common symptoms associated with hepatitis B include jaundice, fatigue and weakness, vomiting, joint pain, fever, dark urine, and pain in the abdomen. If you happen to experience one more of these symptoms, it's very likely that you might pass it off as just another bacterial infection. However, you know your sexual lifestyle better than anyone else. Therefore, if you have even the slight suspicion that it's because of HPB, make sure to know what is the best place to get a hepatitis B test. When the result comes back as negative, you can heave a huge sigh of relief!
Best Place For Hepatitis B Test
You don't have to look any further than your neighborhood when you're wondering what is the best place to get a hepatitis B test. As you may already know, there are several STD clinics throughout the nation where you can easily get tested. Not only then, but you might also set STD test drives, where you can get a hepatitis B test for free!
Since the CDC has recommended that people should get tested for STD once annually, you need to ensure that you take it seriously. In most cases, there are people who hesitate to get themselves tested because of the fear of what society will think. However, harboring such feelings will only lead to complications in the long run, especially when the STD is non-curable, like hepatitis B. 
If you were to visit an STD clinic, you wouldn't have to worry about people getting information about your details, including the result. In fact, even the tests will be done discreetly, so you don't have to worry about running into one of your acquaintances! In fact, there's no shame in getting tested for hepatitis B or STD in general. It only shows your courage and responsibility to take care of your well-being and those around you! 
It doesn't matter whether you're living a healthy life or not, annual check-ups are very important. That being said, getting tested for STD might not be in your routine annual check-up. If this is the case, it's pertinent that you accommodate this test in your annual routine check-up. This way, you'll establish a good connection with your doctor, allowing you to be free and open with them.
There have been instances where people hesitate from visiting the doctor, even though the symptoms may be severe. This may be stepping from the fact that they are not prepared to face the worse. You should know that if you were in such a position, you would be doing grave injustice to yourself and those around you. Not only that, but some STDs, like hepatitis B, are non-curable. Therefore, delaying the treatment would only mean putting you and your loved ones' lives in danger. 
Women who are pregnant are more in danger of transmitting the disease to their new babies. Therefore, unless you want to inflict harm on your innocent baby, you need to ensure that you're hepatitis B-free. For starters, you might want to get yourself tested for hepatitis B before getting pregnant. This way, if you happen to be positive, you can get all the necessary treatment before giving birth to your child. 
 Don't think twice when it comes to visiting the nearest clinic to get tested for hepatitis B. Since there is no at-home hepatitis B test available, you need to take out time from your busy schedule to get yourself tested. Only by making sure that you're virus-free can you be at peace with yourself. 
Also, if you're just getting into a new relationship, it'd be wise to talk about your sexual health with your partner. If possible, you can both get tested for STD together. This way, there'll be no transmission or contraction of STD or hepatitis B. If you're unable to have the talk, you could practice safe sex. This way, you'll be able to take safety precautions and avoid getting infected or vice versa. Doing so will also ensure that you have a healthy relationship where you can discuss matters about anything!