The bridal party gets the addition of a cute element when it includes a flower girl. This mini bride as she would be, deserves just as much attention given to her attire as any other member of the bridal group. This would include her dress, shoes and flower girl accessories. Whether she would be holding balloons, tossing petals or confetti, this delicate and cute princess should look her best. Possibly styled after the theme of the wedding, a smaller copy of the bride with her own flower girl hair accessories. 
From hair scrunchies to hair clips or hair bands, there are quite a number of pieces that can accessorize the smallest member of the bridal party. Whether you'd like to jump on current accessory wedding trends or choose something more original, we've collected a few suggestions for this special person. 
1. Motif Hair Clips
There are quite a number of little lady hair accessories that would suit a flower girl. Depending on the wedding theme, you could go with hair clips of different motifs. From flower hair clips for a summer motif, to butterfly or fairy hair clips for a fairy tale wedding. For a classic modern wedding you might prefer metallic gold or silver hair clips that are shiny but elegant. Either way the little one is sure to look like a princess and ever wedding ready. 
2. Tiara Veil with Comb
For a true mini bride, you could consider a cute veil with a tiara and comb for the flower girl. The choices of hair accessories for a little girl are not limited to just barrettes, hair clips and headbands. The flower girl can get the opportunity to look and feel like a little bride on this special day too. From a simple shiny tiara to an opulent vintage looking type with diamonds and pearls, there are many ways to have the little darling looking cute and elegant at the same time. 
3. Hair Pin Set
Sometimes you can even have the flower girl choose what accessories she might want for herself. With different options of hair pins, she could go with flower hair pins for weddings that would best fit with her role for the day. The hair pins could feature rose flowers, peonies, or even sun flowers depending on the season for the wedding. Flower hair pins would be a great match for a flower girl tossing flowers, especially for a rustic or garden wedding. 
4. Cute Barrette
A cute and adorable barrette is another option for a flower girl. You could choose a flower hair barrette to match the summer or spring season and the flower girl flower basket. There are options from bright and colorful flowers to elegant rhinestone flowers that sparkle and glint in the light, or even gold and silver flowers that would be perfect for a classic wedding. The barrette can come in any color that would best match her dress and wedding theme. 
5. Flower Crown
If you are having an outdoor garden wedding, boho wedding or a rustic celebration, then you might want to consider flowers for hair decoration. This would be perfect for the flower girl as well, as you could both wear flower crowns to grace the occasion. This adorable accessory would delight even the most choosy of little girls and add brightness to such a special day. You could get a dainty flower crown with cute faux blooms on thin metal wires, or a flower crown of organic seasonal flowers that can last the whole day.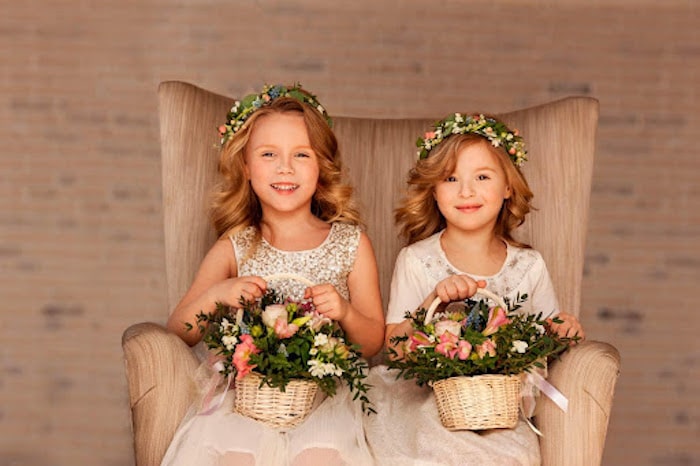 6. Fascinator Headband
Popular at English weddings and other formal celebrations are the classy and elegant fascinators. If you're having a black tie event, this could make a great choice of flower girl headpiece. Even though this is often worn by women, you can find dainty sizes for flower girls that will add that bit of allure to your wedding. She shouldn't be left out of all the fun, and if your bridesmaids would be wearing them, then so should she. An elegant fascinator headband in a color to match her cute dress. 
7. Scrunchy Lace Headband
If you are looking for something cute and easy to wear, then consider flower girl headbands for the little member of the bridal party. Lace headbands are not left out of the options for this flower girl bridal look. Flower girl hair bands for weddings come in an array of types and a scrunchy type lace headband with a flower motif could be just perfect for a flower girl in a lace type dress. This stretchy type of headband would be easy to wear and comfortable to keep on all day long. It would look great with or without bangs and can be worn in absolutely any desired color. 
No matter your personality or style, you can find the perfect flower girl hair accessories to style your flower girl in a fashion that matches your look and the look of the rest of your bridal party. 
Author: Anastasia Beluschenko, with a specialty in wedding dresses, joined Wedding Forward over five years ago. She knows everything about wedding dresses from styles to trends, fit, and designers. Her great sense of style makes it easy for her to expertly predict the newest and hottest wedding dress trends. For leisure, she loves court tennis and stretching.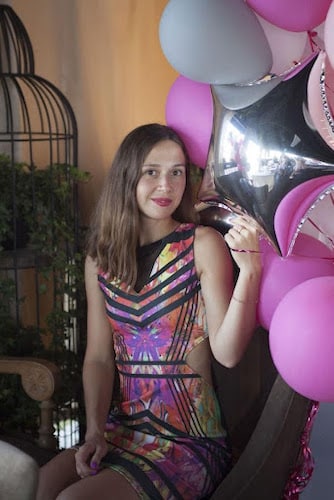 Featured image: Source