Do you know what it's like to live on an island? The more important question is, Do you know what it's like to live on an artificial, man-made island? If your answer is No, then you should definitely visit Dubai's Palm Jumeirah, which is a man-made island and is absolutely beautiful. I think you should see it this season by taking any of the Dubai Tour Packages and seeing other things to do in Dubai.
Dubai, the crown jewel of the United Arab Emirates, is known for its luxury, architectural marvels, and ambitious ventures. Among its many remarkable projects, none stand out quite like Dubai's Palm Jumeirah, a man-made island that has captured the imagination of the whole world. Shaped like a palm tree and stretching into the Arabian Gulf, Palm Jumeirah is a testament to human ingenuity and a symbol of Dubai's relentless pursuit of greatness.
History of Dubai's Palm Jumeirah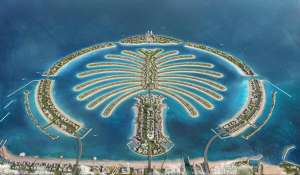 Palm Jumeirah emerged in the early 2000s when Dubai's ruler, Sheikh Mohammed bin Rashid Al Maktoum, sought to expand the city's coastline and create more beachfront property. The purpose was to construct a series of artificial islands shaped like a palm tree. Further, with a vast network of fronds and a crescent as a breakwater. The idea was ambitious and daring, but somehow they pulled it off really well.
Engineering Marvel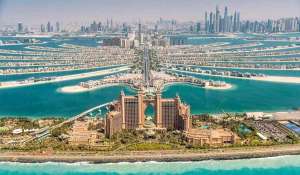 To realise this important project, Nakheel Properties, one of Dubai's leading developers, took on the monumental task of engineering the Palm Jumeirah. The construction of the Palm Jumeirah began in 2001 and involved incredible land reclamation. The construction of Dubai's Palm Jumeirah came to an end in 2006, making it the world's largest artificial island at that time. The island extended over 5 kilometers into the Gulf, covering an area of about 560 hectares.
The Palm's Fronds and Trunk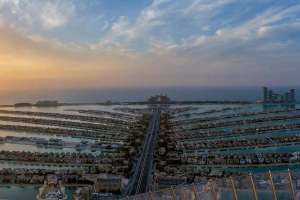 The palm's structure consists of a central trunk and 17 fronds that extend on both sides, resembling the leaves of a palm tree. Each frond comprises a mix of luxurious villas, townhouses, and apartments. These properties offer breathtaking views of the sea and the city skyline, making them some of Dubai's most sought-after real estate.
The central trunk is home to some of the most prestigious hotels, resorts, and residential buildings. The Waldorf Astoria, Fairmont, and Atlantis, The Palm, are among the five-star hotels that grace the palm-shaped island, offering visitors an unforgettable experience of luxury and hospitality.
In addition to the residences and hotels. Palm Jumeirah boasts a stunning boulevard known as the "Golden Mile." This 1.4-kilometer-long boulevard is lined with high-end retail outlets, restaurants, and cafes. Moreover, catering to the discerning tastes of residents and tourists alike. The ambience of the Golden Mile is cosmopolitan, chic, and inviting. Additionally, making it a popular destination for strolls and exquisite dining experiences.
The Atlantis, The Palm
One of the most remarkable landmarks in Palm Jumeirah is the Atlantis, The Palm resort. Situated at the apex of the crescent, this iconic hotel offers visitors a unique experience. The Atlantis has become synonymous with luxury and adventure in Dubai. Its distinct Arabian-themed architecture, marine and waterpark attractions. As well as, an array of dining and entertainment options.
The creation of Palm Jumeirah marked a turning point for Dubai's real estate and tourism sectors. Further, The artificial island expanded the city's coastline and added thousands of premium properties to the market. The luxury residences and hotels on the palm have attracted high-net-worth individuals, celebrities, and tourists worldwide.
Moreover, Palm Jumeirah has become an iconic symbol of Dubai's modernity and ambition. Elevating the city's global status as a premier tourist destination and a hub for business and commerce. The island's attractions, such as the Atlantis and the Golden Mile. Additionally, draw millions of visitors each year, contributing significantly to Dubai's tourism revenue.
Environmental Considerations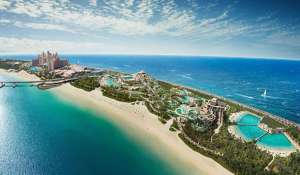 Despite its grandeur and splendour, the construction of the Palm Jumeirah was subject to controversy. Critics argued that land reclamation projects like this could disturb marine life and cause erosion in neighboring areas.
However, efforts were made to mitigate these concerns. Artificial reefs were created to provide new habitats for marine species. Nonetheless, the impact of large-scale developments like Dubai's Palm Jumeirah on the environment remains a subject of ongoing debate and scrutiny.
Conclusion
Palm Jumeirah stands as an enduring testament to Dubai's ambition, innovation, and resilience. This man-made island, shaped like a palm tree. Moreover, has become an emblem of the city's limitless vision and ability to transform dreams into reality. With its luxurious properties, iconic landmarks, and global appeal, Dubai's Palm Jumeirah continues to captivate the world and remains an oasis of extravagance and innovation amidst the sands of the Arabian Gulf.