If you have the entrepreneurship bug and want to quit your corporate job or you have experience in the events industry, then surely the thought of starting a wedding venue business has crossed your mind. The wedding industry globally generates $72 billion. Couples like to splurge when it comes to their wedding, and when you're an owner of a wedding venue, this investment can possibly pay for itself in a very short period of time.
Starting a wedding venue business will allow you to help couples enjoy and plan their big day while you're taking part in an industry that is worth billions of dollars. In this article, we will go over the steps you need to follow to start the wedding venue business of your dreams.
Create a Wedding Venue Business Plan
No matter how straightforward your wedding venue business is, you need to have a detailed plan. If you want to make the process easier for yourself, we would recommend using a wedding venue business plan template. Keep in mind that a wedding venue business plan should be updated on a regular basis, as you experience ups and downs in your business.
A business plan will serve as a guideline for you and your employees, and it will determine what structure you will have. It will define how you achieve the most important objectives of your wedding venue business. It will bring clarity to the decision-making process in terms of crucial elements of the business such as resourcing, investments, etc. Moreover, if you're looking for funding from a bank, a business plan is often required. 
Research Competitors
Research local competitors before you make the decision to open a wedding venue. Are there a lot of wedding venues in your area? Are there any wedding venues with the same offer as yours? If there are, make sure that you offer your clients a unique experience and something that they won't be able to find anywhere else.
Assess Finances
Assessing your finances is one of the most crucial steps when it comes to opening a wedding venue. Do you need financing, or are you able to put down a down payment? Do you need to consider investors? If you need additional financing, you should figure out what type of business line of credit or small business loan you need to apply for.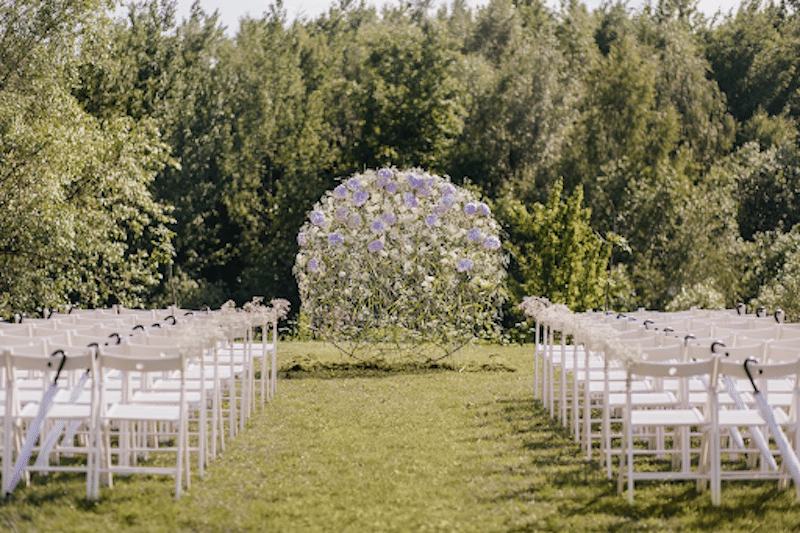 Choose A Location
The location of the wedding venue is already picked out for you if you're taking over an existing place. However, there's a lot to consider if you're building your own wedding venue on a piece of land. Make sure that the property offers one-of-a-kind aspects that will inspire couples to choose this venue instead of the church hall or backyard of their parents.
Renovations
If you're planning to apply for a small business loan, you will need to get an on-location estimate for the renovations, repairs, and additions you need to make to your venue. Consult an architect or contractor about the cost of your renovations.
If you're under financial constraints, figure out which renovations have the highest priority and which ones can wait. Things like parking, catering space, and bathrooms are usually the most important parts of a venue. Keep in mind that as you book more clients and make more income, you can always improve your venue.
Open The Wedding Venue
Once you're done with the previous steps, you're ready to start booking. We would suggest that the first couples who book weddings with you get a discount in order to get the word out about your venue. Another thing that can help is hosting an open house. After you open your wedding venue, seek further financing and continue to make improvements, and don't forget to incorporate the feedback you get from clients as you go.
Market Your Wedding Venue
In order to advertise your new wedding venue, you will need a solid online marketing strategy. This should include pages on social media platforms, a website containing information that will be useful to couples planning their weddings, and even a blog.
Final Thoughts
Starting a wedding venue business takes a lot of resources, money, and time, which is why you need to be fully prepared before you get started. However, the wedding industry continues to grow each year, making it a relatively safe long-term investment. Now that you know all of the steps to start a wedding venue business, you're good to go. We wish you luck with your endeavor!
Featured Image Credit: Squarespace