Iconic craft brewery New Belgium brought its long-running Tour de Fat festival to New York City for the first time this past weekend. The event brought plenty of attractions throughout the afternoon and into the evening for New York beer lovers.
The event was held at Pier 36 down in Lower Manhattan. This being a craft brewery, naturally tents offering a number of New Belgium beers were dotted all throughout the event venue—although it should be noted to future fest-goers that beer is not complimentary. Still, New Belgium is a top-notch brewery, so attendees were able to refresh themselves with some of the best of American beer brewing throughout the festival.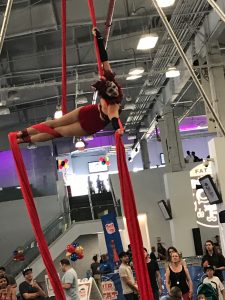 Some of the festival-goers showed up in costumes, and there was also a booth selling costume swag at the venue. Many staff members and attendees wore tutus, and fun hats were a popular item, such as bunny ears, top hats, and our personal favorite a giant felt hat in the form of a beer mug with "Got Beer?" printed on the front.
The costumes, combined with staff attendees walking around in stilts and elaborate clown makeup, as well as a trapeze artist performing for revelers in the middle of the venue, gave the whole event an odd sort of carnival-like atmosphere. There was even a Vaudeville performance troupe, Le Tigre, hosting shows throughout the affair in a side tent, which proved to be a big hit with this crowd.
Other attractions included that classic counterpart to drinking cornhole, plus a man-sized Connect 4 board, face painting, and for the more superstitious of attendees, tarot card reading. There were a few food carts and also an indoor music stage that hosted live performances from Fire Leopard, husky-voiced jazz artist B. Miles, and electronic group Naked and Famous to top things off.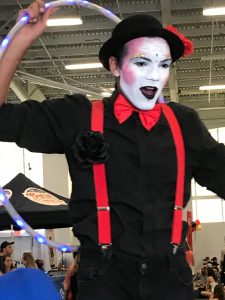 And of course, what event would be complete without a merchandise tent, where you could pick up a number of Fat Tire branded articles of clothing, as well as a frisbee or a Fat Tire beer bottle opener keychain.
The crowd, as one would expect, seemed largely to consist of people in their 20s, although there were, surprisingly, parents and children there, the children going sans the "I can drink good beer and I've got the ID to prove it" wrist bands.
All told, it was a solid way for any beer lover to spend a Saturday, so craft beer enthusiasts should definitely be on the lookout for Tour de Fat's return to New York next year.
Follow UrbanMatter New York on Facebook and Twitter for daily updates on local events and news.