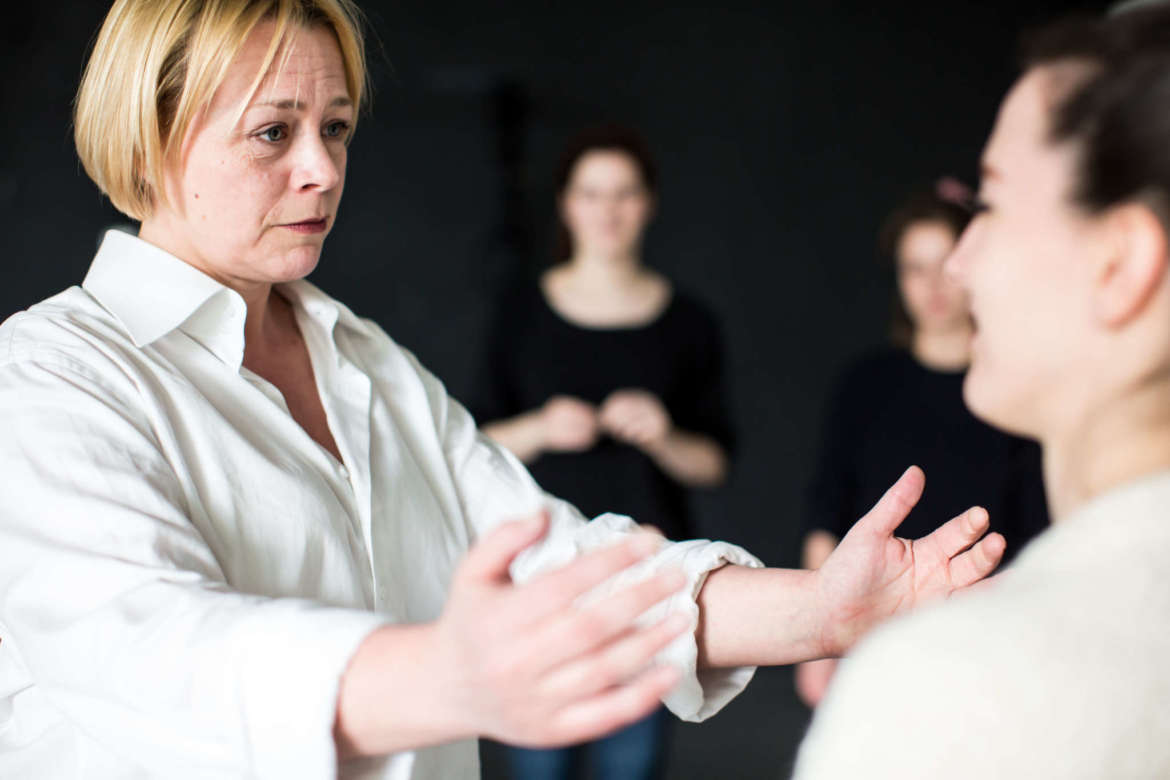 Sunday, June 9 | 2 pm – 4 pm @ Outerspace Studios in Wicker Park, Ages 14+ Welcome
Wednesday, June 12 | 7 pm – 9pm @ Menomonee Club in Old Town, Ages 18+ Welcome
Pretty Deadly Self Defense takes everyday movements and and reapplies them to self defense situations, from harassment on the street to physical attack, teaching simple, yet powerful techniques that come in handy during dangerous scenarios. And they're taking over Chicago for two workshops only.
Founded by Susie Kahlich in 2009, this Berlin-based program started in Chicago when Kahlich's mother asked her to teach her some basic self-defense techniques. After realizing that her mom was intimidated by the Ninjutsu training Kahlich had, she took a different approach. Instead of going over complex moves, Kahlich decided to teach her mom self-defense using movements we already make on a day-to-day basis. Tucking your hair behind your ear, for example, is a great way to learn an elbow jab.
Kahlich realized she could do so much more with this idea, so she founded Pretty Deadly Self Defense and took it to Los Angeles, Paris, and then Berlin.
Pretty Deadly Self Defense is on a mission to remove the stigma of what self-defense can be; rather than something scary, it's really a form of self care. It's for everyone, and it should be accessible to all.
Many women have fallen victim to attacks and fear they will be triggered by learning self-defense. Kahlich empathizes with these women, and so created a practical self-defense course that would be emotionally sensitive to their pasts. Instead of yelling or being overly aggressive with her students, Kahlich's method is about creating a safe zone for everyone, where laughter is encouraged and so is creating community and having fun.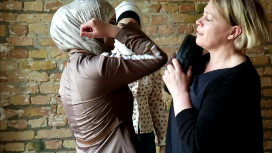 Promoting a welcoming, LGBTQ+ friendly community, Pretty Deadly Self Defense has a female majority between the ages of 24 – 35, typically with little experience in sports or martial arts. Kahlich starts every course teaching them how to make a fist.
These courses are full contact and ensure you learn the moves wearing clothes you wear every day, making sure you know how to move in your own clothes, and how to protect yourself. Three levels of courses take you first through basic movements, then into more precise scenarios and instinctual moves, and finally, addressing intimate situations, as well as how to make a weapon out of everyday items.
Pretty Deadly Self Defense is bringing two workshops to Chicago this week. The first workshop, based in Wicker Park at Outerspace Studios, will be accessible to ages 14+, while the Old Town class at the Menomonee Club is for ages 18+. In these two-hour workshops, you'll learn the following:
• basic, effective self-defense techniques (beginning with: how to make a fist)
• situational awareness (how to "read a room" … or bar, or street, or subway car)
• strategic thinking (how to get out of there!)
Each workshop is $55 and teaches all-inclusive, practical self-defense. You can purchase tickets ahead of time for the Old Town and Wicker Park classes.
Pretty Deadly Self Defense is also working on an app that would make learning self-defense accessible to people all over the world, especially for people who might not feel welcome in a traditional martial arts classes, including the LGBQT+ community.
Discover your power at Pretty Deadly Self Defense: real self-defense for all women.
Featured Photo Credit: N Wohlleben