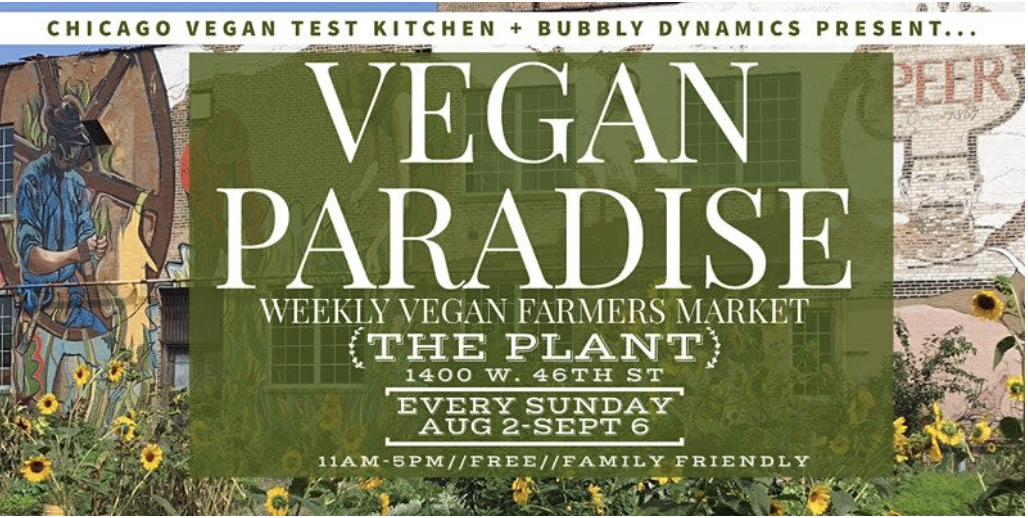 VEGAN PARADISE FARMERS MARKET
Chicago Vegan Test Kitchen + Bubbly Dynamics would like to welcome you to VEGAN PARADISE Chicago's first all Vegan Farmer's Market!
Featuring local plant based chefs, cruelty free crafters, conscious body care as well as local farmers!
This will be very different from our previous markets to be Covid-19 compliant. Here are some of the precautions we are taking.
Masks are required for everyone inside of the market.
We will be checking temps of all vendors and attendees at the gate entrance
RSVP will be mandatory for entry and FREE tickets will be issued for limited hourly entrance times in order to allow everyone to enjoy the market while properly socially distancing.
All Food Sales will be pre-sale and no food will be cooked on site.
There will be a one direction flow for the market with the entrance outside into the farmers market area and the exit going through the Whiner Beer taproom.
This market is rain or shine. On possible rainy days it will be curbside pick-up.
We are very excited to be supporting our local businesses again! We will also be partnering with @crueltyfreeyouandme as a drop off site for food donations that benefit @igrowchicago summer camp in Englewood and other initiatives they have in providing vegan meals to folks in the community!
Tickets will be available next week so stay tuned!
CVTK+Bubbly Dynamics
VEGAN PARADISE
THE PLANT
1400 W 46TH ST (BACK OF THE YARDS)
EVERY SUNDAY RAIN OR SHINE AUGUST 2 – SEPTEMBER 6
FREE + FAMILY FRIENDLY
Every Sunday Starting Aug 2- September 6
11AM-5PM
The Plant
Back of the Yards
1400 W. 46TH ST