A Community Rising Together
On July 22, Chicago's annual Disability Pride Parade will make its way up Dearborn Street to Daley Plaza. Participants carry on a tradition established in 2004, and strive to uphold the parade's mission. Through visibility and positivity, the parade strives to change the way people think about disabilities as well as fighting the internalized shame felt by many in the disabled community. By proudly making their way through the streets of Chicago, participants hope to promote the belief that disabilities are "a natural and beautiful part of human diversity." An annual open mic night precedes the parade. This year's open mic will take place on July 21 from 6pm-9pm at First United Methodist Church.
Meet the Grand Marshals of the 14th Annual Chicago Disability Pride Parade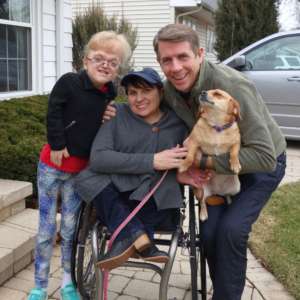 This year's Grand Marshals are Karen Tamley, Kevin Irvine and their daughter Dominika. Both Tamley and Irvine have a long history of disability activism in Chicago and across the country. Tamley has worked for the National Disability Action Center in Washington, D.C. and for the national advocacy group ADAPT. She is the co-founder of DRACH, which fights for housing rights for people with disabilities. Since 2005 she has served as Commissioner of the Mayor's Office for People with Disabilities, and in 2015 she was appointed by President Obama to serve on the United States Access Board. In the same year she received the Excellence in Public Service Award from the Civic Federation of the Chicago and Motorola Solutions Foundation.
Irvine has worked with ACT UP in New York City and Rhode Island, Abilities United and New Mexico AIDS Services. After working with Independent Living Resources Center in Albuquerque, he helped to re-establish the New Mexico chapter of ADAPT. In Chicago, Irvine worked as an advocate and trainer for Equip for Equality. In 2012 Mayor Rahm Emanuel appointed him to serve as a director on the Chicago Transit Authority board. He serves on the All Stations Accessibility Program working group, which strives to create a completely accessible rail line.
Dominika Tamley is a rising sixth grader at Agassiz Elementary School. She has many hobbies including musical theater, watching vlogs on YouTube, riding her bike, walking the family dog, and memorizing political speeches. She also participates in various sports clinics, camps and activities sponsored by Dare2Tri Paratriathalon Club and the Shirley Ryan AbilityLab's Caring for Kids program. At the age of three, she gave her first public speech at the Disability Pride Parade.
Show Your Support
Registration for participation in the parade is now closed. Those who wish to show their support for the parade and the disabled community can still do so through donations.
Follow the Disability Pride Parade on Facebook for more info and updates.
Featured Image Credit: Disability Pride Parade via Facebook