We, like you, am not made of money. And while I personally love going out to get a fancy cocktail – ...
We know. The adult life and struggle life is really the same life. Like us, you want to go out, but ...
You know these places. They're our favorite corner shops and neighborhood haunts, serving us t...
While many of the most prestigious eateries in Chicago require you to purchase some number of course...
Let's face it: we've all been those cranky-ass, hangry customers furiously demanding that our food b...
After another notoriously long winter, Chicago is, once again, hot as hell. So accept it, quit your ...
I think my favorite thing about any donut shop is that you know before you even walk in that your bi...
Millenials are possibly the busiest generation to date. Not only are we constantly on our phones, ju...
BYOB policy aside, we'll preface this article by saying that these places all have amazing foo...
Chicago was just recently named Bon Appétit's Best Restaurant City of 2017. And while this may...
Located at the north entrance of the Lacuna Artist Lofts at 2150 South Canalport Avenue, Café Lacuna...
What's more Chicago than pizza, beer and rock royalty all under one roof? You probably recogni...
Best of Chicago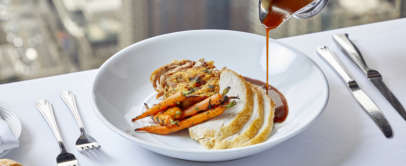 Don't worry, they've got it covered. Thanksgiving is an exciting time of year to enjoy the company of family and friends as you indulge in the smells and…