Women-owned and run, No Bones Beach Club is the latest in a line of standout casual dining restauran...
Brunch is, without question, the best meal of the day. Nothing quite compares to rolling out of bed ...
Sure – Chicago may not have access to an ocean or a bay, but that doesn't mean our waterfront ...
We already know y'all like to eat. But sometimes ordering three entrees just isn't enoug...
Looking for a new hotspot where you can just be yourself? What if it was a cafe, eatery, brewery and...
Cultivated by Legendary Chicago Cubs Manager Joe Maddon and Multi-James Beard Award-Winner Chef Tony...
Trying to Eat Meat-Free in 2019? These Restaurants Are Here to Help You Go Vegetarian If you made a ...
'Tis the season be unreasonably off your ass. And with that comes, of course, those holiday ha...
'Cause the only thing better than eatin' brekkie is eatin' it at night. Here are U...
Best of Chicago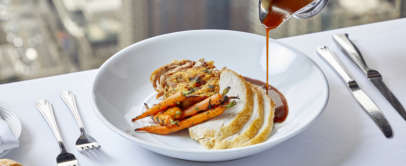 Don't worry, they've got it covered. Thanksgiving is an exciting time of year to enjoy the company of family and friends as you indulge in the smells and…