If you're a Chicago native, it might seem like the city has nothing left to surprise you. You know the neighborhoods, streets, restaurants, and people like the back of your hand, right? Well, you could be wrong! Chicago is an old city incorporated back in 1833, and a city so rich with history tends to always have unexplored nooks and crannies of the city streets. Thankfully, with technological advances and word spreading like fire (too soon?), some of the best-kept Chicago secrets have come to light. So, instead of heading out to your same old stomping grounds, take a trip to a place you've never been to or heard of before, like a hidden city green space. We can guarantee it'll leave you looking at the city with a whole new perspective. 
222 W Merchandise Mart Plaza, Chicago, IL 60654
233 S Wacker Dr, Chicago, IL 60606
111 N State St, Chicago, IL 60602
Right now, in the middle of another gorgeous Chicago summer, you're probably not thinking of what your trek to your office will be like in the middle of January. Thankfully, you can start using the Pedway when those times come around. Development of this pedestrian walkway system began back in 1951, and today, it connects over 50 buildings in the Loop. From Merchandise Mart to Block 37, you can take this series of underground tunnels and overhead bridges to avoid any annoyances commuting in the city brings.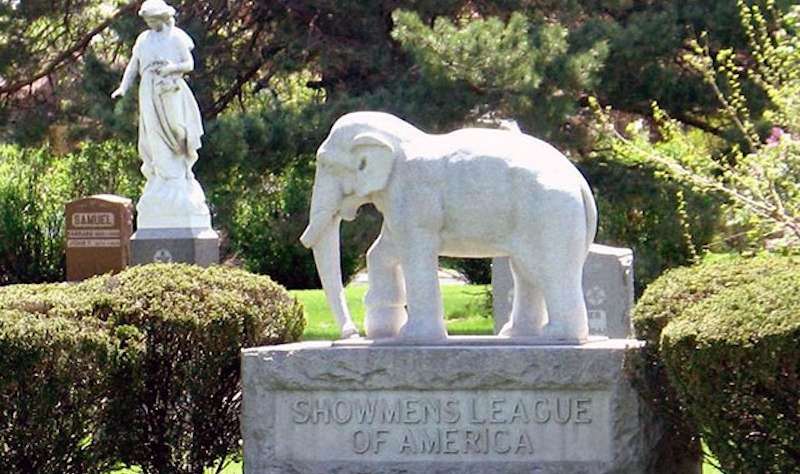 7750 Cermak Rd, Forest Park, IL 60130
If you're into spooky stories, this spot is for you. You'll find Showmen's Rest in Woodland Cemetery in Forest Park. On June 22, 1918, the engineer of a military train fell asleep while operating and crashed into the wooden cars of the Hagenbeck-Wallace Circus, killing 86 performers and leaving 127 others injured. Now, you can find the marked graves from that night at the cemetery with grave markers like "Unknown", "Baldy", and "Smiley", because so many of the bodies were unidentifiable. 
123 N Jefferson St, Chicago, IL 60661
While this restaurant might not be literally hidden, the menu is definitely a hidden gem in the city. For most Michelin Star restaurants, you can expect your meal to cost hundreds of dollars. At Sepia, this four-course tasting menu starts at $85 a person. With delicious bites like beef tartare, sourdough cavatelli, and crispy, roasted halibut, Sepia allows you to do something else you might not get at another Michelin Star restaurant: customize your personal menu. A trip to Sepia is definitely in the cards when looking for a unique dining experience without breaking the bank. 
230 W Kinzie St, Chicago, IL 60654
Many frequent Gilt Bar for handcrafted cocktails and delicious meals, but few knows its hidden secret: The Library.
The Library is a speakeasy-style cocktail lounge that is only accessible through a relatively concealed side door. Each week, reservations are released on Wednesdays, but they also welcome walk-ins. The Library is open on Thursdays, Fridays, and Saturdays, so be sure to plan an awesome dinner at Gilt Bar, then cross your fingers for a nightcap downstairs in one of the most breathtaking speakeasies in the city. 
https://www.instagram.com/p/BTcBLq8lWHv/
1801 S Indiana Ave, Chicago, IL 60616
This smaller park located in the South Loop was built in 2000 and serves as an homage to women-led historical contributions to Chicago and celebrates the changes and roles women take in their lives. Surrounded by the Henry B Clark House, Glessner House, and Northerly Island just a few blocks East, the Chicago Women's Park and Garden can be often overlooked as it is one of the smaller parks in the city. That said, the park does host frequent programs and events like bridge tournaments, yoga classes, and specialty camps. 
720 S Michigan Ave, Chicago, IL 60605 
One of the most spectacular things about the city is the amount of art you can find. Outside of the various art museums and galleries, there is art practically everywhere you look. But, did you know there is a series of commissioned street art that spans blocks in the South Loop? From Michigan Avenue to State Street, you can find this public art project that brings history, style, and culture to the streets of Chicago. 
1524 N Lake Shore Dr, Chicago, IL 60610
Blink, and you'll miss it. Whether you're walking or driving down Lake Shore Drive, the International Museum of Surgical Science seems like another beautiful home on the Gold Coast, just a stone's throw from North Avenue Beach. Inside this beautifully sculpted home is North America's only museum dedicated to the surgical sciences. Here, you'll learn everything about the history of the International College of Surgeons through artwork, prints, sculptures, and medical artifacts. 
111 S Michigan Ave, Chicago, IL 60603
Behind one of the most popular stops in Chicago, you'll find a smaller yet picture-perfect garden. The South Garden at the Art Institute is located on top (yes, on top) of a parking garage located on the south side of the Art Institute.
With raised plant beds, a variety of trees, water fountains, and plenty of spaces to sit and relax, the South Garden is the perfect spot to disconnect from the busyness and noise of the city. The sculpted fountain here was crafted in 1913 by Lorado Taft and remains a statue of Chicago's history in a place that seems to be pleasantly disconnected from the present. 
Featured Image: The Library | Gilt Bar