A visit to Las Vegas is just the classic American trip. We've all been there, mentally at least, every time we watch a Vegas-based movie on TV!
Whether you're looking for fine food and museums, to bright lights, drinking and gambling this little place has everything you want all within a few miles.
What to Do in Vegas
If you're travelling to Las Vegas for the first time it's good to get your travel acumen on. You can do that by checking out at Urbanmatter, though you will need your own Las Vegas checklist to do all the things you want to do.
Of course, Vegas is known as the centre of the gambling world. Back home, you can play online at bitcoin casino Canada websites, but in Las Vegas it's all about the cash and the credit.
One thing you might be surprised to find out is that the "Strip" is only 4 miles long, but it's four miles of pure decadence. There is so much to see and do in this small but buzzing city and you should put these things on your bucket list for Las Vegas.
Get a Photo at the Sign
This is ultimate Las Vegas for Canadians and many others, at least on day one. Having your photo taken next to the 'Welcome to Fabulous Las Vegas' sign is an early 'must do', and while it doesn't sound so exciting, it'll be your social media background for years!
Vegas knows all about keeping you happy, so there will even be someone employed to be at the sign and take your picture for free.
Stay at the Venetian
There are many fabulous hotels in Vegas, including the Four Seasons, Wynn Las Vegas & Encore and some of the famous names such as the Bellagio, MGM Grand, Mandalay Bay and Caesars Palace to name but a few.
The Venetian Resort, however, was recently named the best hotel in Vegas, remains one of the oldest, classiest and most spectacular venues in the area for Canadians to stay at, bringing a little of Venice as well as the USA to your trip.
Hit the Tables!
We didn't want to make it too obvious, so we left it off the top of the list, but of course, you should have a gamble when you hit Las Vegas.
The hotels and the fancy shows are one thing, but as a famous actor once said, "it's all been arranged for them to get your money." In fact, visitors reportedly drop around 5 billion USD every year on the strip but by god it is fun!
To be fair, it's not all about craps, roulette and poker. The very point of Vegas is the bright lights and the noise, and that will come from the thousands of slot machines placed right throughout the hotels and casinos which are great fun to play. You might even get lucky.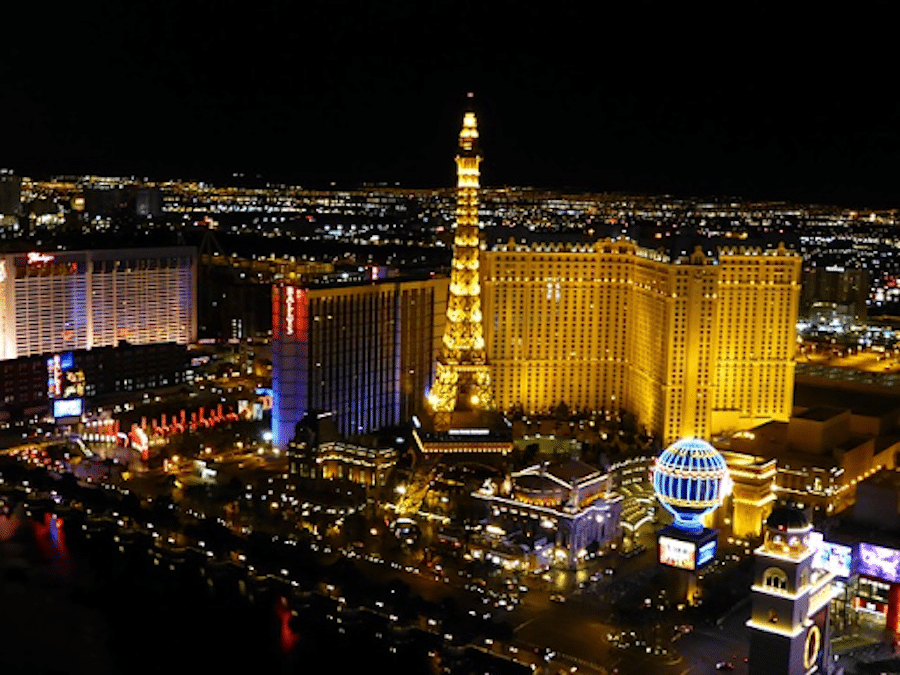 See a Show
According to the expert Lucas Goldberg,  the author here, since its inception as a gambling hub many moons ago, Vegas has been as much about flashy shows as anything else. From Elvis Pressley to the Rat Pack, Las Vegas has played the long-term host to so many great celebrities.
Even in the modern era, there are so many diverse shows to see in so many locations. Absinthe at Caesars Palace is a current favourite, the Bellagio Fountains as seen in movies, or of course Cirque du Soleil which again is simply wondrous.
Attend a Pool Party
Once more you've seen it in the movies, right? Las Vegas hotels can host some crazy pool parties and if the weather is good you should definitely attend.
Whatever takes your fancy is on offer at various locations including the Encore Beach Club and the Marquee Dayclub. You can dance to some of the world's best-known DJ's, take a swim, drink and generally just party all day and night.
Conclusion
Without even mentioning helicopter rides or heading downtown, there is a ton to talk about when it comes to Vegas. Whatever you decide to do, you'll have a killer time!
Featured Image Credit: Freepic