When news of the first case of the coronavirus came to light, who would have thought that it would become a global pandemic? The US faces the same struggle as the world continues to fight against COVID-19. In fact, as many as 64,359,409 COVID cases were reported recently on January 13 in the US. However, as much as corona has impacted our lives, other epidemics shouldn't be taken lightly. Take, for instance, sexually transmitted diseases or STDs. Now, the CDC (Centers for Disease Control and Prevention) has maintained that people who are sexually active should get tested for STD at least once a year. And in light of the current scenario, there are reasons why doctors recommend an at-home STD test during COVID. Let's understand why.
Effect On STD Tests Availability During COVID
After the detection of the first COVID case in the US in January 2020, the country has been on high alert ever since. So much so that health officials and hospitals alike are deployed for COVID testing. During such a situation, epidemics like STDs have been, more or less, overshadowed. According to a September 2021 report, there was a decrease of 72% in STD cases for chlamydia, while syphilis declined by 22%. 
Although this drop in STD rates is great news, it's actually something to ponder upon. As mentioned earlier, almost all health officials were deployed for corona detection. So, it could mean that people may not have gotten the opportunity to get themselves tested for their annual STD testing. This also means that most STD cases may have gone unreported, hence the decline in STD rates.
With the most common STDs like gonorrhea, syphilis, and chlamydia taking a toll on the lives of many US citizens, such an epidemic shouldn't be taken. This is why doctors recommend an at-home STD test during COVID. This is one of the easiest and most convenient ways in which people can get themselves checked for any STD and get the proper treatment if need be.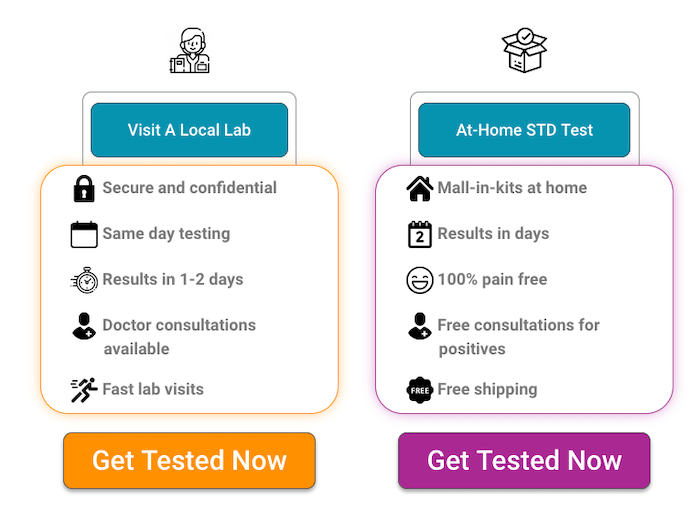 How Does At-Home STD Testing Work?
Choosing to get tested for STD at home during COVID is, perhaps, one of the smartest moves ever! It's no doubt that one should get tested for STD annually. And COVID shouldn't be an excuse for not getting tested for STD.
The way at-home STD testing works is very simple. All that's required to do is to order the kit online. Once it arrives, make sure to go through the instructions carefully. After a thorough reading, you can go ahead and collect the sample as per the STD test. 
Upon collecting your sample, you can mail the sample to the lab and wait patiently for the result, which will be made available within a few days! Don't forget to keep checking your email in the meanwhile. It's that simple and convenient, which is why doctors recommend an at-home STD test during COVID. 
Are At-Home STD Tests Reliable?
The availability of at-home STD tests has undoubtedly made it easier and quicker for people to get themselves tested for STD. Moreover, it has been estimated that the at-home testing kit provides as much as 92% accuracy! This means that it's more or less equivalent to getting tested for STD in a lab. 
Opting for an at-home STD testing during COVID also makes more sense, especially when there's a lockdown in place. For starters, you won't have to travel to the nearest (or furthest) STD clinic to get tested. Before that, you'll be required to make an appointment. Worst case scenario, you might have to stand in a long queue to get to the counter! If this is the last thing you want, you could easily order an at-home STD testing kit, which is reliable, convenient, and hassle-free. 
Another reason why doctors recommend an at-home STD test during COVID is that you won't have to worry about skipping your annual STD check-up. Whether it's your first time getting tested for STD or not, STD testing at home will be more private. This means you won't have to step out of your home to relieve yourself of the building anxiety and stress. Furthermore, you won't be defying any of the lockdown norms and easily get tested for STD without any tension. 
As long as you follow all the directions to a T, at-home STD tests can be considered reliable. This means that while collecting your sample, you should be careful that you follow all the instructions as per the kit. The sample could be your vaginal fluid, blood, or urine. 
Why Is STD Testing Important?
Whether you like it or not, it's important that you get tested for STD once a year once you're sexually active. Of course, most STDs are curable. But this doesn't mean that you can undermine the consequences of an STD when it's left untreated. 
There are severe STDs like HIV, HPV, and herpes that are incurable. This means that if you happen to contract any of these STDs, you'll have to live with it for the rest of your life. Imagine being under medication and occasional pain: that's probably the last thing you imagined your life would turn out to be. Therefore, it's essential to get tested for STD so that further spread or contraction can be stopped. It's also advisable that you discuss your sexual health with your partner when you're just getting to know each other.  
In order to prevent the further spread of an STD, it's necessary that you take precautionary measures. This means practicing safe sex, avoiding sharing needles or having a physical relationship with multiple sexual partners. Even though the lawmakers or health officials give advisories and other basic facilities, the public should be careful at the end of the day. By being sensible and educating the people around you, it's safe to say that you are protecting at least one person from contracting an STD. So, make sure to avoid getting caught in the trap, and order your at-home STD test today!