These days we're all looking for new ways to stay sane and keep connected to family and friends. Ashton Kutcher and Mila Kunis are no different! The beloved sitcom stars have raised the bar to a new level when it comes to creative ways to have fun and give back during quarantine. The pair have developed a new Pinot Noir with Nocking Point wines of Oregon. The best part? One hundred percent of the profits will go to charities that are making a difference in the fight against COVID-19.
Quarantine Wine was hatched over a video chat that Kutcher and Kunis had with friends. Since many of us are hanging out at home drinking anyway, why not create a wine that can help make a difference? Kutcher and Kunis tapped their pal Nocking Point co-founder Andrew Harding to get started and the rest as they say, was history.
Kunis insisted that simply creating a fantastic bottle of wine wasn't enough. In order to ensure that the money raised by Quarantine Wine will have the biggest impact possible, she personally vetted each charity involved. Kunis settled on five major charities that are each addressing different effects of Covid-19 on Americans: Give Directly, which helps hungry families; Direct Relief which provides medical equipment to frontline workers; Frontline Responders Fund which helps with the buying and delivering of ventilators and America's Food Fund. So when you invest in a bottle (or three!) of Quarantine Wine you can pop that cork knowing that Kunis has done her homework and all of your hard-earned cash is going to great causes!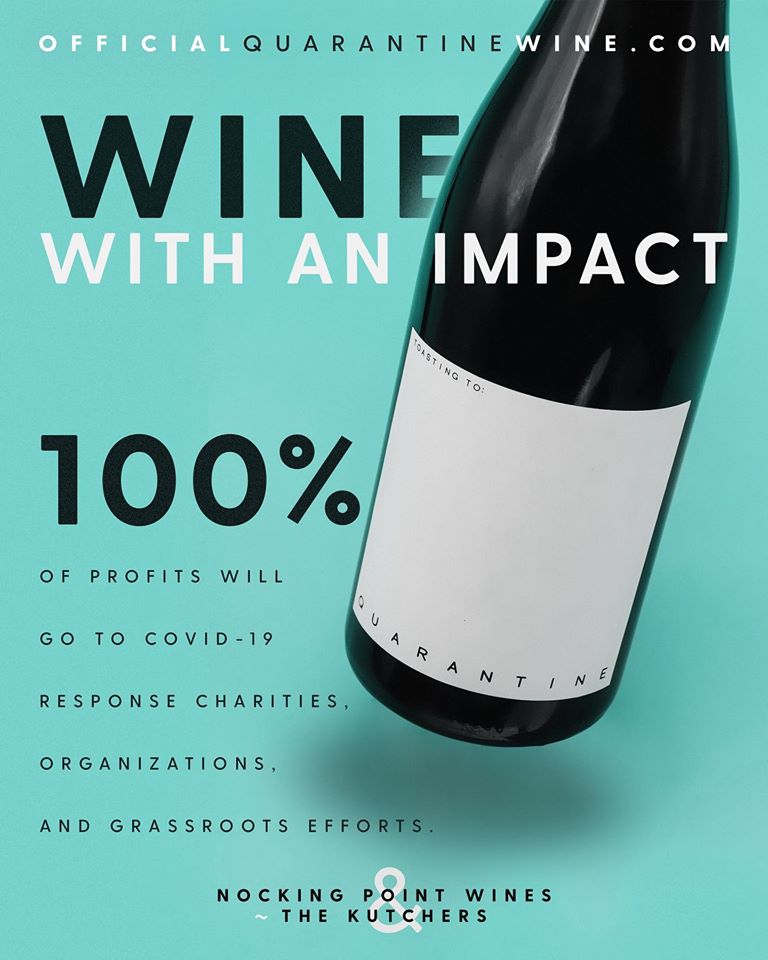 This socially conscious wine also has a fun interactive aspect that Kutcher is especially proud of. The label is left mostly blank so you can feature shout-outs to your favorite causes on it when you proudly display it on social media. Snap a picture and tag it using #quarantinewine, #PPE, #socialdistancing to spread the word!
Quarantine wine is available online and you can order in denominations of 2, 3, 6, or 12 bottles. Why not order enough to last you through lockdown? Nocking Points Wine is offering free U.S delivery! Together we can spread the word and ease the impact of COVID-19 on our nation's most vulnerable populations.