Even a few months before Pride Month, Pride movies are always a great idea to watch and enjoy by yourself or with that special someone. There are so many different types of LGBTQ+ movies that have been filmed through the years and as time passes, more and more come to be.
Whether you're looking for the perfect LGBTQ+ movie to watch on a date night or you just want a relaxing evening alone, here are some of the most iconic movies to choose from.
When it comes to talking about iconic LGBTQ+ movies, Carol will always be on the top spots of every single list. Taking place in the 1950s, it follows the story of Carol Aird as she is in the process of a painful divorce from her husband, who she no longer loves. 
During this time, she meets Therese Belivet, a much younger aspiring photographer working at a local convenience store in Manhattan. The two women end up forming a very unexpected yet deep relationship that will battle many hardships along the way. 
Brokeback Mountain (2005)
When Brokeback Mountain came out, a lot of critics spoke badly about how this movie would affect the careers of the starring actors. Despite the backlash, Heath Ledger and Jake Gyllenhaal created a beautiful love story on screen which gained a lot of reputation in the community. Portraying two cowboys in the 1960s, they were commissioned to tend to a rancher's sheep in Wyoming. 
During that job, the two became intimate and carried on this relationship for decades, despite them getting married to women and having families. The pain of them not being able to come out as a couple at that time is what ended up creating a big tragedy between them. 
Philadelphia is a movie that follows the life and secrets of lawyer Andrew Beckett, played by a young Tom Hanks. Andrew needs to hide the fact that he is a homosexual man who is also HIV positive while working at a very influential law firm in Philadelphia. 
A coworker exposes his secret as his illness progresses and more symptoms start appearing. The company decided to fire him but Andrew decided to sue for discrimination. This movie was a very important one that addressed the AIDS crisis and gave a voice to the community who were discriminated against heavily through the years.
Being one of the most classic movies to come out, Desert Hearts takes place in 1958 in New York. This movie was originally based on the lesbian novel Desert of the Heart by Jane Rule. This adaptation movie follows the story of a New York professor who is in the process of getting a divorce from her husband. 
During this difficult time, she starts a loving relationship with another woman. If you're interested in pursuing a romance too, this app can help you out. This is a relationship that will be very special for her as it finally allows her to rediscover herself as a bisexual woman after the divorce. It helps her find herself through love and become a much happier and more confident person than she previously was.
This iconic LGBTQ+ film follows Marina, a young singer, and waitress whose older partner Orlando just passed away. While she wants to grieve and deal with his passing, his ex-wife and the rest of his family torment her because she is transgender. 
A Fantastic Woman was filmed in Chile and won an Oscar for Best Foreign Language Film, something that speaks volumes about the quality of this production. 
The Kids Are All Right (2010)
This American comedy-drama follows a modern family compromised of two children and their lesbian mothers played by Julianne Moore and Annette Bening. Their picture-perfect family starts facing some unexpected troubles after the kids decide to contact their sperm-donor/father, played by Mark Ruffalo.
The challenges they face and the rift between the two women and their children are funny and very relatable. 
Call Me By Your Name (2017)
When it comes to the best gay films with a very romantic plot, Call Me By Your Name is one of the first you should watch. Starring Timothée Chalamet as Elio, a teenager who is living in Italy, we follow his story as he becomes infatuated with Oliver, an older American student who is spending the summer in Italy with his family. 
Starting as friends, the relationship between them continues to grow as do their feelings for each other. The love affair between them is magical and the two men spend their summer in the beautiful Mediterranean scenery. They both know though, that this beautiful love between them will inevitably end with heartbreak at the end of the summer.
All About My Mother (1999)
The Oscar-winning film is filled with some of the most interesting characters that Pedro Almodovar is known for creating. The story follows Manuela, who after the death of her son she decides to find out the whereabouts of her father. The only difference is that her father is now a transgender woman going by the name Lola.
A companion she did not expect along this journey is a young nun who is also determined to find Lola. The reason why is because she is pregnant with Lola's baby.
This 2016 coming-of-age drama is semi-autobiographical and shows a very personal story that Tarell Alvin McCraney decided to share with the world. It follows the story of a young African-American man who is trying to better understand his identity and sexuality while also trying to care for his drug-addict mother. 
Progressing from childhood to adolescence and then to adulthood while trying to understand yourself better is very tricky. This movie splits each part into three separate stories which follow the young man's timeline and truly make each period vivid and real. It can easily be classified as one of the best gay teen movies which are painting the picture of the support of his community and the happiness discovering your true self can bring.
Portrait of a Lady on Fire
This French movie takes place in the late 1700s when a young woman called Héloïse has been promised to marry a groom in Milan. For this to happen, her mother promised him to send a portrait of Héloïse, so she decides to commission portrait painter Marianne for this task.
For her to not suspect a thing, her mother tells Héloïse that Marianne is a companion for her walks, and Marianne is to study her and paint her in secret. The more the two women get to know each other, the closer they grow and the romance between them starts to spark. While it might not be your expected romantic movie, it has a most interesting ending which will keep you guessing.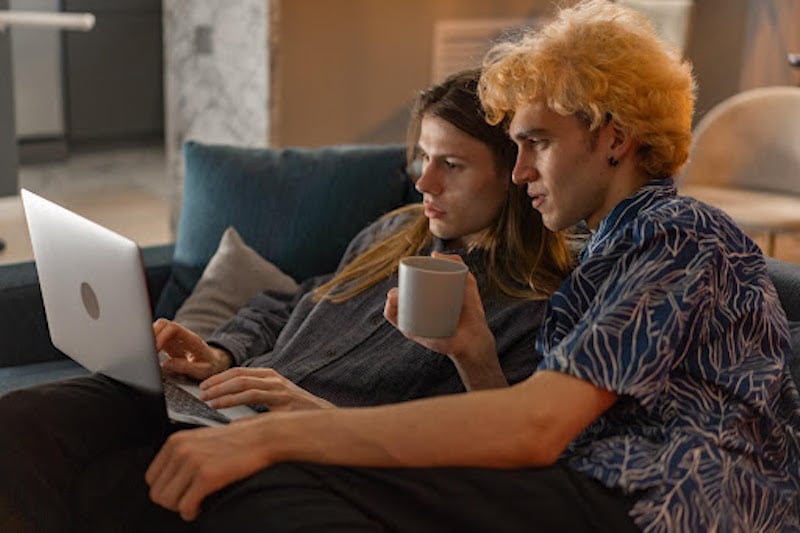 Finding the perfect LGBTQ movie to watch
As time goes by, there are more and more LGBTQ movies happening and this is heavily influenced by all the celebrities who come out and share their true identities with the world. This allows more and more LGBTQ love stories to be seen and loved by fans all over the world.
Featured Image Credit: Ron Lach on Pexels